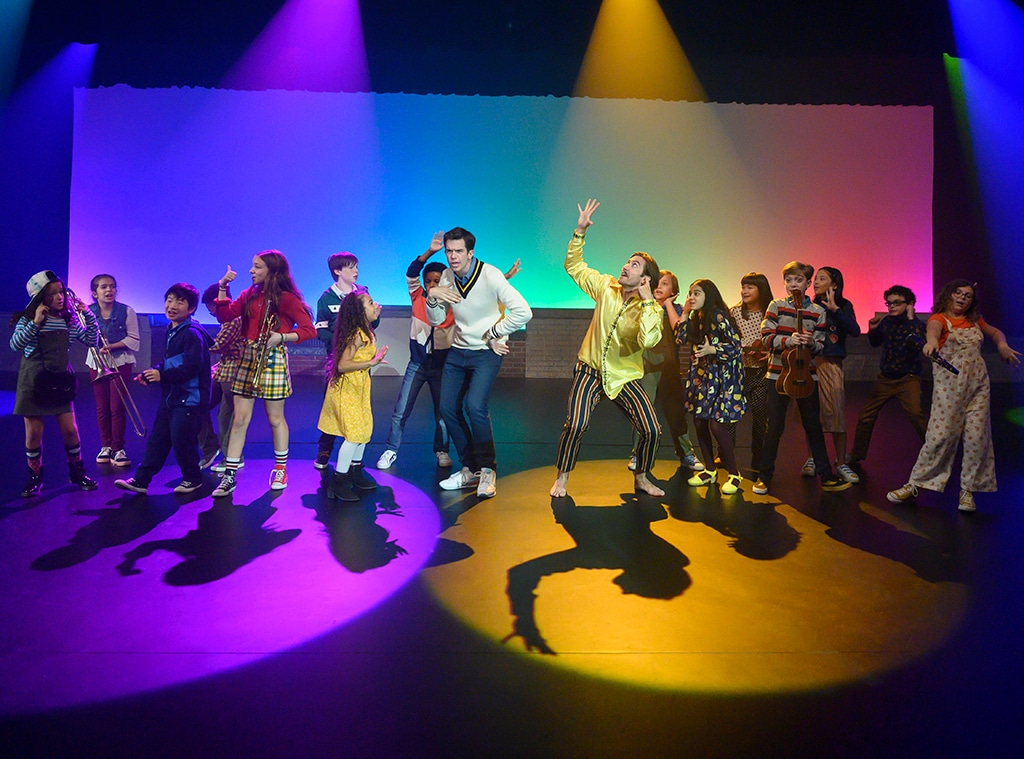 Netflix
John Mulaney, king of diner jukebox pranks and perfect anxious comedy, has gifted us something truly special this holiday season. 
On Christmas Eve, Netflix debuted John Mulaney and the Sack Lunch Bunch, his latest comedy special that's less a comedy special and more a grown-up, neurotic fever dream of an hour-long Sesame Street segment. And that's a compliment. 
The special stars Mulaney as himself, hanging out with a bunch of extremely smart and honest children, filled with enough subtle jokes and lines of dialogue that you might have to watch it multiple times to catch them all. There are moments that might catch anyone off guard throughout the special, but there's one musical number towards the end that might truly knock you outta your socks. It's Jake Gyllenhaal in a xylophone jacket, completing his transformation into 2019's wackiest man. 
In John Mulaney and the Sack Lunch Bunch, Gyllenhaal plays Mr. Music, a mustachioed crazy man who yells at a little girl because a clarinet is just a skinny trumpet. He then performs a song about how there is music here, music there, music, music, everywhere. He hits pens on books, tosses shirts in laundry bags, pulls spoons out of a pudding cup, swirls Bordeaux, and none of it makes very loud music, but he doesn't need your clarinet, dang it! 
"Is Mr. Music OK?" one kid asks.
"No, Mr. Music's not OK. He's having a lot of trouble," Mulaney explains. 
Mr. Music is truly losing it, especially after he breaks a wine bottle, and someone fixed the leaky sink, and he hurts his ankle when he jumps on the bed, and then he steps on the broken wine bottle with his bare feet, and his mustache appears to be falling off, and all the children are a little alarmed. 
It's a deranged, delightful performance that goes right along with his turn as a pretentious critic in Velvet Buzzsaw and a bitter, holographic supervillain in Spider-Man: Far From Home. It's not what you might expect, and it looks like Gyllenhaal is having the time of his life. 
If you want to skip right to Mr. Music's performance, it starts around 57 minutes into the special. But we recommend simply watching the entire show, because it's so worth it. 
Watch:
Jake Gyllenhaal Has "Nothing to Say" to Ex-BFF Ryan Reynolds
John Mulaney and the Sack Lunch Bunch also features appearances by Natasha Lyonne, Richard Kind, and Annaleigh Ashford, and includes a whole lot of discussions about biggest fears and how everyone would prefer to die. It's the perfect addition to your holiday binging, so if you haven't already, you're gonna want to hit play. It's now streaming on Netflix.