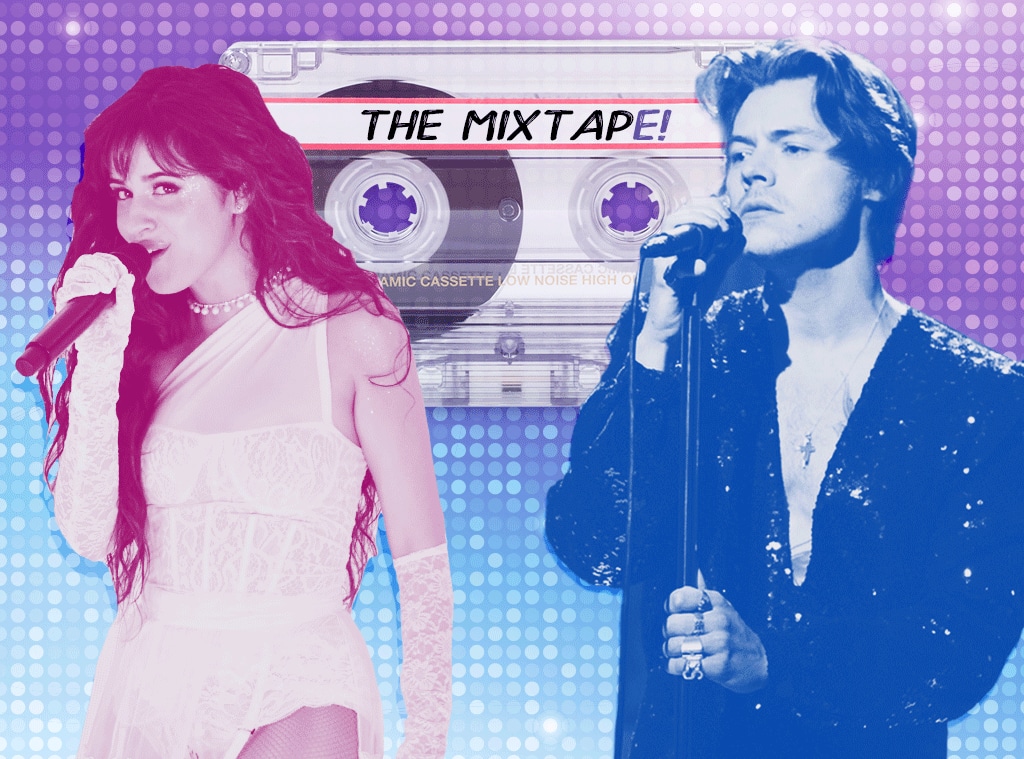 Getty Images, NBC/E! illustration
New music Fridays are a thrilling, yet daunting prospect for any music lover. 
It's essentially a weekly holiday where fan-favorite artists and fresh faces alike drop their latest offerings for all the world to hear, flooding streaming services and digital retailers with an onslaught of aural goodies. But who has the time to sit there and listen to everything before updating their playlists? There's just too much good stuff! (And, if we're being honest, usually a few stinkers, too.)
As it turns out, we do. Welcome to The MixtapE!
By now, you're probably decided where you land on whether or not Taylor Swift just released the latest modern Christmas classic with her surprise holiday track, "Christmas Tree Farm"—our humble opinion: super cute, but Mariah Carey's throne is safe—and given "Adore You," Harry Styles' latest single from his forthcoming second studio album Fine Line (out Friday, Dec. 13) a spin or two as you ogle those fully-nude photos in the album teaser. But friends, that's just the tip of the iceberg this fine Friday. From the release of Camila Cabello's new album Romance to the long-awaited return of a certain K-Pop princess, Halsey's latest glimpse at her upcoming LP Manic to more than a few fresh faces, we've listened to (nearly) all of it. As always, what follows are our picks for the best of the best. You're welcome.
Watch:
Harry Styles Gives Back to Time's Up & More Good Causes
Harry Styles — "Adore You": It's a shame Fine Line is coming out so late in the year that most music critics will have already solidified and published their Best of 2019 lists before getting a chance to hear it because, three tracks in, we've got more than a fleeting feeling that this album will be one of, if not the best of the year. "Adore You" is a blissfully slinky little slice of loved-up funk that, if there is any justice in this world, ought to storm up the charts. Harry, we'll take a walk in your rainbow paradise any day.
Camila Cabello — "Used to This": For her second solo LP, Camila swung for the fences, committing herself to explore the titular Romance from every angle. In the run-up to its release today, she didn't hold back, sharing six of the album's tracks, but there's still plenty left to discover. The immediate standout for us this track, co-written with Ed Sheeran favorite Amy Wadge and Billie Eilish's brother Finneas O'Connell, who lends his unique sensibility to the sound of the song thanks to a co-producer credit. Inspired by her first date in San Francisco with boyfriend Shawn Mendes, the woozy little track, perfect for late-night listening, perfectly encapsulates that moment when you realize you're falling in love and you like it.
Dove Cameron — "Out Of Touch": We keep banging the Dove drum 'round these parts and that's because, with each new single the Descendants star has dropped since her first in September, she hasn't faltered yet. Utilizing a perfectly employed guitar riff in the mid-tempo pop-rock track, she makes a plea for reconciliation with the only person who can call her out on her BS. "I am so stoked to finally release 'Out of Touch,' Dove said in a statement. "It was the very first track I recorded at the start of this new music era, and still one of my favorites that I have done so far. It's a big step towards finding my sound as a new artist." All we have to say is: Good luck getting that chorus out of your head. (Not that you'd want to.)
Halsey — "Finally // beautiful stranger": With a little over a month until its release, Halsey's third studio album, Manic, continues to take shape. Today, the "Graveyard" singer gifted us with a dual release, sharing "Suga's Interlude," which reunites her with BTS' Suga following this summer's "Boy With Luv," and this track, a country-kissed little number that lets her vulnerabilities take center stage as she sings about first love as a stripped-back, gentle guitar production wisely gets out of her way. A true standout.
Teyana Taylor — "We Got Love": Hot on the heels on the November release of the internet-breaking video for "Morning," her collab with Kehlani, Teyana gives us another taste of her upcoming The Album courtesy of this holdover from her K.T.S.E. sessions last year. Originally premiered on Saturday Night Live last year before getting hung up with clearance issues, the track, sublimely produced by Kanye West, finds the R&B songstress celebrating a life abundant with love over a sample of The Younghearts' "We've Got Love (You Better Believe It)" and some gorgeous orchestral strings. "I've always felt this was such a special record and wanted it to have the right moment," she said in a statement. We'd say she made the right call.
Allie X feat. Troye Sivan — "Love Me Wrong": It's always a good day for new Troye. Here, he lends his silky-throated vocals to the latest from Allie, a sumptuously ethereal track that would be romantic if it weren't for the sharp left in the lyric when both parties let their admirers know they're doing it all wrong and they want out. "I'll never be how you remember me," they promise in the song's straightforward outro. "So I'd rather be in your memory." But are they singing to lovers or overzealous fans? That's the real question. (UPDATE: They're singing to neither. Allie explained the track on Twitter, saying it "deals with the confusion and hurt associated with familial love. Mostly taken from feelings I had when I was younger, this is a song about being misunderstood by the ones closest to you. You know that they love you, but you feel it isn't for the full person you are.")
CL — "+REWIND170205+": It's been three agonizingly long years since we last got a solo drop from the K-pop star who'd broken through as a member of girl group 2NE1 and made a stab at a career of her own with the "Hello Bitches" and "Lifted," both absolute bops that, in the case of the latter, made her the first female Korean solo artist to chart on the Billboard Hot 100. But that all changes today with two impossibly-entitled tracks, "+DONE161201+" and this track, both numbered to correspond with the date she created them and to be included on her upcoming album In the Name of Love. They're both great, but this twinkly electropop banger that find her both singing and rapping about her desire to go back to the way things were, is our clear fave. Welcome back, CL. We've been waiting for you.
Lele Pons — "Vete Pa La": The influencer continues her foray into music with this fiery pop track that takes on abusive relationships with both middle fingers held very high. With this release, we're finally taking her seriously and can't wait to see what she does next. And the choreo in the video? Fire.
Carly Pearce — "It Won't Always Be Like This": The third single off her forthcoming self-titled sophomore album finds Carly getting sentimental to heartbreaking effect. Originally written as a tribute to her grandparents, the lyrics in the gentle ballad find the singer recalling her longing to get out of her hometown, wishing she'd known then how fleeting time is with the ones you love. "Looking at you, looking back at me/All I wanna do is make another memory/And love you like it's the end," she admits in the bridge before heading into the final chorus. "Cause it won't always be like this." Of the writing session alongside Natalie Hemby and Sam Ellis, Carly told American Songwriter, "I had never cried in a write before. But man, did I cry at that one." Sadly, the song took on a whole new meaning when Busbee, her longtime collaborator and producer, died suddenly from brain cancer in September. "Busbee thought this song was really special from the beginning," she told the outlet. "I can hear so much of him on this record. It will now be a part of his legacy."
Elley Duhé — "NATURE": We'll admit, we'd been sleeping on up-and-comer, best known for "Happy Now," her 2018 collab with Zedd. But after one listen to this propulsive piece of nearly-perfect alt-pop, that stops now. This song is just that good, y'all. Get into it.
Bonus Tracks:
Liam Payne & Cheat Codes — "Live Forever": It took him a minute, but the former One Direction star's debut album, LP1, is finally here. He shines brightest on this collab with the DJ trio, his voice gliding nicely atop one of their signature beats.
Dua Saleh — "Pretty Kitten": We'll admit, we'd never heard of this Minneapolis artist who prefers they/them pronouns before the release of this stunning banger. And we regret that because, wow, this is damn good. If you're into it as much as we are, be sure check out Nūr, their EP from earlier this year.
Shallou — "Fading": The buzzy LA-based producer lays bare his fears about the future of our ravaged planet atop one of the most blissful house melodies of the year. We love a good dichotomy and we love this song.
Chelsea Cutler — "I Was In Heaven": On the fourth single off her forthcoming debut album How to Be Human, Chelsea haunts with a lyric about how impossible it is to let go. One to watch, for sure.
French Montana — "That Way": After a scary few days, French is out of the hospital and ready to celebrate the release of MONTANA, his third studio album. This Biggie-sampling track, which finds the rapper changing up his style, sounds like it's from the old school house party of our dreams. 
Happy listening!