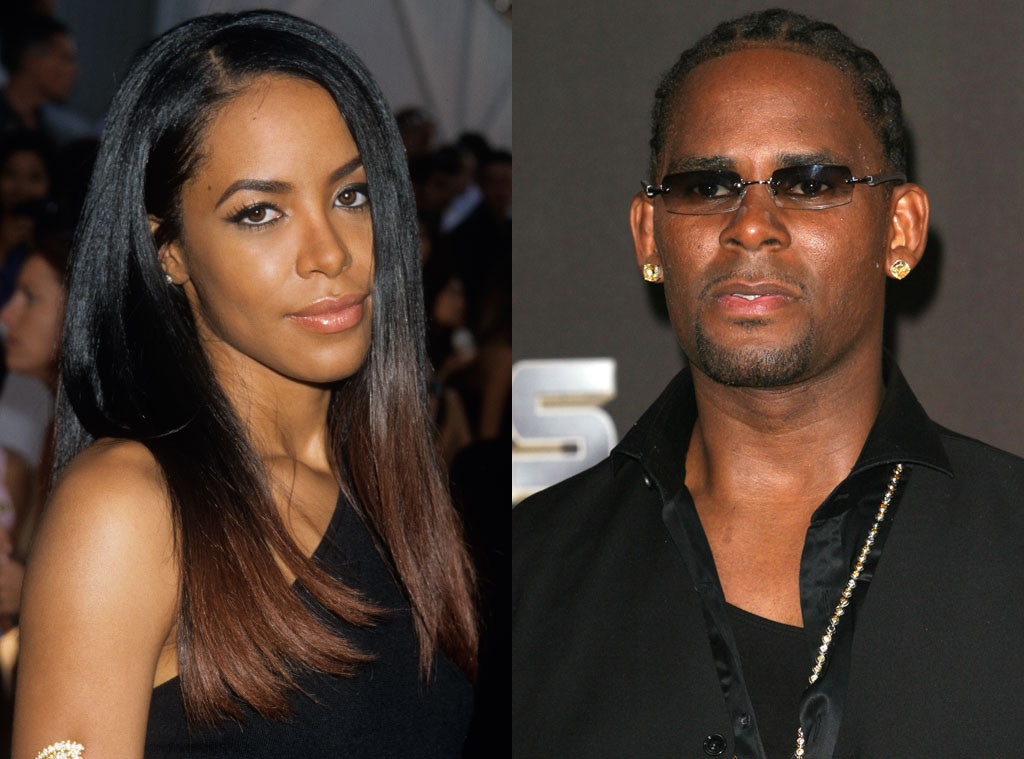 Kevin Mazur/WireImage; Jason Merritt/FilmMagic
UPDATE: R. Kelly has officially pleaded not guilty to bribery allegations, E! News can confirm. The disgraced performer appeared in federal court on Wednesday to formally respond to prosecutors' claim that he bribed an Illinois public official to obtain a fake ID for the late singer Aaliyah prior to their 1994 wedding.
Find more details on Kelly's ongoing legal woes below.
_____
R. Kelly's legal troubles are far from over.
As the world knows, the rapper's been indicted on over a dozen charges ranging from alleged child pornography to obstruction of justice. But on Dec. 5, federal prosecutors added more charges, including bribery of a public office and public employee, according to court documents obtained by E! News. The court documents accuse him of bribing the official to obtain the "creation of a fraudulent identification document Jane Doe #1." Based on the date cited in the court documents, it appears he allegedly bribed an official the day before he wed Aaliyah, who was just 15-years-old at the time, on Aug. 31, 1994. 
Their marriage was later annulled after her family discovered what transpired and Aaliyah eventually left R. Kelly's label, Jive Records, to sign with Atlantic. According to the Chicago Sun-Times, Aaliyah was paid $100 in exchange for promising to never pursue legal action for "emotional distress caused by any aspect of her business or personal relationship with Robert" or for "physical injury or emotional pain and suffering arising from any assault or battery perpetrated by Robert against her person."
Her mother, Diane Houghton, told the publication," Everything that went wrong in her life began then [with the relationship with Kelly]."
But it seems R. Kelly would disagree. In a 2016 interview, R. Kelly touched on the subject of their relationship briefly, but refused to go into details. "I will never have that conversation with anyone. Out of respect for Aaliyah, and her mother and father who has asked me not to personally. But I can tell you I loved her, I can tell you she loved me, we was very close. We were, you know, best best best best friends," he insisted.
Watch:
R. Kelly Arrested on Federal Sex Crime Charges: Everything We Know
As for allegations of R. Kelly having sexual intercourse with the then-teen, Aaliyah's mother told E! News in 2019 that any talk of sex between the pair are "lies and fabrications." She insisted, "My husband and I were always on tour with her and at interviews and every place she went throughout her entire career." 
Aaliyah herself dodged any and all questions about her relationship with the rapper until she died at the age of 22 in a plane crash. 
R. Kelly denies any and all accusations of wrongdoing and has plead not guilty to previous federal sex crime charges. In a statement to E! News, R. Kelly's attorney Steve Greenberg says, "We will review the indictment, which we just received, in greater detail, but at first look it does not appear to materially alter the landscape. We continue to look forward to the day he is free."
(This story was originally published on Thursday, December 5, 2019 at 7:16 p.m. PST)