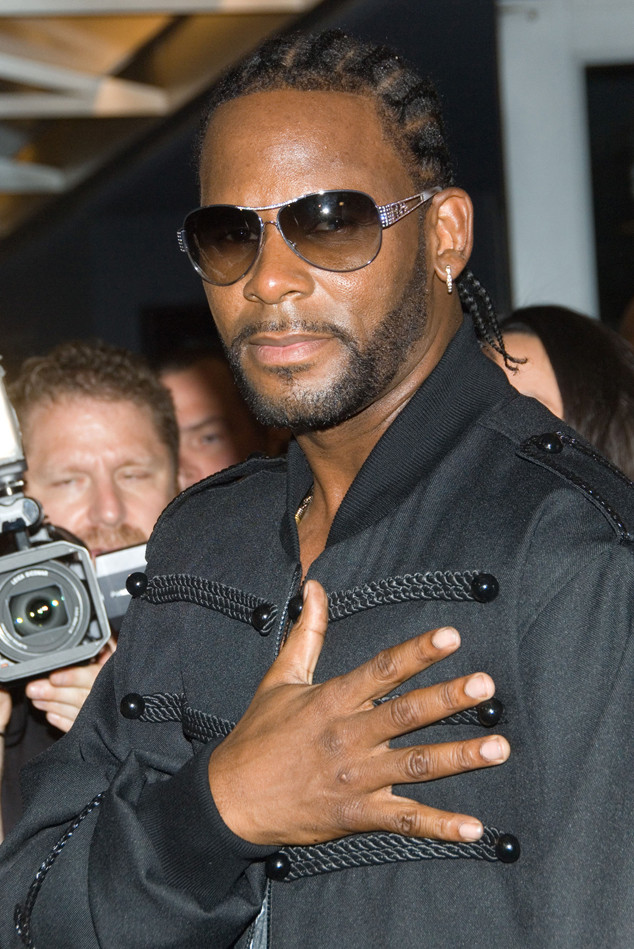 Lawrence Lucier/FilmMagic
Though he's all for musical "confessions," R. Kelly is hesitant to revisit the personal controversies that turned him into a tabloid fixture.
For starters, the Grammy winner continues to refuse to speak publicly about the widely circulated reports (which he has denied) that he was once married to an underage Aaliyah, who died 15 years ago. 
"I will never have that conversation with anyone," he told GQ. "Out of respect for Aaliyah, and her mother and father who has asked me not to personally. But I can tell you I loved her, I can tell you she loved me, we was very close. We were, you know, best best best best friends."
While he remains tight-lipped about his alleged relationship with the then-15-year-old singer, Kelly did recall his initial impression of her when he began working as her producer. 
"I heard first of all this soft voice, but very…a lot of charisma," he recollected for the magazine. "I saw her as a star the minute I heard her sing and dance...I said, 'This girl's gonna be a star, whether I work with her or not.'"
Ultimately, he maintains that nothing happened with Aaliyah that he feels badly about. "Absolutely not," he asserted. "That's my answer forever."
"I have nothing to protect myself from. I'm still successful, and I've got an album out now, I'm gonna move on after this interview and go to the next interview and do another interview, and these questions are going to be asked," he concluded on the topic. "Can't satisfy everybody, unfortunately. I wish that I could."
Kevin Mazur/WireImage; Jason Merritt/FilmMagic
He faced more controversy in 2002 when his child pornography case initially made headlines.
By the time his case had gone to trial—he had been charged with videotaping himself having sex with an underage girl—it was 2008. After less than a day of deliberations, he was found not guilty on all 14 counts. 
"When a person is found not guilty, they're found not guilty," he told GQ. "It doesn't matter if it's a murder case, it doesn't matter what case it is, when they're found not guilty, they're not guilty. And I think that a lot of haters out there wanted to see me go down."
While he refuses to have any more conversations about the video—"I have to protect myself"—he's no longer concerned about his public association with "that behavior" portrayed in the infamous video. 
"It made me feel terrible. But now I, honestly, don't think about it or could care one way or the other what people think about me," he declared. "I have fans and I have family that love me, and I have my music, and I have my breath going in and out. I'm more than okay with who I am and who I have become today as a man, and I'm just moving on with my life, man, doing this music. I'm good."
Still, Kelly thinks he was a victim of unfair treatment.
"I think, man, abso-effing-lutely I've been treated unfair," he said. "Yes. I'm not, you know, this innocent guy with a halo over his head. No, I love women. Do I like to sleep with underage girls? Absolutely not. I've said it a million times. But do I have people trying to destroy my career? Absolutely."
Courtesy: Montgomery County DA
In a curious twist of timing considering his history, Kelly also commented on the sexual assault allegations against Bill Cosby. 
"I'm a fan of Bill Cosby's from the Bill Cosby show, of course—who's not?—and for me to give my opinion on something that I have no idea if it's true or not, all I can say is that it was a long time ago," the singer said. "And when I look on TV and I see the 70-, 80-, 90-year-old ladies talking about what happened when they were 17, 18, or 19, there's something strange about it. That's my opinion. It's just strange."
"When you wait 70 years, 50 years, 40 years, to say something that simple, it's strange. You know why I say that is because it happened to me, and it wasn't true."