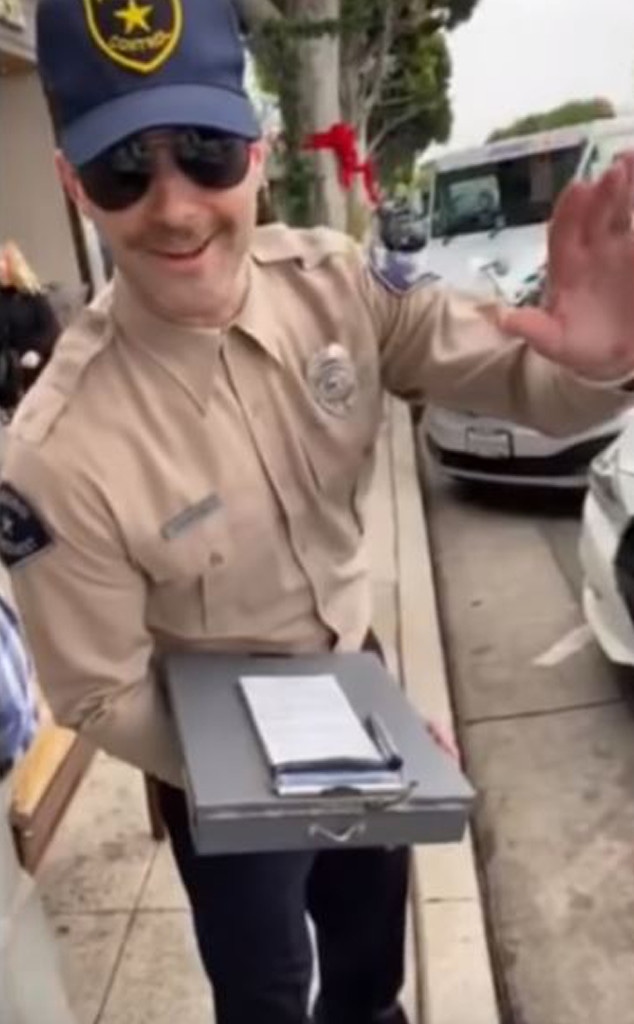 YouTube
Adam Levine has a new gig: Los Angeles parking enforcement!
During Wednesday's Jimmy Kimmel Live, host Jimmy Kimmel recruited the Maroon 5 front man to troll the unwitting citizens of L.A. by disguising him as a parking enforcement officer. But they weren't getting parking tickets, they were getting concert tickets!
As Kimmel explained to the audiemce, "Maybe the only thing more stressful than driving in L.A. is parking in L.A., and when faced with a difficult situation, I like to make things more difficult. So, we enlisted the help of Adam Levine. His band, Maroon 5, has a tour starting May 30 in Chula Vista, and we thought it would be fun for Adam to give out concert tickets disguised as parking tickets, with Adam disguised as parking enforcement, as unsuspecting drivers meet Maroon 5-0."
When the clip began, Levine was gussied up in his uniform, complete with a hat and sunglasses to help disguise his famous face. And funnily enough, the disguise mostly worked.
The singer's first poor soul was sitting in his parked car as Levine said, "I know this is crazy, but we have 30 seconds to actually put the money in the meter. Thirty seconds. I gotta be a stickler, sorry. It's a crowded street."
The young driver, clearly having none of this, started filming the star so he could appropriately report the incident. As the former Voice coach quipped, "Don't hate the maid, hate the meter, pal."
After some banter, the 40-year-old eventually caved and said, "I got something here too, in case you want to report it formally. I feel terrible, I feel terrible. Hey, why don't you take these concert tickets?"
The next participant was a woman who, according to the Maroon 5-0, pulled into her parking space far too quickly. As he teased, "Oh, not your day."
Not buying Levine's parking "law," the woman defended herself. "You can't ticket somebody for pulling into a parking spot," she argued, to which Levine responded, "I guess I can."
Sticking to her guns, the woman replied, "No, you can't." As he quipped back, "Agree to disagree."
Watch:
Adam Levine Fan Rushes Stage During Maroon 5 Concert
But then, the jig was up. "Oh, wait a second," the woman said, realizing what was going on. "I know who you are."
Caught red-handed, Levine smiled and said, "F*$k! Take the tickets and get out of here."
Now, park yourselves in front of your phone screens and watch the full video to watch the rest of Levine's hilarious parking antics.