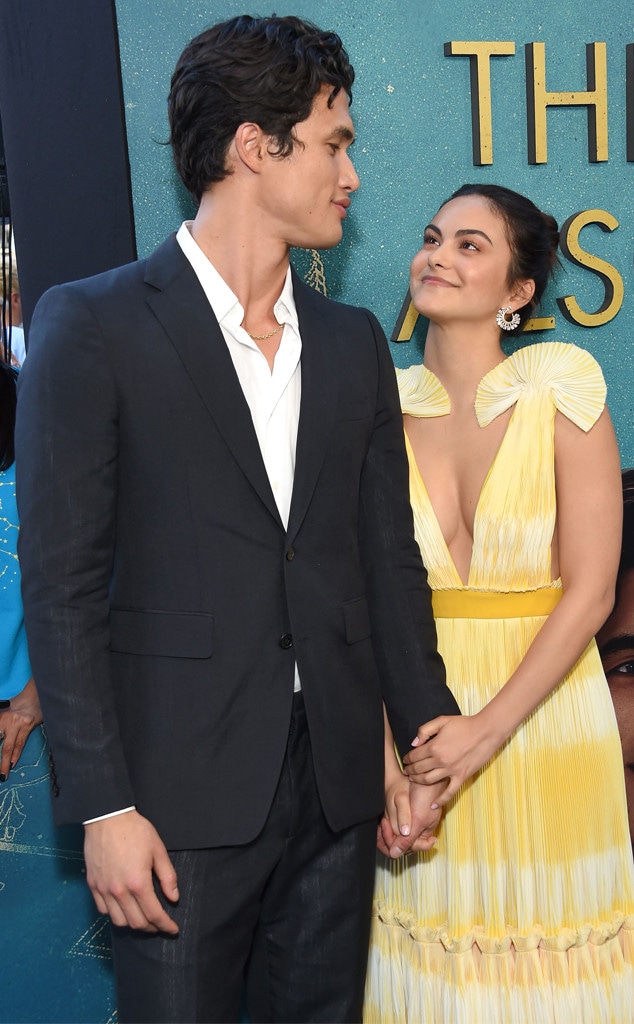 LISA O'CONNOR/AFP/Getty Images
Camila Mendes and Charles Melton are pressing pause on their relationship.
The Riverdale co-stars, who first sparked romance rumors in the summer of 2018, have been "taking a break" from their romance over the last few months. This relationship update comes shortly after the couple celebrated their first anniversary together.
"Cami and Charles have been separated for a few months now. They are taking a break from their relationship," a source tells E! News exclusively. "Their relationship escalated very quickly and they are taking time now to focus on their work and themselves."
The insider shares that both Mendes, 25, and Melton, 28, have been keeping busy filming Riverdale, with Melton also busy filming his upcoming movie Swing in Louisiana.
"They both have movie projects separately and it's been a lot on both their plates," the source adds. "Nothing in particular happened, they just both felt busy and overwhelmed and it was a lot of pressure on them."
The insider also tells E! News that both actors have been "stressed" which has caused "ups and downs" in their relationship.
"They are still in touch and both understand they need to be cordial while on set and throughout press for the show," the source says. "They have been filming together while being split and things have been normal."
"Everyone is very close on the show and are all very good friends," the insider continues. "They can't ignore each other so they just remain cordial and try and focus on filming. They are still filming Riverdale season 4, but will have a break for the holidays for a few weeks."
Rumors of a split had been rumbling on social media, considering Mendes and Melton haven't posted a photo together in months. While Melton shared a cute Riverdale cast pic with Mendes in October, their last PDA post together was in August. That month, Melton and Mendes took to Instagram to celebrate their first anniversary together, sharing sweet photos.
"365 days," Mendes wrote alongside a picture of the duo kissing. "i love you."
Watch:
"Riverdale" Cast Reflects on Being Role Models
Melton also posted a pic of the pair sharing an embrace, telling Mendes, "I love you."
In addition to work, Mendes has also been focusing on new role: dog mom! The actress took to Instagram in November to introduce her new pup to her fans.
"this is truffle. she's a maltipoo rescue. and i am officially a dog mom," Mendes wrote. "big shoutout to @thelabellefoundation for bringing this angel into my life."
Watch Daily Pop weekdays at 12:30 p.m., only on E!