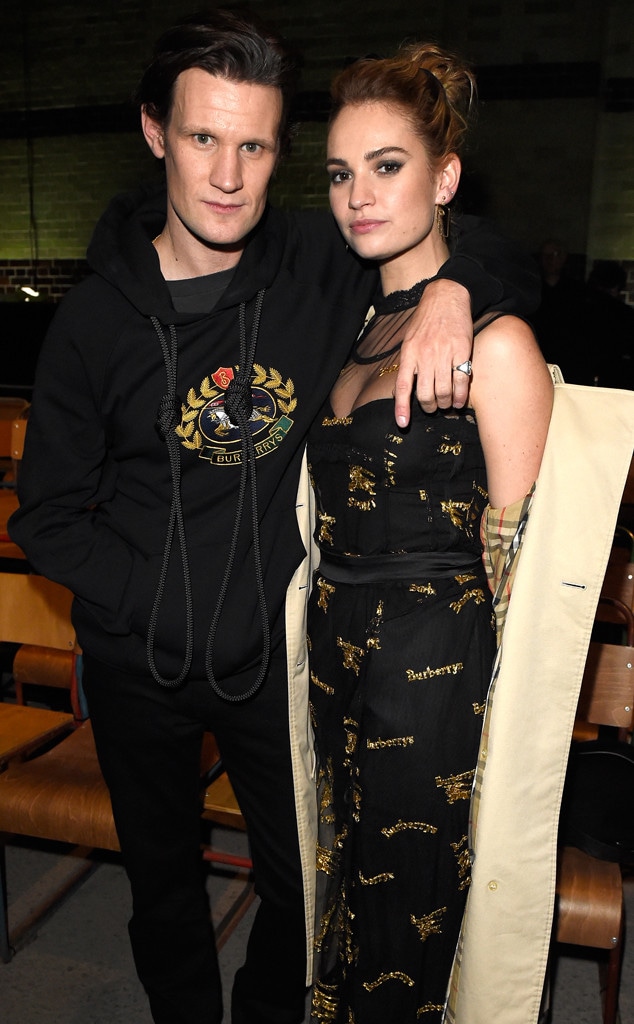 David M. Benett/Dave Benett/Getty Images for Burberry
Is it over for Lily James and Matt Smith? That's the very question some fans are asking.
Up until today, the 30-year-old actress and the 37-year-old actor hadn't been photographed together in about five months. However, the Daily Mail  just shared photographs of the duo having a lunch outing in London.
Multiple outlets have also reported on a possible breakup, leaving many fans heartbroken.
"The fact that Matt Smith and [Lily] James possibly broke up has ruined me," one social media user tweeted. "Let's have a moment of silence for my favorite celebrity couple."
"So Matt Smith and Lily James broke up?" added another. "My heart is in pain."
Other fans, however, refused to believe the split speculation.
"Until Lily James and Matt Smith don't marry other people I refuse to even believe they broke up," one fan tweeted. "Thanks, but no thanks."
To be clear, neither celebrity has commented on the rumors. 
"They came out together but Lily got into a cab on her own," a source told E! News. "She was holding her head down as if she did not  want to be photographed  with him. Max was walking close behind her but as soon as they came out to the street he went up the block and she got in the cab." 
The source said the "cab stopped about a block away to pick him up."
"He got in and left with her," the source continued. 
As for Smith, he's been spotted hanging out with his co-star from The Crown Claire Foy, although the word on the street is they are strictly friends.
As fans will recall, James and Smith sparked romance rumors in 2014. They then made their red carpet debut as a couple in early 2015. Since then, the two have continued to work on multiple projects. In fact, the Downton Abbey celeb recently posted that she had been filming in South Africa.
The Mamma Mia! Here We Go Again star opened up about finding work-life balance during a 2018 interview with Marie Claire U.K.
"When you're an actor, it's like, 'You've got to keep the momentum up.' And I'm like, 'No!'" the Cinderella celeb told the magazine. "You have to trust that things won't go away if you stop for a bit. I haven't really stopped, and I don't think that's a feasible way to work. For me, eventually, that's not the lifestyle I want. You never really know where you are. That's not only with regards to my relationship with Matt, but with my friends and family. There's so much you miss. That's why I know I can't keep working at this intensity. I finish a job; Matt starts one."
It looks like fans will just have to wait and see what the future holds for these two.
(This story was originally published Dec. 3, 2019 at 9:14 a.m.)
Watch Daily Pop weekdays at 12:30 p.m., only on E!