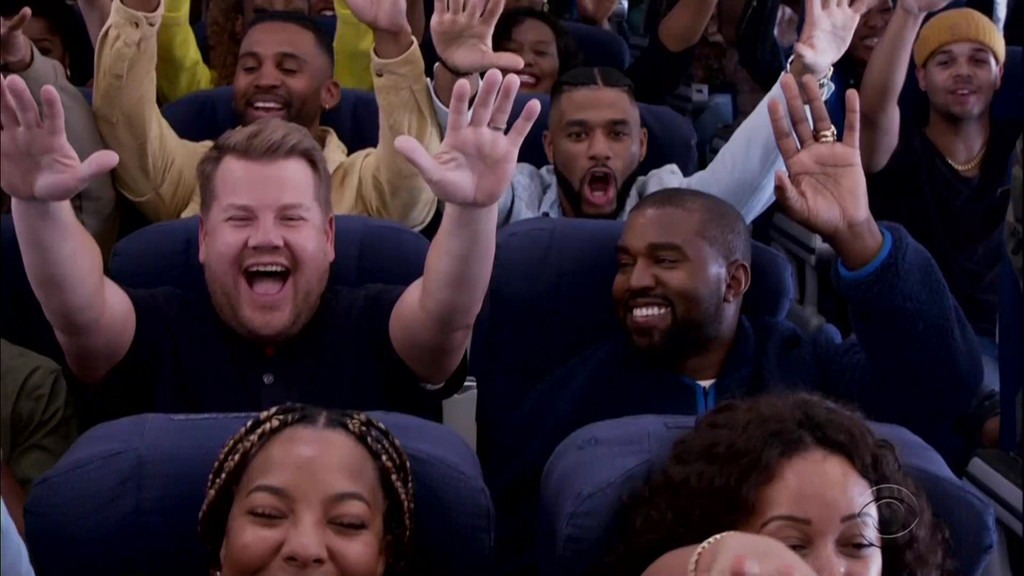 CBS
Third times a charm!
Kanye West might have made Late Late Show history with his Airpool Karaoke back in October, but it almost didn't happen! On Monday, James Corden stopped by Jimmy Kimmel Live and revealed that it took several tries to get the rapper to agree to doing the fan-favorite segment.
"This was actually the third time that we had tried to do a sort-of Carpool Karaoke with Kanye," he told host Jimmy Kimmel. "The first time, he agreed and then he cancelled a few days later and you're like, 'Oh, well that's a shame but it's fine.'"
On his next try, James said that Kanye's request to reschedule came at the least opportune time.
"The second time that Kanye cancelled Carpool Karaoke was so late in the day that I was driving up his road in the car with all the cameras," the Late Late Show host continued. "And I got this phone call saying it's been cancelled. And I literally—I think I basically turned around outside his house to go back to the studio."
Finally, Kanye came around and reached out to James to film the segment. After pitching his idea of having his Sunday Service choir join him on an airplane, Kanye wanted the Late Late Show team to have everything ready to go in a matter of days. Unfortunately for James, Kanye had another scheduling error.
Determined to make it work, the "Closed on Sunday" rapper delivered and it ended up being James' favorite Late Late Show moment.
"I have to say, of all the things we've done on the show—and I consider so many things to have been an absolute privilege—like, being on that plane surrounded by that choir sitting with him—and he was in a great place, in a great mood," James gushed. "I will never, ever forget what that choir sounded like on that airplane. It was an astonishing thing. And I really thought, 'This was a once in a life time thing that I'll never, ever be able to…' I'll never, ever forget it. It was an incredible moment."
Speaking of pinch me moments, James also opened about working with Meryl Streep in Ryan Murphy's upcoming movie Prom. "It's utterly terrifying—it's a terrifying thing," he said while discussing the project. "I'm in lots of scenes with Meryl Streep and that's always terrifying because, you know, I'm going to have to carry her in every scene."
Watch:
James Corden Star Struck By Who on Carpool Karaoke?!
But James said that speaking with an American accent for the film is actually more terrifying than sharing the screen with Meryl. From the sounds of it, James might have to work on his accent a little more…
Watch him relive his "Airpool Karaoke" with Kanye and do his best American accent in the video above!