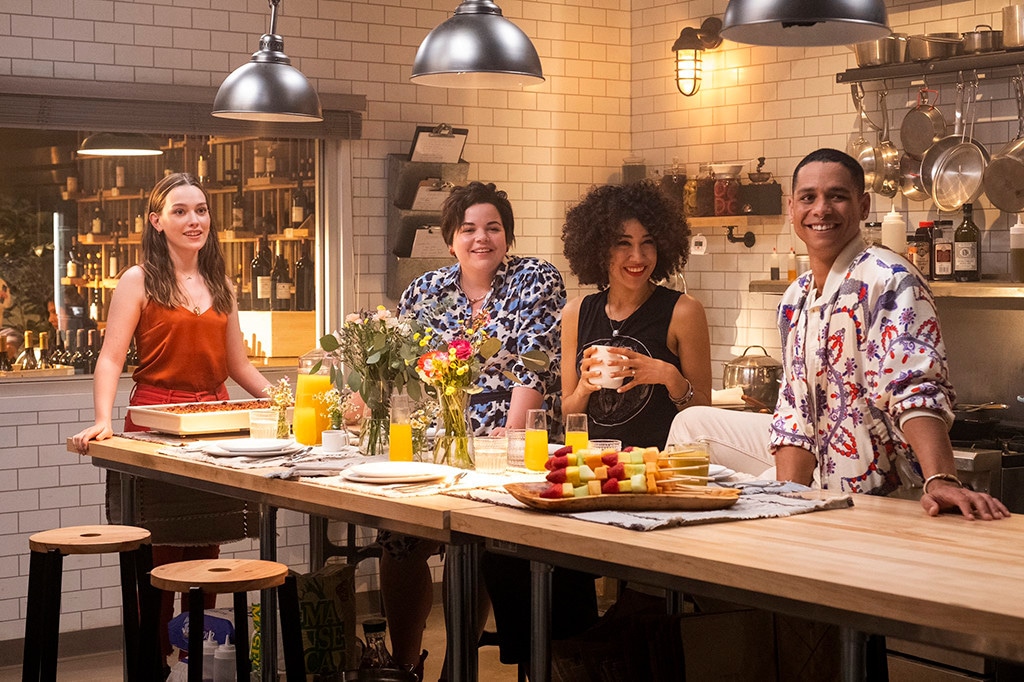 Netflix
The closer we get to the debut of You season two, the more we're learning about it, and the more excited we become. 
The show has been offering up a new photo each day, giving us more looks at Joe's (Penn Badgley) new life in Los Angeles. He's escaped to the West Coast in an effort to outrun all those murders he committed back in New York, especially now that his thought-to-be-dead ex-girlfriend is back to hopefully torment him. 
This week, we've met one of Joe's new coworkers, his new neighbor, and the best friends of the new object of his affection, aptly named Love (Victoria Pedretti). 
The season is all about how much New Yorker Joe hates Los Angeles and every stereotype that goes along with it, so Love and all her friends are all about those LA stereotypes. Yoga, acupuncture, psychedelics, trendy grocery stores, lifestyle blogging—it's all here and Joe is furious about it. 
Love's best friends include Sunrise (Melanie Field), a stay-at-home mommy blogger, and her partner Lucy (Marielle Scott), an "edgy-chic" literary agent. Charlie Barnett plays Gabe, an acupuncturist who might be living LA life to the fullest of all. 
Joe now works at a trendy grocery store/cafe called Anavrin, which is "Nirvana" spelled backwards (in reference to LA grocery store Erewhon, which is almost "Nowhere" spelled backwards). Adwin Brown plays Calvin, the store manager who hires Joe. 
He's also got a new neighbor named Delilah (Carmela Zumbado), an investigative journalist who's got her eye on this suspicious dude. 
You can see all of the new pics below, along with everything we currently know about season two (that we can tell you, at least). You might notice that there's two new characters whose photos have yet to be posted: Will, played by Robin Lord Taylor, and Forty, Love's brother, played by James Scully. 
Hopefully those are coming soon...
Watch:
Is Penn Badgley's "You" Character Just Dan From "Gossip Girl?"
You season two arrives December 26 on Netflix.