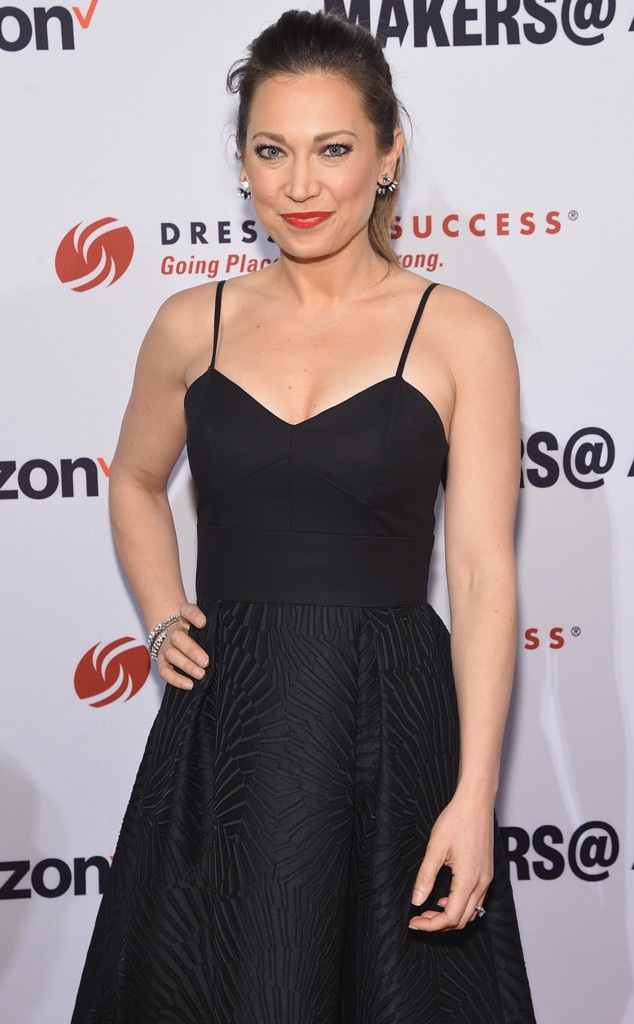 Jamie McCarthy/Getty Images for Dress for Success Worldwide
No, Ginger Zee is not pregnant.
It appears some people have yet to learn it's not appropriate to ask a woman if she's pregnant. Thankfully, one person learned their lesson on Tuesday, after they asked Good Morning America meteorologist Ginger Zee if she's expecting. In response, she tweeted, "Yes! I'm due in a month!!! So glad you asked. Just kidding—I'm not pregnant. That's called a woman who just went on 11 planes just last week, didn't work out, needs new spanx and had two children. HAPPY TUESDAY!"
Of course, some people defended the social media user's comment saying that Ginger "does look pregnant." But as Ginger said before, she might look "bumpy" because of the fact she's a woman who's birthed children. "Proud of my UCA—my upper c section area—it birthed two babies. Perhaps it's highlighted in my satin dress today, but no, not pregnant," the ABC talent shared. 
As unpleasant as it might be for people to say you look pregnant, Ginger took it as an opportunity to educate people on why you shouldn't ask anyone if they're pregnant, regardless of appearances. "Wish it didn't affect me but I'll probably be even harder on myself—anorexia is a difficult disease but I am recovered and these types of comments make me rely heavily on my therapy and self confidence I've been working on for years," the 38-year-old shared. 
Watch:
Ginger Zee Brings the Sexy to "Dancing With the Stars"
Regardless, Ginger knows she looks great even when she's not wearing Spanx. She told her supporters, "I wish I didn't have that seed of anorexia that still tells me lies—I'm constantly keeping it muted but this challenges me. Thank you for your support."
This isn't the first time the star's opened up about mental health issues. In 2017, she released the book Natural Disaster, in which she revealed she was checked into a mental health hospital just 10 days before she started her career at ABC.
Hopefully, social media users learned a valuable lesson today: Don't make assumptions based on appearances!