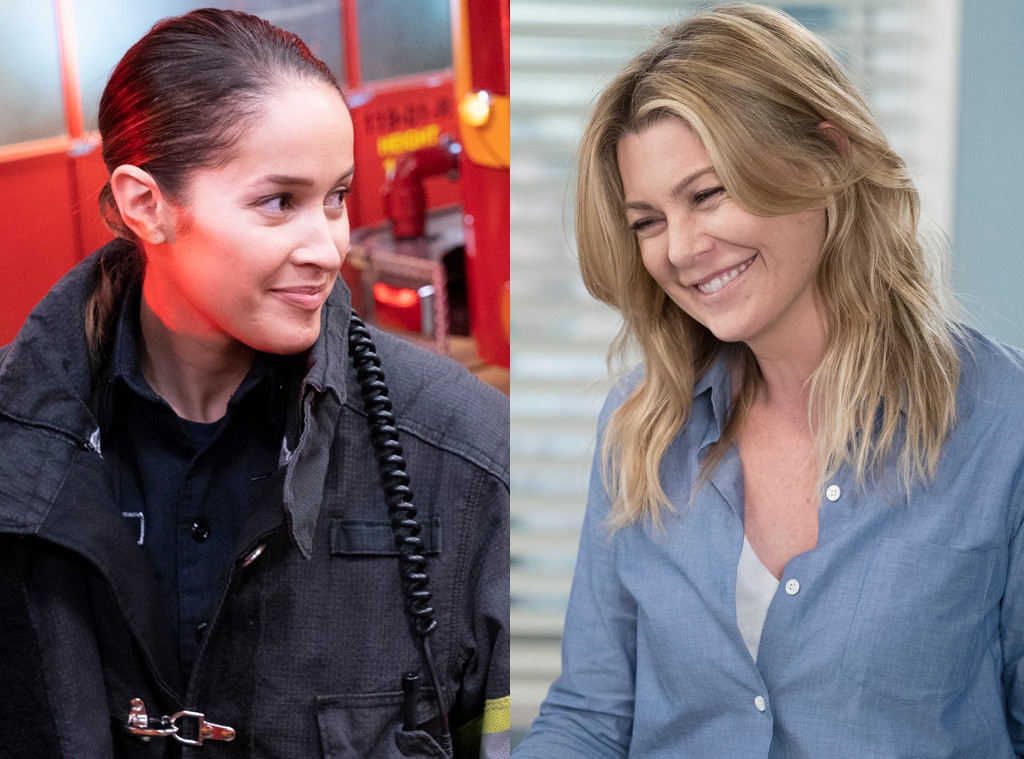 ABC/Byron Cohen/Eric McCandless
Grey's Anatomy is welcoming back Station 19 in a big way. 
When Grey's returns in January, it will be in a two-hour crossover event with Station 19's season three premiere and new timeslot debut, as Station 19 is taking over Grey's Anatomy's 8 p.m. slot, moving Grey's to 9 p.m.
The two shows are about to get a whole lot closer in general, as they're both now run by showrunner Krista Vernoff and will likely do a lot more crossing over. Station 19's Vic (Barrett Doss) has already been appearing regularly on Grey's as Jackson's new girlfriend, and it definitely looks like firefighters will be involved in tonight's fall finale of Grey's Anatomy, based on the promo. 
You can watch the promos below. 
Towards the end of last season of Station 19, Maggie got heavily involved as Chief Ripley was dying, and the two shows will be much more heavily intertwined now that they're both being run by the same executive producer. 
Earlier this year, ahead of Grey's Anatomy's fall premiere, Vernoff told us that the biggest change she was making would be tonally, to better match Station 19's tone to Grey's Anatomy. She couldn't tell us much more than that, but it's not as if firetrucks and ambulances don't already go hand in hand. 
Tonight's fall finale will also deal with Meredith's return to work after her hearing last week, and we're not so thrilled to see who else is not so thrilled to see her there. 
We do not want to watch MerLuca go down this way! Or in any way! 
Watch:
Ellen Pompeo Wanted to Quit "Grey's Anatomy" Many Times
Grey's Anatomy airs tonight at 8 p.m., and then returns along with Station 19 on January 23 on ABC.