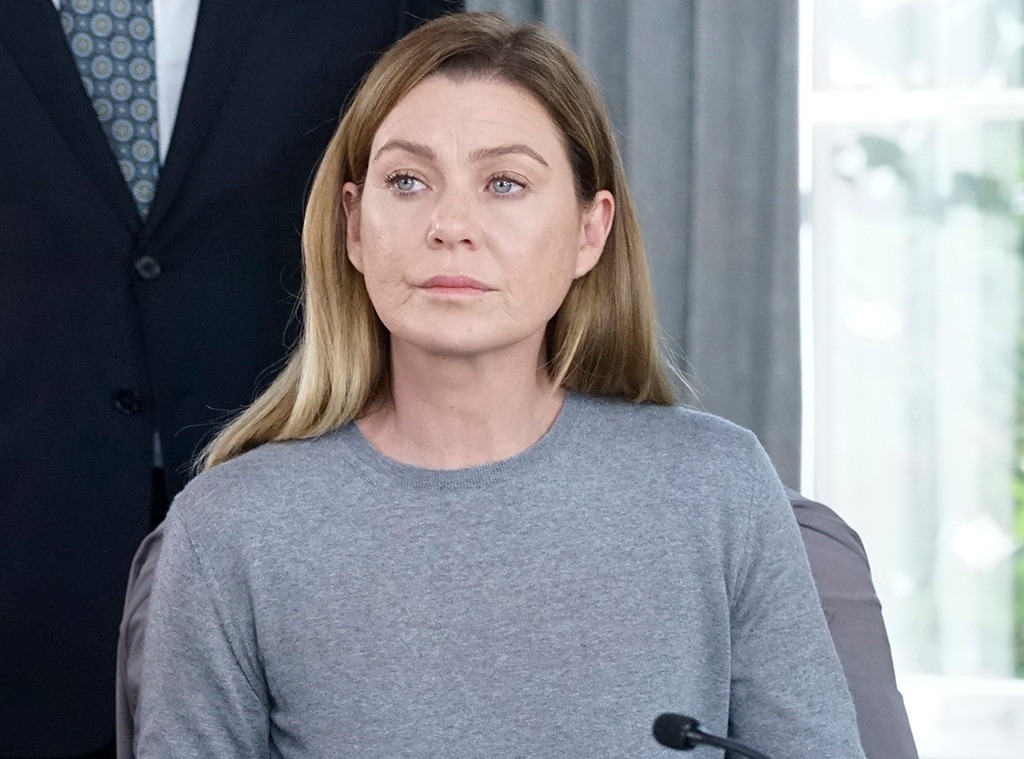 ABC
Well that was rough. 
Grey's Anatomy just celebrated its 350th episode by putting Meredith on trial, and it turned out to be a really beautiful episode, but quite the stressful walk down memory lane. The prosecuting attorney questioned nearly everyone in Mer's life about all kinds of things from the past, resurfacing moments we had almost completely forgot about.
Of course we remember Izzie and her friends all claiming they cut Denny's LVAD wire, but we definitely forgot about Mer and Cristina having to save the interns after a botched and unnecessary appendix surgery, and we had even sort of forgotten when DeLuca was pressing charges against Alex after Alex beat him to a pulp. 
We had certainly not forgotten about that time Derek died due to bad decisions by an ER doctor, and then that same incompetent ER doctor showed up as part of the panel judging whether Meredith should keep her medical license. 
Everyone kept their mouth shut about that for much of the hearing as Bailey, Alex, Richard, Owen, and Schmitt (who revealed he was the one who told on Meredith) were all questioned, along with Richard's former assistant. It was actually the assistant's testimony that was the most interesting, as we found out that Meredith didn't actually match with Seattle Grace when she originally applied as an intern, and Richard ended up making a call to get her on the list. 
As things started to look bad, Meredith had it with being judged by the guy who killed her husband. She confronted him, and he called a recess, then immediately fell backwards and started seizing. 
Back at the hospital, Amelia discovered he needed brain surgery, and she passed it off to Tom. The guy later died during surgery. 
The rest of the panel tried to postpone, until Alex showed up with a whole army of people whose lives Meredith had saved, as well as a pile of letters from people including Callie Torres, Arizona Robbins, and Cristina Yang. 
It worked, and the panel decided to drop the entire thing and allow Meredith to keep her license. Bailey then gave her her job back, and Mer is finally a doctor again. 
But then DeLuca came over to talk after the whole thing was over, and he told Mer he's worried that she does not respect him the way she respected Derek, and asked her to figure out what she wanted and if he was a part of it. 
Elsewhere, Maggie was still devastated over her new cousin dying in surgery, and somehow she found comfort in Jackson. Finally, they spent some nice time together and actually weren't fighting and being absolutely horrible to each other, and nearly even kissed before he put a stop to it, and Maggie kicked him out. 
And then we got a promo for next week's episode, a happy reunion for Meredith and the hospital staff, though she seems to claim DeLuca dumped her. But of course it's a fall finale, so the episode apparently turns to tragedy and involves those Station 19 fire trucks. We're absolutely not ready for that, but also we'd be happy to watch the episode right now if we could, as always. 
Grey's Anatomy airs Thursdays at 8 p.m. on ABC.