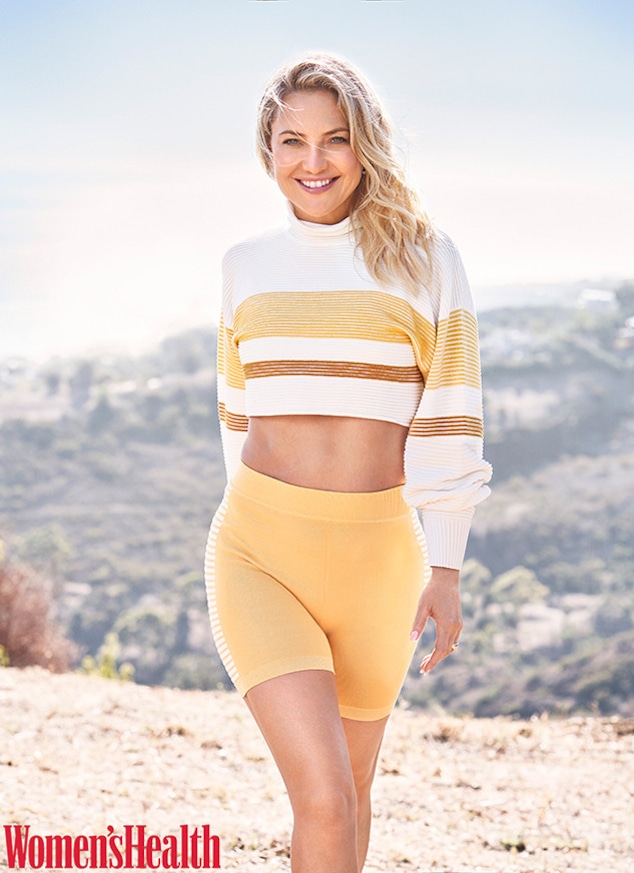 Beau Grealy for <i>Women's Health</i>
As an actress, a business mogul and a mother of three, Kate Hudson seems to have it all. However, the 40-year-old A-lister's road to success wasn't an easy one.
The celebrity opened up about her journey for the December issue of Women's Health.
"I spent a lot of years [running] on adrenaline," Hudson told the magazine in an interview published Monday. 
While the cover star said she's "always been joyful," she admitted she "never felt calm." So, the How to Lose a Guy in 10 Days celeb took some time to work on herself. She was able to "kind of chill out—take a step back from acting, from making movies that weren't really making me happy—and look at what I really want to do and what I want to give back, and what kind of parent I want to be."
Life took a turn again in 2016 when she started dating Danny Fujikawa.
"I've got the best man," she told the publication. "It's the first time I feel like I have a real teammate in this. We're able to pick up where the other one has to leave off."
Watch:
Kate Hudson Gushes Over "Adorable" Daughter Rani Rose
Together, Hudson and Fujikawa manage to find a balance between their personal and professional lives. 
 "If I have to go to a dinner meeting, he can be home," she continued. "His number one priority is family. And when we have our disputes, I feel the thing that allows us to get through them is having the same ultimate goal, and that includes being in each other's life. It just feels so nice."
She also discovered that co-parenting with exes requires one "to drop the ego."
"Some people meet, have kids, and end up not being able to figure it out," she said.
Beau Grealy for <i>Women's Health</i>
While it may seem like she has it all figured out, not every day is picture-perfect.
"I make mistakes all the time," she said. "I've yelled at my kids too much, and I've also cursed in front of them, and I also haven't shown up for things because I was out of town. But at the same time, I have days where I'm like, 'I'm a f--king supermom.' I am cooking, cleaning, doing homework, changing diapers, I worked out. What I've learned—and what I'm learning—is that I'm doing the best I can." 
To read her full interview, check out the new issue of Women's Health—on newsstands Nov. 26.