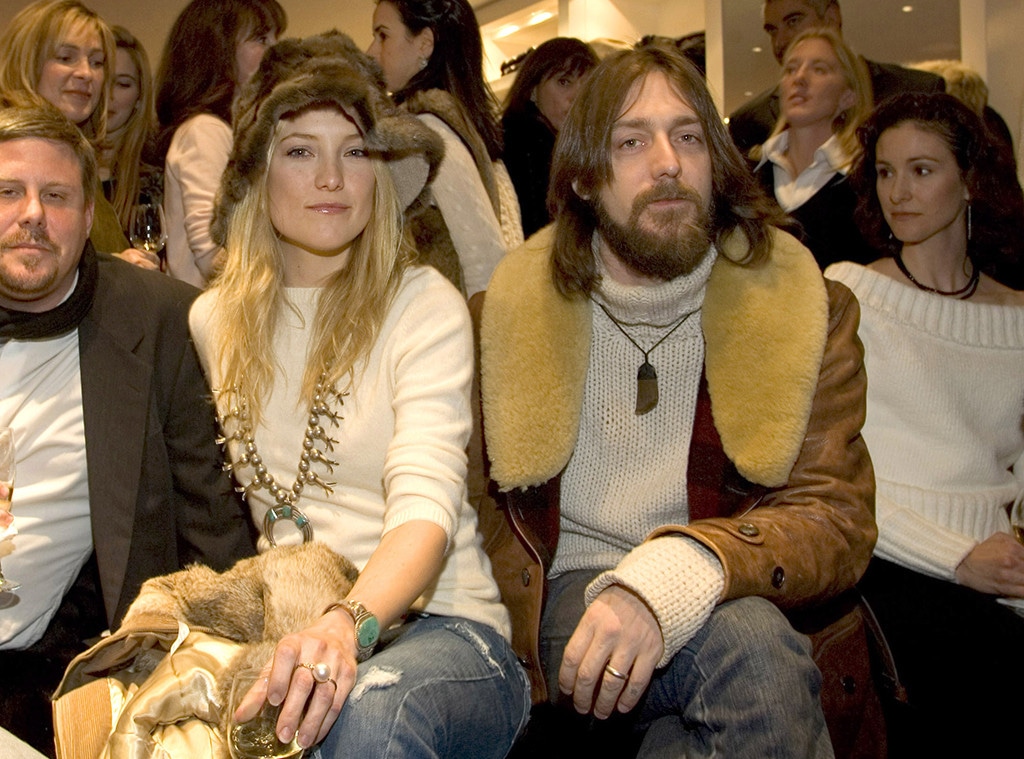 Riccardo S. Savi/WireImage
Kate Hudson and Chris Robinson split up more than 10 years ago.
Till literally this week, their split has been one of the least dramatic of note among the famous set—helped in part, presumably, because the actress and the Black Crowes frontman broke up before social media could sink its claws into the couple. 
Son Ryder was only 2 when a court granted the exes joint custody. Hudson has since welcomed son Bingham with now ex-fiancé Matt Bellamy, while Robinson is also dad to daughter Cheyenne with wife Allison, whom he married in 2009. 
But now Ryder is 13, and it sounds as though more time with Dad might be in the cards—or at least someone is interested in making that happen.
Todd Williamson/Getty Images
The news just broke days ago, but on Feb. 6 Robinson filed a petition in Los Angeles Superior Court to have his and Hudson's now nearly 10-year-old custody agreement re-evaluated.
An evaluator in turn was appointed to interview Ryder, Hudson and Robinson—as well as anyone else who might help her make an informed decision—and make recommendations "in developing a parenting plan that addresses legal custody and physical custody," including where the teen will live and visitation orders.
Hudson has been ordered to pay the initial $7,500 deposit for the evaluation costs.
The public records, meanwhile, do not go into specifics as to what prompted Robinson's request, or what sort of altered arrangement he may have in mind, if any.
Of course, a report that Robinson wants sole custody, and Hudson thinks this is all about money, is out there. The Deepwater Horizon star's rep has not yet responded to a request for comment on an In Touch story that she and Chris have been dealing with this "ongoing issue for months."
Which, even if they have been quietly battling "for months," still seems out of the blue.
Hudson and Robinson met at a party in New York in May 2000 and famously moved in together days later. He gave her a diamond "commitment" ring that summer and, ever the artistic couple, they married on New Year's Eve in a shamanistic ceremony in Colorado. It was the first marriage for Hudson and second for Robinson, who's 13 years older.
Just weeks later at the 2001 Golden Globes when she won Best Supporting Actress for Almost Famous, Hudson was thanking a list of people and, when she got to her hubby, a giddy smile took over. "My husband, Chris Robinson. You inspire me every day."
And the inspiration ran both ways. Robinson penned the song "Katie Dear," off of his 2002 debut solo album New Earth Mud, about his missus. "I'm in such a better place as a husband, as a part of a family and a musician," he told People.
Asked in 2003 what her favorite part of being married was, Hudson told London's Independent, "Him. Everything. My friend got married last week, and I told her, 'watch the minute you wake up, you will feel different.' I can't explain it. I get kind of disappointed in people who don't take marriage seriously. You shouldn't make the decision rashly.
"For us, we will never think of not being with each other. I'm done. I am happy. I can't wait to grow old. I can't wait to retire."
The then 22-year-old actress said that during her spare time, her favorite thing was "being a wife to my hubby. Taking care of him."
Hudson had taken a year off from working after Almost Famous, a suggestion from mom Goldie Hawn who had advised her to take some time to enjoy being married. "I learned how much I love providing for my husband—something I will always cherish, even when I'm working. I love being able to be a wife, make dinners and invite friends over and be able to make it all nice for him. It's a nice thing for a man to feel that, and for me to feel that I can give that."
The How to Lose a Guy in 10 Days star also told People in 2003 that not everything had been perfect all the time.
"In the beginning we were so volatile," she recalled. "We were so in love and passionate, and then we would just hate each other and throw stuff around, and then we would travel to Paris for a week."
Ryder Russell Robinson was born on Jan. 7, 2004.
"We're sharing something so gigantic now," Kate told People that year, referring to Chris. "I think it's the best we've ever felt being together."
Hudson also said that she and Robinson wanted to have "millions of babies" and that Ryder was born to be a musician, having already lived for a time on his dad's tour bus (albeit in the womb, while Kate was pregnant). At the time, she and Chris were planning on heading into the studio together to cut an album of kids music—Ryder's favorite songs, for the family's enjoyment only.
Despite the excitement and all the plans, however, rumors of trouble in paradise would plague the couple for the rest of their marriage.
They separated in August 2006; Robinson filed for divorce that Nov. 17 after less than six years of marriage, citing irreconcilable differences and seeking joint custody of Ryder. A judge signed off on their split on Oct. 25, 2007, with no particular issues going public as far as custody was concerned. Neither party requested spousal support; per TMZ, they had a prenuptial agreement.
Hudson dated You, Me and Dupree co-star Owen Wilson after she and Robinson separated; she later dated Dax Shepard. (Responding to speculation, a lawyer for Wilson told outlets at the time that the actor had nothing to do with Hudson's split.)
"For both Chris and me, our main focus is, and was, Ryder. And happy parents, happy baby," Hudson told Harper's Bazaar. "Therefore, I love Chris to pieces."
In 2008, after playing Matthew McConaughey's estranged wife in Fool's Gold, Hudson told the Daily Mail that the role was especially interesting to her because she and Robinson still got along so well.
"It's incredibly different circumstances—real life versus playing a picture, and Chris and I had no animosity," she said. "Chris and I divorced for the right reasons—we just didn't work. But we remain extremely close."
They did spend an unfortunate amount of time apart, due to work on both ends, and she didn't love Robinson's musician buddies crashing at their house when he was in town.
That being said, "the reasons are personal, but those things weren't difficult," Hudson explained. "They can be, but dealing with work schedules is always a challenge. I think that's true for everybody."
Jackson Lee / Splash News
"Chris and I are both so focused on Ryder," she continued. "I feel lucky to have him in my life."
As for Ryder, Hudson said, "It's pretty much the same as before. Chris is still working. He loves to go on the road, and it's not easy to bring a toddler on a tour bus. But I can't wait till Ryder gets a bit older and I get some time off, so we can go back on the road with his dad's band.
"I think the issue is more about being a working mom. You live with guilt. Like right now I'm in London for a day and a half and Ryder's in Boston with his grandparents."
Hudson's quest for balance between motherhood and her career would continue—most recently evidenced in an essay she wrote for InStyle last year called "Sometimes I Feel Like a Bad Mom," in which she came to terms with not being able to do it all.
"You realize after you have had children that you'll never love anything more than your child," she also said in 2008. "So it makes the single-mom dating process very different. It's like growing up. It's adult."
In 2009, with Ryder turning 5, Hudson told The Times Online she had zero regrets about Robinson being the father of her child.
"I just had no question about him, and I still don't. He's a permanent fixture in my life, but I believe our love changed its form, it shifted…," she said. "I think we were meant to have a child, and we have this amazing little boy together and therefore we'll be together our entire lives." She added, "Whoever he ends up with, whoever I end up with, we'll always be together."
Hudson started dating Muse frontman Matt Bellamy in 2010 and they welcomed son Bingham Hawn Bellamy on July 9, 2011. All the while, her relationship with Robinson seemed on an even keel. When she was pregnant with Bing, she was spotted hanging out with her ex and his toddler daughter Cheyenne at one of Ryder's baseball games.
As for her relationship with Bellamy, there was split speculation in early 2014, but they seemed to be powering through.
"Relationships are the most challenging things," Hudson told SELF magazine for its May cover story. "It's where you do the most work in your life. You come face-to-face with yourself, and if you can deal with realizing we're all flawed, accept it and work with it, you might have a really amazing, lasting relationship."
"I have two kids," Hudson said on The View in July 2014. "I wouldn't say I'm conventional, but what is conventional these days? I've got two children from two different fathers, so that's unconventional." (She quickly added that it wasn't that unconventional in Hollywood.)
"I'm a strict parent," she added. "I'm strict when it comes to manners. I think kids get too much too fast. Ryder wants a cell phone...He can get a pager, when he's 12." (So long as he's 12 in 1997...)
Asked if she and Bellamy had set a date, she said first "we have to find time to have time together alone. I think if we do get married, it will be for the kids actually. We're really happy. I know it's not a golden ticket, but there's something secure about marriage."
Hudson and Bellamy split up in December 2014, however, after four and a half years together.
"Relationships ending are painful, and you can choose to carry that or you can choose to reframe it," the actress said later in the November 2015 issue of Allure. "If Matt and I had a great relationship, we would still be together, but we chose to move on because we had different visions of how we wanted to live our lives."
The Black Crowes, meanwhile, completed what they said would be their last-ever tour together in 2013, they more or less officially broke up in 2015, and the Chris Robinson Brotherhood released its fourth studio album, Any Way You Love, We Know How You Feel, last summer.
Robinson told The Aquarian Weekly last year, "I find when I'm home there just isn't a lot of time [to write music]. It's mostly just taken up by parenting and things like that, so my life is…like my road time is that time. I mean I do a lot of writing at home, too, and stuff…My life changed. I used to write at night when I was younger, and the last decade and half or so I write in the mornings."
Daughter Cheyenne, with his third wife, Allison Bridges, is now 7.
"I'm not unduly ambitious, but naturally, I would like the CRB to be more popular. I wouldn't say I'm restless. When I'm at home, my life is really different," Robinson told Glide in 2015. "Luckily for me, my wife is our manager, so our home houses our family business. When I'm at home, I'm just dad.
"I actually turned down some outside productions I would have really loved to have worked with just so I could stay at home longer. I'm on the road so much as it is When I'm at home I get to drive my tyrants—that's what I call my kids—to school. It's funny in that way. Sometimes I do wish I could do both, but there's nothing more fulfilling than hitting the bed at the end of a full day of parenting. I have my outer space life on the road with the band and then my inner space life at home with the kids."
Robinson for the most part has been incredibly private about his personal life, never publicly dissecting his marriage, his post-split relationship with Hudson or details about his children.
And for Ryder's sake, may whatever occurs in court—or behind closed doors—with Hudson be a brief distraction what has otherwise been a historically uneventful divorce.