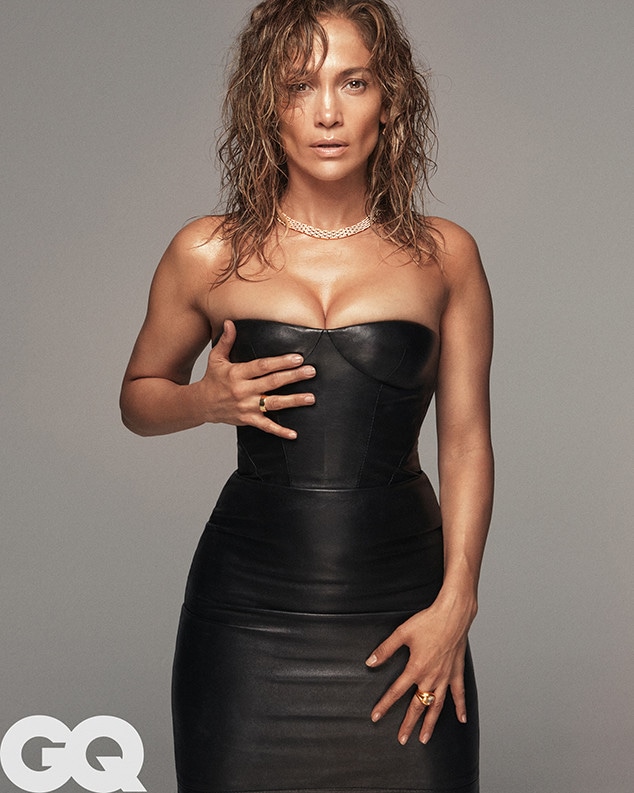 Daniel Jackson for <i>GQ</i>
Jennifer Lopez is an actress, a singer and a mother of two. But could she add "billionaire" to her list of titles?
The 50-year-old superstar discussed her ambitions during an interview with GQ published Monday.
The topic came up after the interviewer asked Lopez how she and Alex Rodriguez make each other better.
"I mean, we're very similar," Lopez, who was also named GQ's Icon of the Year, told the magazine. "We're really alike in our drive, in our ambition. He's an athlete. He wanted to be the best. I'm the same way. I just want to be great at what I do. We're both like that. We're both super-hard workers. We're driven by our passions. And we have a tremendous amount of respect for each other. Everybody in the room can be talking, and if he says something, I key in on it, and if everybody in the room is kinda in his ear and I go, 'I don't think that's the right thing,' he'll hear me; he'll listen. He knows I only have his best interest at heart, and I only want him to thrive and succeed and to be his best self. And I believe that he wants that for me. He wants me to be seen and to get what I deserve. Like, he's made his half a billion. And he's like, 'I want you to have that.'"
Make no mistake: Lopez is a business mogul in her own right. From her concerts and her movies to her perfume lines and clothing collections, the celebrity has earned a pretty penny. In fact, she landed the 76th spot on Forbes' "Highest Paid Celebrities of 2019" list. The publication estimated her earnings this year to be around $43 million.
Daniel Jackson for <i>GQ</i>
Still, Lopez suggested she's learned a thing or two about negotiating from her hubby-to-be.
"When I first met him, I was telling him about my perfume business. He loves business. He went to business school online and took classes, and he just had a real passion for it," she recalled to GQ. "And he knew that I was a creative person who had clothing lines, perfume lines, and had some success in consumer sales. So I was telling him a story. And he was like, 'Wait, what did you say? How much did you make? I think there's a better way to do it.' And I'd been saying this to my team for a while. But it's done a certain way in Hollywood. These type of businesspeople are not trying to give that to the artist. Or educate the artist in that way. Because it doesn't serve everybody. But he goes, 'No, no. This is what you're gonna ask for. This is what we're gonna do....' So we're doing a lot of investing. And we're owning businesses as opposed to being in the licensing business, which a lot of, you know, celebrities do. You wind up making billions of dollars for people, but you're still having to hustle."
In addition, she insisted she's "never been motivated by money." Instead, she said her drive came from wanting to be a great actress, singer and dancer and that the money just came along.
"So to play a character, I do things because I love them," she told GQ in a video. "I didn't get paid a whole bunch of money for Hustlers. I did it for free and produced it. I bank on myself, you know?"
Lopez's road to success wasn't an easy one. During the interview, the celeb opened up about the hurdles she's overcome.
"Because I was Latin, and I was a woman, and I was Puerto Rican, and they were not giving me the same pass that they gave everybody else at certain times," she told the publication. "It's hard to remember specifics. I wish I could. But honestly, I don't like to harp on the negative or feel sorry for myself. You know, it, it just is what it is. There were moments in my life where it got to me more. Where it kind of took me down for a second. But it never took me down for very long. The energy was always in just getting better, doing more growing, and driving myself. To be better, all the time. And creating more opportunities for myself. Just, be resilient. They'll give up."
She also talked about industry ageism. For instance, the celebrity recalled people telling her not to be open about her age.
"In this industry, by the time you're 30, they're already like, 'She's done.' I can't tell you how many times I felt like people were like, 'She's done, she's over,'" she said. "But it's such a beautiful time in women's lives. Artists, women especially, get so much better as they grow and mature. You can see it! Meryl Streep's career took off after she was 40. Tina Turner, after she was 40. Cher. It's not that [those women] weren't who they were before that. But as they got older, they blossomed in a way they hadn't before, right? They came into their own power, and they started realizing, like, 'I am the scarce asset, I am the prize. I have something beautiful to offer to the world that's only mine.' And I feel the same thing! There is no reason to ever be ashamed of where you're at. Not when you're doing your best. Not when you're in your best moment. There's always gonna be people to tell you no. Or 'You can't.' Or 'You shouldn't.' It's gonna happen. No matter what anybody says, you just have to still be like, 'I'm still doing this. I'm still gonna succeed. I'm still gonna do my best.' Defy the odds. Why not?" 
To read Lopez's full interview head on over to GQ.