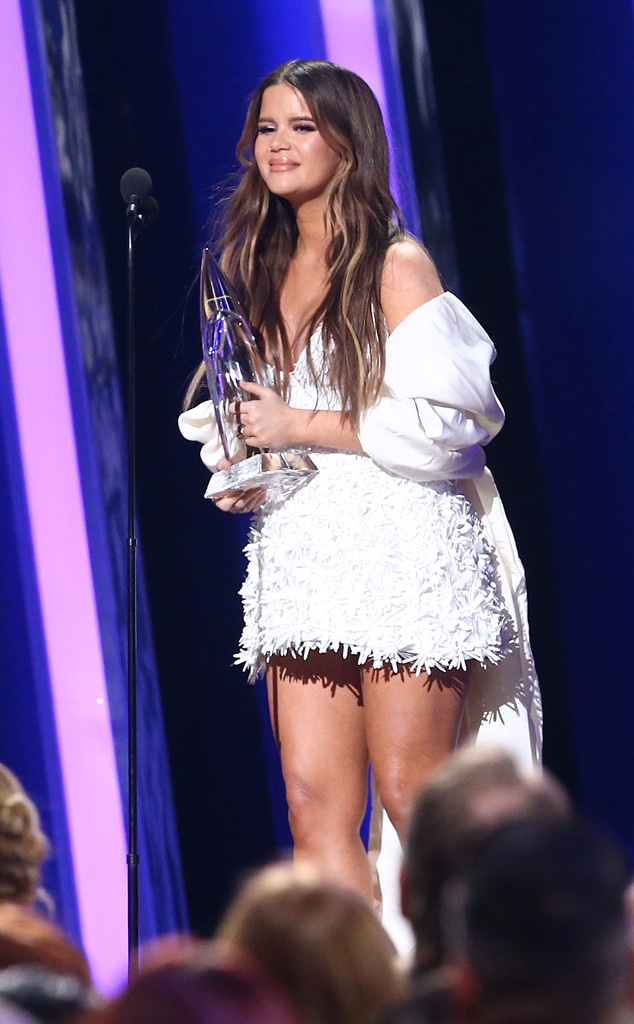 Terry Wyatt/Getty Images
Maren Morris is going home a winner!
On Wednesday night, the 29-year-old singer dazzled at the 2019 CMA Awards with her larger-than-life fashion and unforgettable performances. However, she nearly brought audience members and viewers alike to tears after giving an emotional speech.
The Girl songstress earned her first win for Album of the Year, and took her moment in the spotlight to honor her late friend and music producer Busbee, who passed away in September.
"This is incredible. Thank you, country music. Thank you to my peers in this room that I respect so much for voting for me for this," she began her heartfelt speech, trying to hold back the tears. "Thank you to my manager Janet. My parents, who are here. My love of my life, Ryan [Hurd]. Thank you for always being in the seat next to me. And Greg [Kurstin], thank you so much for making this record with me."
She then began to pay tribute to Busbee.
"Girl was the second song we wrote together with Sarah in the room. And I would be really remiss if I didn't mention a huge facet of why this album sounds the way it does," Morris explained. "And we miss him so dearly. He texted me the morning that we got the nomination for Album of the Year this year, and we were so excited. That's our friend Busbee."
Watch:
Maren Morris Gives Pregnancy Update at 2019 CMA Awards
She continued, "His wife, Jess, is here tonight. And she looks so beautiful. Thank you for sharing your husband with us once a month. And my heart goes out to you and your beautiful daughters. I hope when they listen to this record or any of the songs that he made that made us all better, they know how amazing their father was."
When news first broke that the music producer and songwriter passed away, the "My Church" singer took to social media to send her condolences.
"This just doesn't seem fair," she wrote on Twitter. "I will always love you and the songs and albums I was lucky to make with you, Busbee. Rest well, my sweet friend."
At the time of his death, Warner Records' co-chairman and CEO Aaron Bay-Schuck and co-chairman and COO Tom Corson sent a message to staff that read, according to Variety, "Today we lost Busbee, a dear friend, business partner with his company Altadena, and one of the best and brightest creative minds in music. Busbee's kindness and legacy will never be forgotten and our hearts and prayers go out to his family at this very difficult time."
Additionally, Blake Shelton dedicated his 2019 CMA Award to Busbee and Earl Thomas Conley.
The late music producer may be gone, but he's not forgotten!