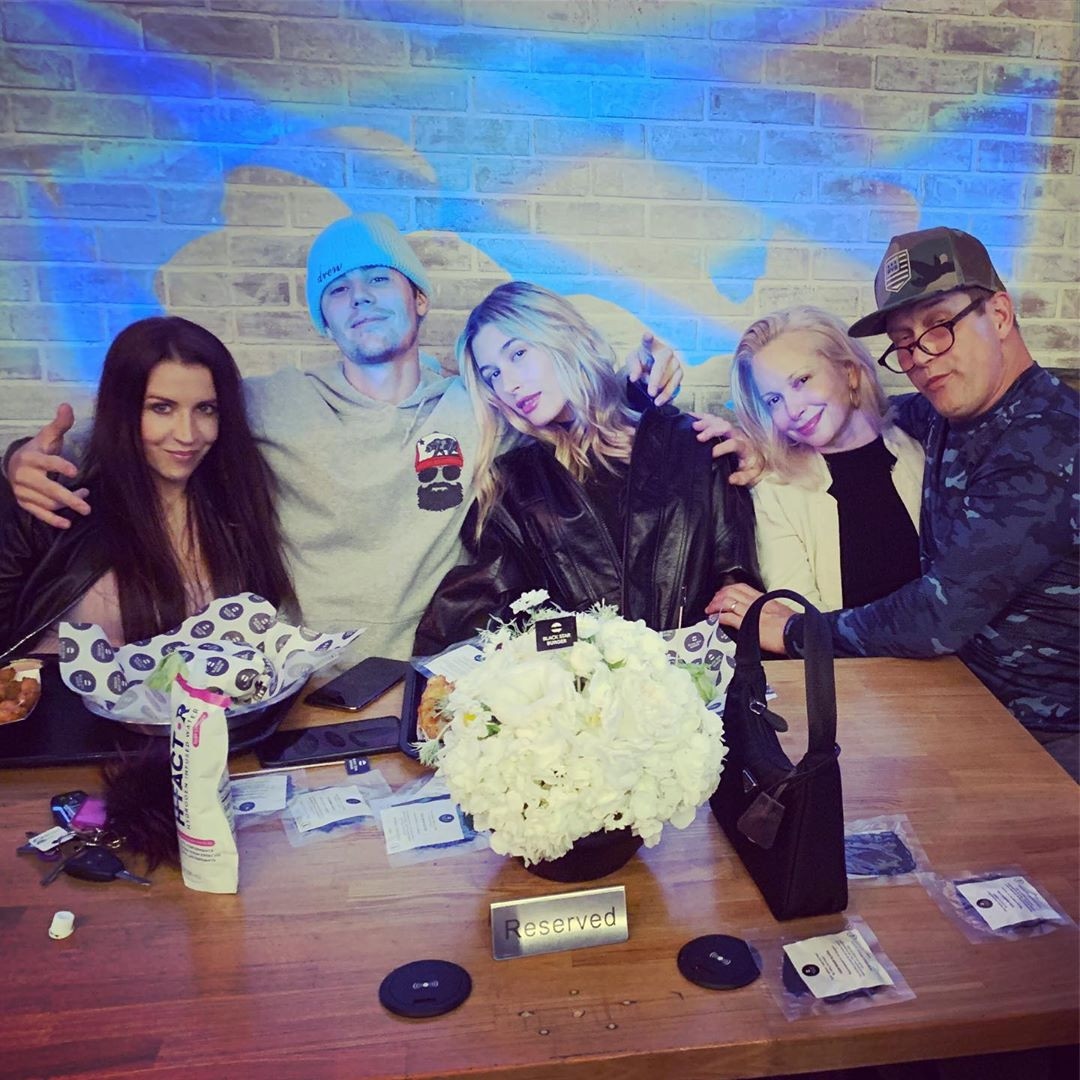 Instagram
Justin Bieber and Hailey Bieber had the best company on their date night.
The "10,000 Hours" singer and the supermodel brought their parents along with them to dinner on Tuesday evening, enjoying a family meal together at Black Star Burger in West Hollywood. The celebs were joined by Justin's mom Pattie Mallette, along with Hailey's parents Stephen Baldwin and Kennya Baldwin. Tuesday was actually the grand opening of the restaurant location, and the crowd was very excited to see the Biebers at the new Los Angeles hot-spot. Justin even stood up and gave a congratulatory speech in honor of the opening night.
"Justin and Hailey seemed to be having a great time during the night," an eyewitness tells E! News. "Justin got on stage a couple of times and said congrats on the opening. They both looked happy to have their family with them."
"I saw Patti and Justin along with Hailey and her parents sitting at their table for a bit, but Justin was acting a bit like a as a host," the insider shares, adding that Justin also got up to mingle with fellow guests at the restaurant. "The place was packed out, and everyone seemed to be having a really good time."
According to a second insider, "Justin and Hailey were inseparable the entire night."
"He was holding her when she was cold and they had several PDA moments," the source tells E! News. "Justin got on the stage and said, 'I can't wait to eat this dank burger with my wife. I love you Poo Bear. This is amazing!'"
"Justin introduced Hailey to a few people that approached him and was very friendly," the insider adds. "They seemed to be in a great mood. Justin, Hailey, Pattie and Hailey's parents sat in a booth together for majority of the night. They were all eating and chatting and looked really happy. Hailey was cuddling on Justin's shoulders at time and they looked really happy and in love."
Jonathan Cheban aka FOODGOD, Val Chmerkovskiy and Jenna Johnson were also in attendance at the grand opening.
Justin's mom documented the family outing on Instagram, sharing several squad photos from inside the restaurant.
"I love my family," Pattie wrote alongside one group shot.
"love you Mama," Hailey commented on her mother-in-law's post, adding heart emojis.
In a post on Pattie's Instagram Story, Hailey can be seen munching on mozzarella sticks while posing with her family. Later, the group stopped at Pinkberry for some yummy frozen yogurt.
Watch:
Hailey Bieber's Wedding Dress Revealed
This family reunion comes just over a month after Hailey and Justin's wedding in South Carolina. Though the duo first tied the knot in a courthouse ceremony in 2018, they said "I do" one again in late September in front of their friends and family.
And now it looks the line in-laws are getting along very well! Check out the family photos above!