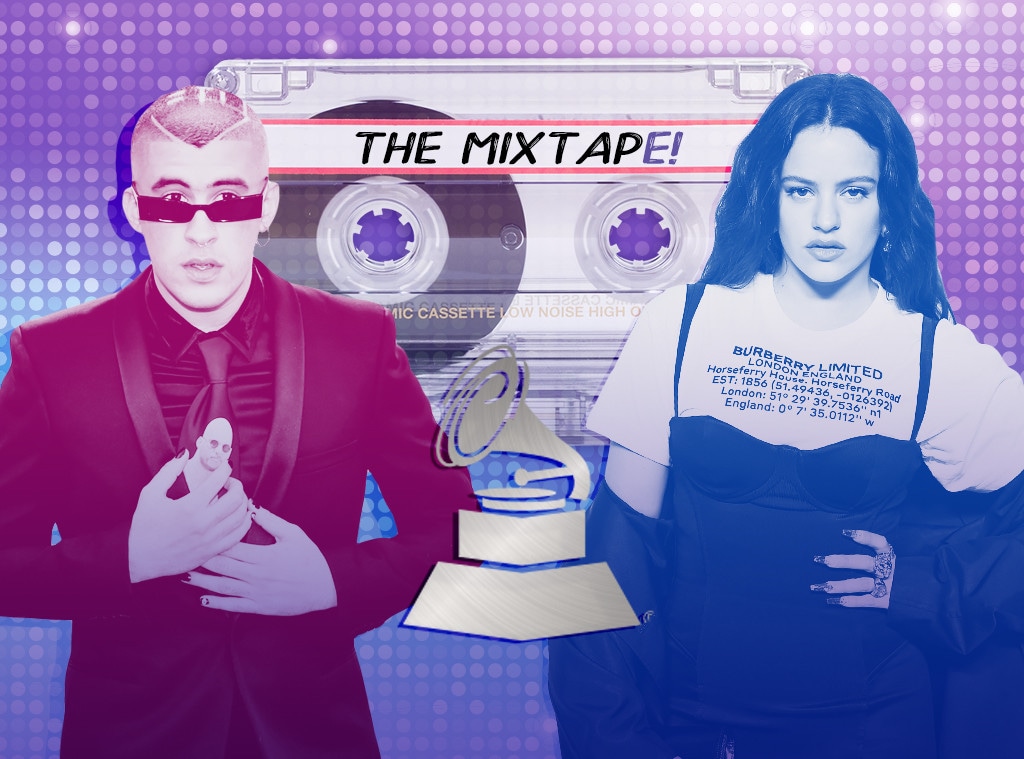 Getty Images/E! Illustration
The biggest night in Latin Music is almost upon us!
The 20th Annual Latin Grammys are just a day away, with the biggest fiesta of the year set to take place at the MGM Grand Garden Arena in Las Vegas on Thursday, Nov. 14. And the Latin Recording Academy is pulling out all the stops as it prepares to celebrate two decades. 
With Ricky Martin joining actresses Roselyn Sanchez and Paz Vega as co-hosts for the evening, a roster of A-list Latin talent is set to descend upon Sin City, with heavy-hitters like Rosalía, Bad Bunny, Luis Fonsi, Ozuna and Juanes due to perform while folks like Sofia Carson, William Levy, Michael Peña and Dayanara Torres will be on hand to present. As if that weren't enough, the show is also set to kick off with a tribute honoring the show's 20th anniversary, featuring a group of 20 artists, performing together for the first time as they interpret multiple songs spanning various genre of Latin music.
To get you ready and in the mood for the big night, we here at The MixtapE! have narrowed down our picks of the best of the best tracks from this year's crop of incredibly deserving nominees. And trust us when we tell you it was not easy. De nada.
Rosalía — "Pienso En Tu Mirá"
Sure, Rosalía's smash hit "Aute Cuture" is the one nominated for Record of the Year, but it's this track off El Mal Querer, nominated for Album of the Year and Best Contemporary Pop Vocal Album, that needs to be on your radar. There's a reason it scored a nomination for Best Pop Song. It's a stunner. Truthfully, though, you can't go wrong with anything she's released. It's all that good.
Bad Bunny feat. Drake — "MIA"
Benito's debut album X 100pre was major, earning him a nomination for Best Urban Music Album at this year's ceremony. And this track, the album's closer that features a killer assist en Español from none other than Drizzy, is proof of why the category should be his for the taking. 
Ozuna — "Baila Baila Baila"
As hard as it is to believe, the Puerto Rican superstar's nomination for Best Urban Song at this year's ceremony for this Spanish dancehall track, to be included on his upcoming third studio album Nibiru, is only his second nod ever at the Latin Grammys. It may face some stiff competition, namely from Rosalia and J Balvin's smash "Con Altura," but it's more than worthy of pulling off an upset.
Cami — "Aqui Estoy"
The runner-up of The Voice Chile season one, Cami is nominated for Best New Artist at this year's ceremony. And one listen to this new single released this summer, or any of the tracks on her excellent debut album Rosa, for that matter, and you'll know why. That voice!
Vicente García — "Ahí Ahí"
Not only did the Dominican pop singer, the recipient of the Best New Artist Latin Grammy back in 2017, score a nod for Best Contemporary Tropical Album this year for his third LP, Candela, but this smooth single off the album landed him a coveted Record of the Year nomination, as well. And deservedly so.
Juanes feat. Alessia Cara — "Querer Mejor"
Count on Alessia to join Juanes, the 2019 Latin Recording Academy Person of the Year, for a performance of this Record of the Year-nominated track when he takes the stage to perform a medley of his biggest hits.
Luis Fonsi — "Sola"
Two years ago, Luis cleaned up at the Latin Grammys with Record and Song of the Year wins, among others, for his smash hit "Despacito." And now he's back with an Album of the Year nomination for Vida, the LP that the track calls home. And while that song certainly made good use of some additional star power (ahem, Daddy Yankee and Justin Bieber) to propel it to stratospheric heights, it's songs like this one, the album's sultry mid-tempo opener, that remind everyone the Puerto Rican singer is award-worthy all on his own.
Fer Casillas — "Cuando Volvamos al Mar"
The Mexican singer-songwriter who's delivering some of the most interesting R&B her home country has ever heard landed a much-deserved Best New Artist nomination this year. And it's on tracks like this one that prove just why she belongs there. 
Alejandro Sanz feat. Camila Cabello —"Mi Persona Favorita"
The Spanish balladeer finds himself pulling an impressive feat: competing against himself in both Record and Song of the Year categories. And while "No Tengo Nada" is a great song, it's this incredibly romantic collaboration with the former Fifth Harmony member that has the edge in our humble opinion. 
Tiago Iorc — "Deconstrução"
There's a reason this song from the Brazilian singer-songwriter, nominated for Best Portuguese Language Song (a category he won in 2017), also scored a coveted nod for Song of the Year. And that's because it's absolutely stunning.
Bonus Tracks:
Ximena Sariñana — "Cobarde": This track, off the Mexican indie pop star's Album of the Year-nominated ¿Dónde Bailarán Las Niñas?, landed a nod for Record of the Year. One listen to the beautiful, if slightly hearbtreaking, piece and you'll know why.
Paula Arenas feat. Diana Fuentes — "Tiempo Al Viento": Our pick for standout rack from the Colombian pop star's Album of the Year and Best Traditional Pop Vocal Album-nominated Visceral.
Aitana feat. Lola Indigo — "Me Quedo": The Best New Artist nominee out of Barcelona teamed up with her fellow Operación Triunfo series nine competitor (aka the reality show that brought them both to fame) for this standout track off her debut album, Spoiler.
Elsa y Elmar — "Culpa, Tengo": The Colombian self-described "spiritual pop" star, born Elsa Carvajal, who opened for Coldplay in Bogotá in 2016 and is now nominated for Best New Artist proves why she's one of the most exciting musicians to come out of South America in a minute on this track and its equally excellent music video.
Mon Laferte — "El Beso": Just the standout track off Norma, our pick for Best Alternative Music Album at this year's ceremony. And yes, that is Diego Luna in the music video.
The 20th Latin Grammys air live on Thursday, Nov. 14 at 8 p.m. ET on Univision.