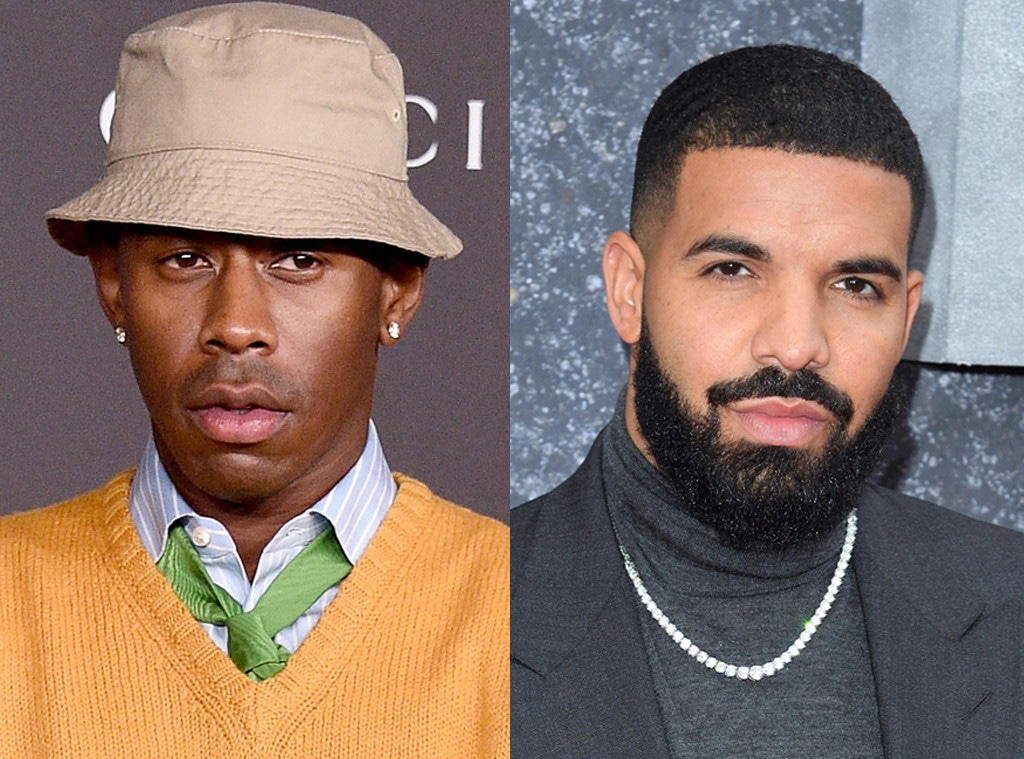 Gregg DeGuire/FilmMagic), Karwai Tang/WireImage
Not exactly a warm welcome. 
On Sunday night, Drake made a surprise appearance at Tyler, The Creator's annual Camp Flog Gnaw festival at Dodger Stadium in Los Angeles, and fans were less than excited to see him. The rowdy crowd was expecting a performance from musician Frank Ocean, and when Drake appeared, they weren't afraid to express their dislike for the "God's Plan" rapper. 
In the middle of his song "Wu-Tang Forever," Drake tried to address the dissappointed crowd. "Make some noise for yourself tonight," Drake said. "I'm here for you tonight. If you want to keep going, I will keep going. What's up?" They did not want to keep going. The rapper ended up leaving the stage to let the rest of the festival continue. 
Tyler took to Twitter to share his thoughts on the matter. "I thought bringing one of the biggest artists on the f--king planet to a music festival was fire," he shared. "But flipside, a lil tone deaf knowing the specific crowd it drew. Some created a narrative in their head and acted out like assholes when it didn't come true and I don't f--k with that."
Although he admitted his mistake, he wasn't afraid to call out his fans for their disrespectful behavior. "That s--t was like mob mentality and cancel culture in real life and I think that s--t is f--king trash." 
The two artists have a special friendship, which is one of the reasons Tyler was so excited to have him perform. "Like, I love that song and thought that would never happen," he shared. "He really did that for me and I appreciate it because he did not have to come at all, see our worlds come together was so great in theory."
All things considered, the event went flawlessly otherwise. Tyler, The Creator acknowledged that he'll be more cognizant of his bookings next time. "But hey man s--t happens, all jokes aside s--t lowkey funny," he shared. "Aside from that, hope everyone had a good time. Again, no arrest no bulls--t man. A lot of people enjoyed it, thanks again!"
Just because he forgave, doesn't mean he's quick to forget. Tyler's current Twitter bio reads, "embarassed by fans right now." Who can blame him!