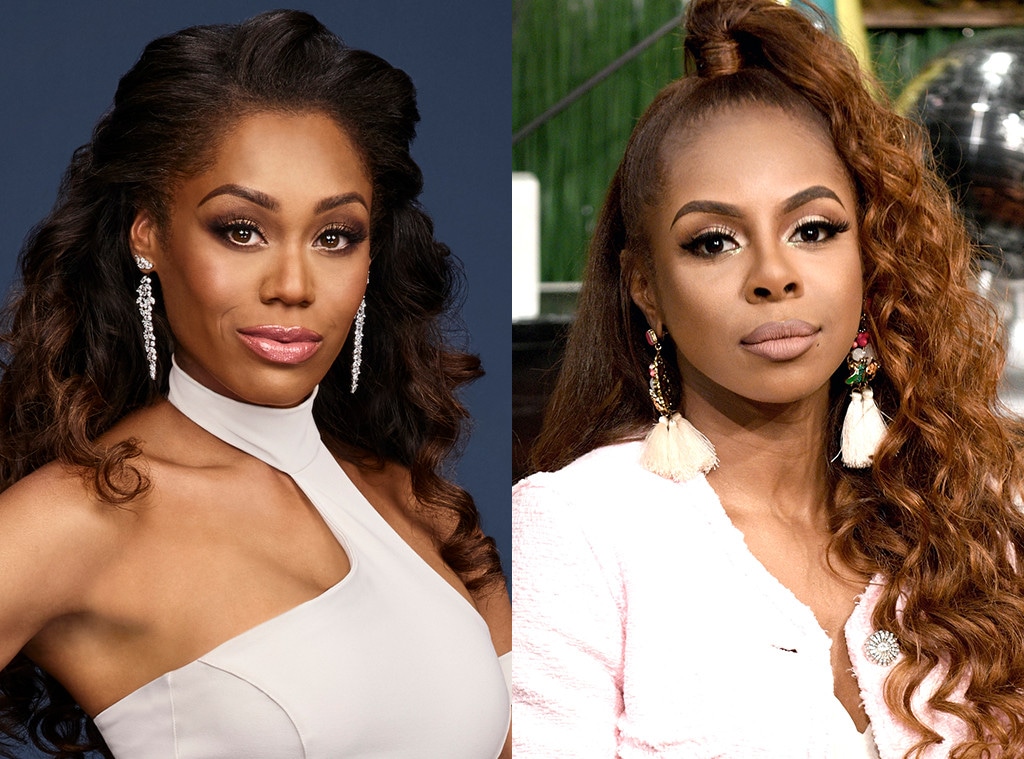 Tommy Garcia/Bravo; Gary Gershoff/Getty Images
Update: In late December, the Maryland State Attorney's Office dismissed charges against both stars, according to multiple reports.
__________
Real Housewives of Potomac star Monique Samuels is facing charges after allegedly getting into a physical fight with co-star Candiace Dillard.
According to a summons issued on Nov. 7, which was obtained by E! News, Samuels has been charged with second-degree assault from the District Court of Montogomery Country in Maryland. Furthermore, the records state that Dillard filed the complaint directly with the court. The charge made against Samuels appears to be from an incident that allegedly occurred on Oct. 16. 
Samuels later filed a counter suit, claiming her actions were in self-defense.
If the judge rules that there is a "probable cause," according to People, Samuels could "be arrested on the spot" since a second-degree assault conviction could lead to potential jail time.
According to the publication, a source said that Samuels and Dillard were at a dinner party alongside their RHOP cast members when the physical altercation occurred. Per the source, "Samuels grabbed Dillard by the hair and pulled her down. Bravo cameras were said to be filming the incident the whole time, for the franchise's upcoming fifth season." 
Dillard's personal attorney responded to People's request for comment with a statement, "At this time, we do not want to say too much and just allow the criminal process to play out. We only ask everyone to pray for our client Candiace and her family. The physical assault, humiliation and emotional distress have all been very painful and difficult for Candiace, as it would be for anyone attacked so viciously." 
The 32-year-old reality TV star's attorney also told the publication: "We also pray that Monique will get some help. The summons to court charge of Second Degree Assault is just one step below first-degree assault and must be taken very seriously. This behavior has no place in our society." 
Watch:
"Real Housewives of Potomac" Ladies Dish on New Season
The two RHOP stars became good friends on the show during its third season. Soon thereafter, their friendship quickly unraveled and went sour during the show's fourth season. 
Dillard is married to Chris Bassett. Samuels is married to Chris Samuels and the two share three children together, Chase Omari Samuels, Christopher Samuels and Milani Samuels. 
(Originally published on Saturday, Nov. 9, 2019 at 4:01 p.m. ET)