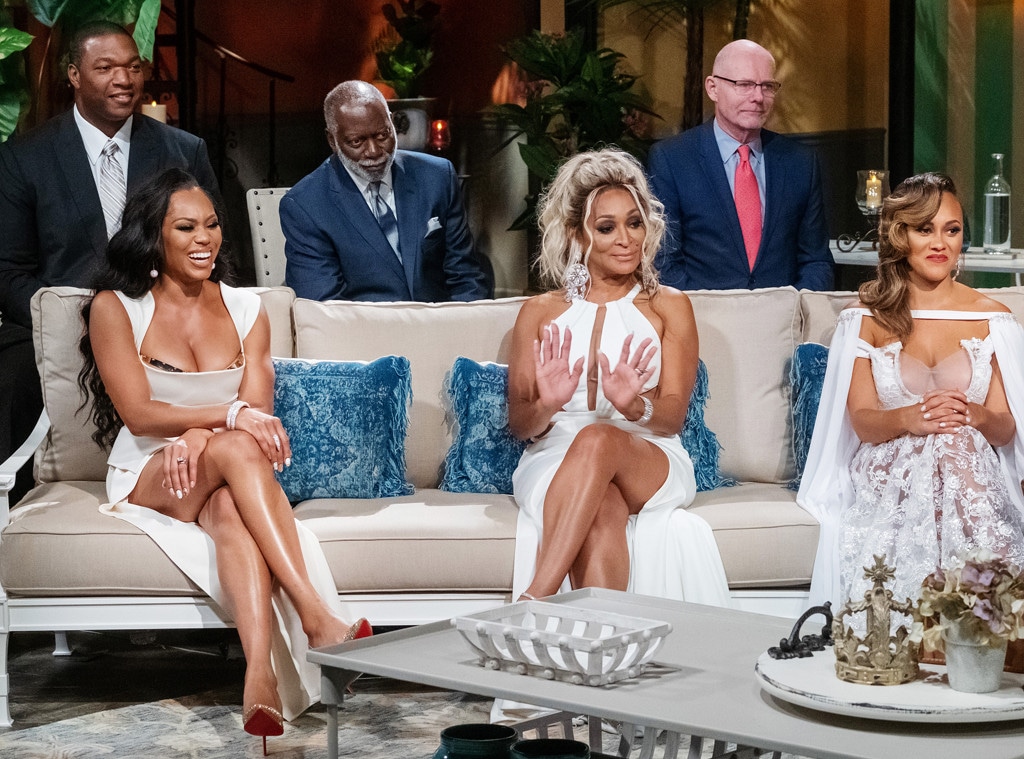 Charles Sykes/Bravo
The husbands of Potomac didn't come to stay quiet.
As The Real Housewives of Potomac prepares to conclude their dramatic three-part reunion special Sunday night, E! News is getting a sneak peek at the drama still to come.
In an exclusive preview for Sunday night's episode, Ashley Darby's husband Michael Darby is put in the hot seat when addressing misconduct claims.
"I didn't call you Michael and you know why? Because I didn't want to get into it because I did believe you did it and I didn't think it was a bad thing," Karen Huger's husband Ray Huger shared. "I think you were being playful. I've seen you grab from behind. I've seen you."
Say what?!
"I saw you in a different situation," Ray added.
"There's another unfounded accusation from somebody," Michael replied. "There you go."
While filming the most recent season of Real Housewives of Potomac, a cameraman claimed in court documents that Michael had grabbed and groped his backside during filming. Michael was charged with felony assault and suspended from filming.
Michael denied the claims and charges were ultimately dismissed by a Montgomery County court due to insufficient evidence.
While Michael was clearly legally, his co-stars have continued to express concerns about his behavior. Sunday's episode appears to be no different.
But when host Andy Cohen asks Michael what he thinks of Ray's accusation, he was quick to deny any misconduct claims.
"No one here has said that they've seen me do it," Michael explained. "No one else has said they've seen me do anything so I don't know what you're talking about."
The Real Housewives of Potomac season four reunion concludes Sunday night at 8 p.m. only on Bravo.
(E! and Bravo are part of the NBCUniversal family)