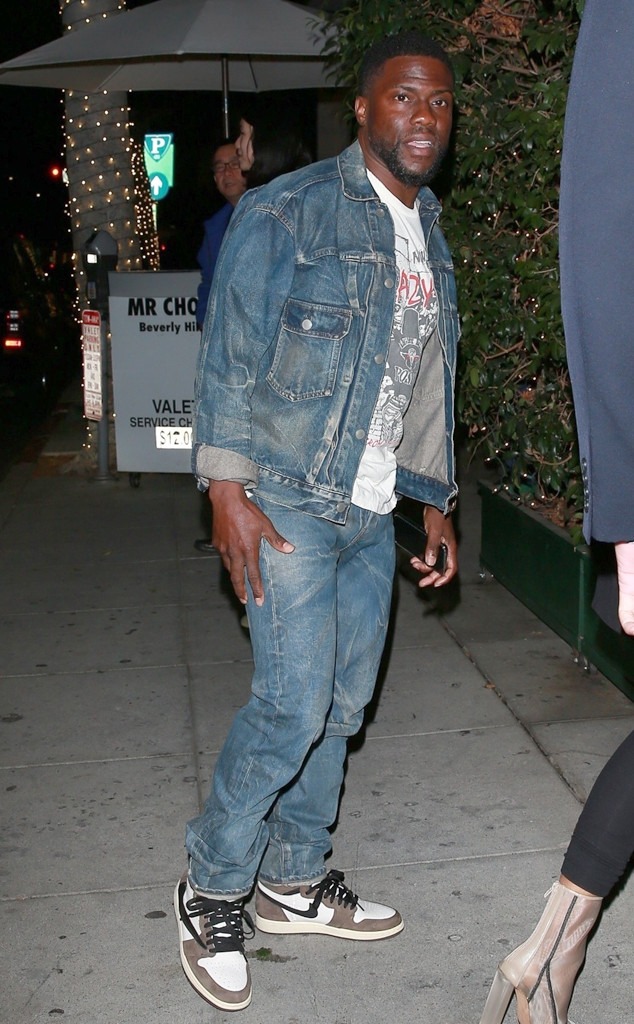 NGRE / BACKGRID
It's good to see Kevin Hart in great spirits while he continues to recover from the violent car crash that left him hospitalized back in September. 
On Friday, the 40-year-old comedian was spotted out with his wife Eniko Parrish in Los Angeles for dinner at Mr. Chow Restaurant in Beverly Hills. Hart was pictured looking comfortable and casual in a medium wash denim jacket and pants, a white T-shirt and sneakers. 
Hart looks to be focusing on himself and on getting back to his normal life.
As E! News previously reported, Hart was in the passenger seat of his vintage muscle car when the driver, friend Jared Black, veered off Mulholland Highway in Malibu, Calif. and landed in a ditch on Sept. 1. In a 37-page traffic collision report obtained by E! News, the California Highway Patrol concluded Black, who was determined to be the driver of the car, caused the collision.
Less than two weeks after being hospitalized, the comedian was discharged on Sept. 11 and new details about Hart's involvement and recovery have continued to emerge since then.
A spokesperson for the star's production company also told E! News in a statement that Hart is "expected to have a full recovery very soon." 
On Oct. 10, Hart finally broke his silence on the crash. In a statement released through his attorney, Andrew Brettler, and obtained by E! News, the star said, "I have nothing but love for Jared and wish him and Rebecca a speedy recovery." 
As for the actor's recovery, Brettler told E! News that the Night School actor was not officially "back to work" and that the comedian doesn't anticipate going back to work full-time until early next year.  
Later on Oct. 22, the Jumanji: Welcome to the Jungle star stepped out for a quiet evening with Jay-Z and a few other close friends for a poker game in Beverly Hills. An eyewitness shared with E! News that Hart was in "great spirits" and "first bumping his friends, giving them hugs when he arrived." 
Since his car crash accident, Hart was also spotted getting behind the wheel again. On Nov. 2, Page Six obtained a video of Hart laughing and looking healthy, getting ready to drive off in a '69 Camaro. According to the publication, Hart also said, "I'm doing good, man. I'm feeling great. I'm blessed to be alive, brother." 
In late October, Hart took to Instagram TV to relive the car crash that almost killed him. The video the comedian shared showed never-before-seen footage of his healing process after the near-fatal accident. 
"Basically, what you realize is that you're not in control," Hart said in the IGTV video. "No matter how much you think you're in control, you're not in control. At the end of the day, it can all be over man."