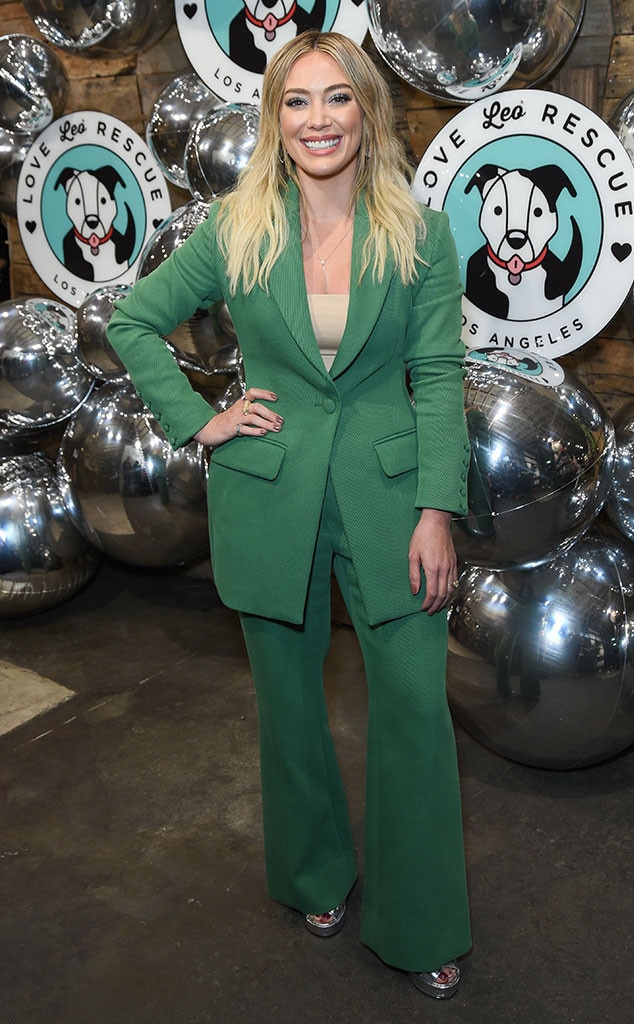 Presley Ann/Getty Images
Hey now, hey now! This is the scoop we've been waiting for.
You've seen photos from the set of the Lizzie McGuire revival. And we know that Hilary Duff's character is heading to New York City.
But if you grew up with the beloved Disney Channel series, you're hoping for any and all details about the upcoming Disney+ project. Fortunately, we got you the scoop straight from Lizzie.
In the middle of supporting Love Leo Rescue, Hilary sat down with E! News and gave fans some major teases about what's to come.
"It's been fun to find the new version of [Lizzie]. She's a little less frantic and a little more confident. She has some years of life under her belt. There's that relatability that I think that everyone loves in her," Hilary shared with E! News exclusively. "She is going to be coming across some challenges that the show is gonna serve up and a lot of what people want to see or the answers to questions that they never got."
When asked about Lizzie's best friend Gordo, Hilary simply said she "can't give away too much." As for Ethan Craft, let's just say Lizzie may still have some feelings.
"He is hot. He's very hot," she shared with us. "I'm pretty sure there's going to be, there's going to be a thing."
As for Lizzie, she's been living in New York and working for a very well-known interior designer as an assistant. "She has an awesome boyfriend and they've been together for two years so everything's looking pretty promising for her," Hilary teased about her character.
While the actress is loving her role and new title as executive producer, Hilary is also extremely grateful to still be so close to her on-screen family. The cast recently enjoyed a dinner away from the cameras where they were able to catch up and celebrate old memories.
"The years have passed, but you just have like a familiarity with people that you spent so much time with at a point in your life so all of that comfortability was there. We also were like, 'What are we doing here? We are all older. What are we doing!'" Hilary joked to us. "Everyone's proud of each other and catching up and everyone's kids are grown and I have two kids of my own now."
Despite a jam-packed schedule, Hilary wasn't going to miss out on the opportunity to support Love Leo Rescue's Cocktails for a Cause event. The non-profit based in Los Angeles was founded by Sasha Abelson. The organization is dedicated to rescuing and rehabilitating abused, injured, abandoned and forgotten dogs.
"This is an issue that is very prevalent too. It's happening every day and it's getting worse and worse," Hilary shared with us. "[Sasha] goes to the ends of the earth to give these dogs a second chance, to find them a great home and she takes the worst of the worst."
And between raising kids, working on the Lizzie McGuire revival and supporting important causes, Hilary isn't exactly rushing to get married to her special man Matthew Koma.
"He's getting ready to leave for tour," Hilary shared. "He's really hands on and he's really like detail oriented so I'm sure he's going to want to be very involved in the process, but I'm sure it'll be casual. We're really casual people and chill. [Someone else] asked me if we would elope and I was like, our families would absolutely kill us. And we want our kids to be a part of it so no, we're not going to be thinking like that."
Learn more about Love Leo Rescue online now.