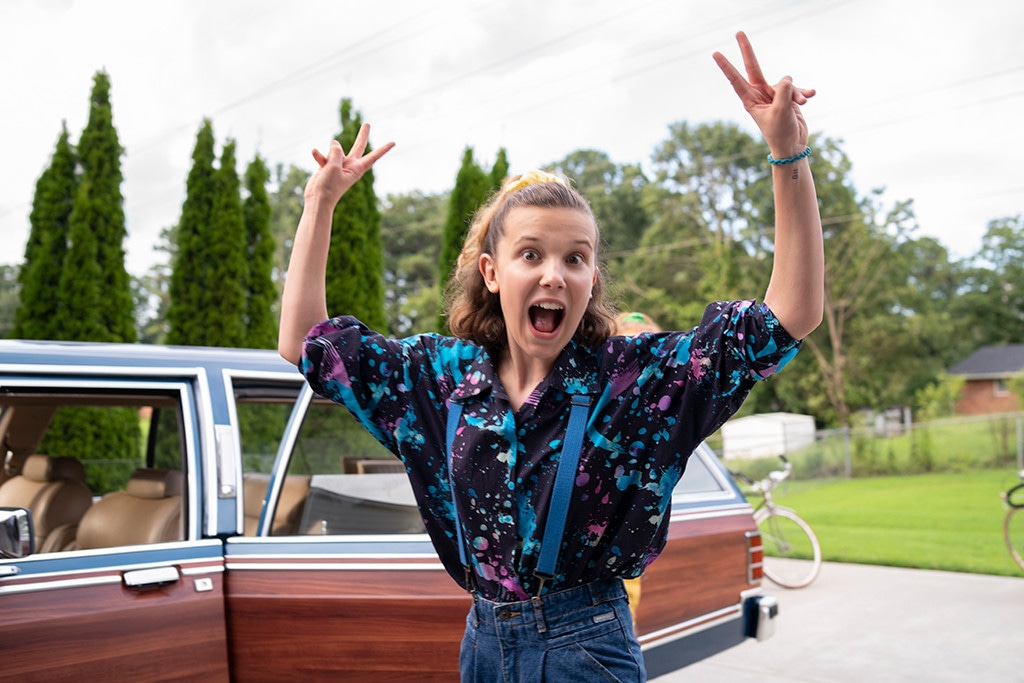 Netflix
On this day, November 6, back in 1983, Will Byers disappeared from Hawkins, Indiana. K, that didn't happen in real life, but it did on Stranger Things and sparked the worldwide phenomenon that is the Netflix series.
To celebrate Stranger Things Day, Netflix has released the season three blooper reel featuring all your favorites flubbing line, breaking character and having all sorts of giggle fits. There's malfunctioning sets, Freudian slips and missed cues. Really, there's a blooper of every flavor, even ones during very intense moments.
The third season launched on July 4, 2019 and starred Winona Ryder, David Harbour, Finn Wolfhard, Millie Bobby Brown, Gaten Matarazzo, Caleb McLaughlin, Noah Schnapp, Sadie Sink, Natalia Dyer, Charlie Heaton, Joe Keery, Dacre Montgomery, Maya Hawke, Priah Ferguson, and Cara Buono. Cary Elwes, Jake Busey, Michael Park, and Francesca Reale recurred.
"I love how I get it right when we rehearse, but then when we shoot…" Matarazzo says.
"Oh, motherf—ker," Harbour laughs.
Click play on the video above to see Brown struggle with a CPR test dummy, Heaton battle a prop axe and stump and a cat getting in Dyer's shot. Make sure you watch long enough to see Harbour truly struggle to say "grandma."
"What's wrong with you?" Brown asks.
"I don't know…That word is so funny!" Harbour says.
Of course there's a lot of dancing because why wouldn't there be.
The Stranger Things Day fun continued with the release of the season two blooper reel. Marvel at how much the cast grew between seasons two and three, relive Bob (Sean Astin)—RIP Bob!—and all the great Hopper and Eleven moments.
And to end Stranger Things Day, Netflix rolled out the first season's gag reel. Everybody is a baby! Keery's hair is so short! The Demogorgon is dancing!
Here's how Netflix describes Stranger Things Day: "November 6, 1983. Hawkins, Indiana. It's a crisp fall night. A door opens. A Demogorgon approaches. A Dungeons & Dragons game ends. A bike crashes. A lightbulb flickers. Will Byers vanishes. Celebrate the day that started it all — the day that turned the world upside down."
Stranger Things season four has officially been ordered with series creators Matt and Ross Duffer signing an overall deal with Netflix and teasing the action will leave Hawkins.
"We are absolutely thrilled to continue our relationship with Netflix. Ted Sarandos, Cindy Holland, Brian Wright, and Matt Thunell took a huge chance on us and our show—and forever changed our lives. From our first pitch meeting to the release of Stranger Things 3, the entire team at Netflix has been nothing short of sensational, providing us with the kind of support, guidance, and creative freedom we always dreamed about," the brothers said in a joint statement. "We can't wait to tell many more stories together—beginning, of course, with a return trip to Hawkins!"