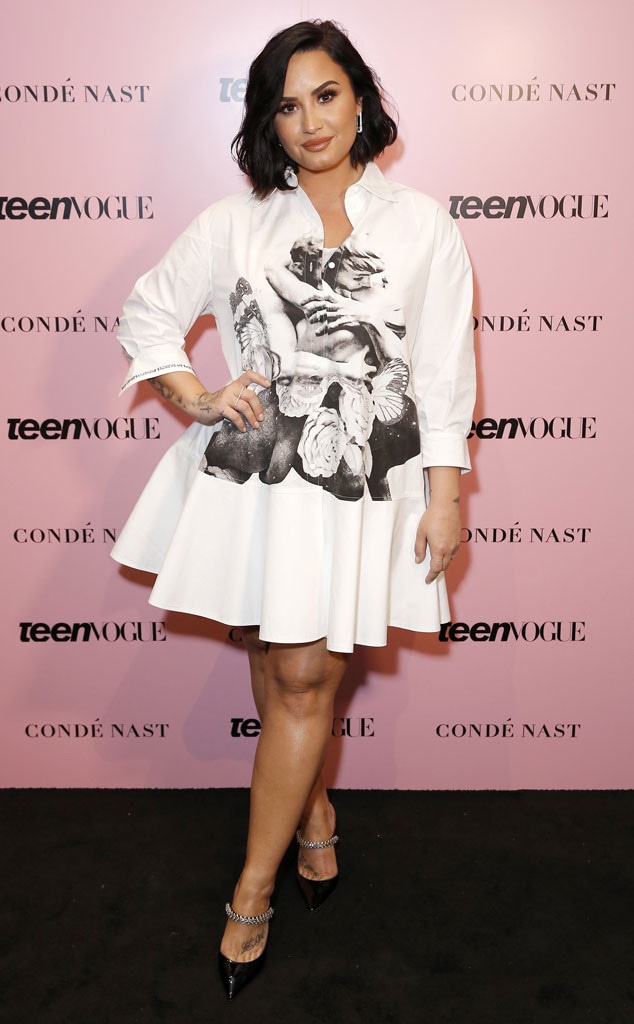 Rachel Murray/Getty Images for Teen Vogue
Demi Lovato is living life on her own terms.
In what marked the 27-year-old pop star's first official appearance and interview in more than a year, Demi spoke candidly about the obstacles she's overcome, the power of self-love and exactly when she's dropping new music at Teen Vogue's 2019 Summit in Los Angeles. 
"I've never been more in tune with who I am than where I'm at today," Demi told attendees, calling the past 12 months "very introspective." 
The biggest lesson she's learned? As Lovato put it, "Life is not worth living unless you're living it for yourself. If you're doing things for other people it's not going to work out."
Part of getting to such a positive place involved Demi's focus on embracing her body just as it is. "Whenever I was in the gym over the past couple years, I was doing it to a very unhealthy extreme," she shared. "And I think that's what led me down a darker path. I was still engaging with these behaviors." 
After taking the month of October off from the gym, Demi came to a very important realization: "I have to be OK with where [my body] is at in this moment. I don't have to lie to myself and tell myself I have this amazing body. All I have to say is I'm healthy… I'm healthy and I accept for the way that it is today in this moment without changing anything."
"I love the person that I am today," she later remarked.
Watch:
Demi Lovato's Reinvention: "Bachelorette", New Acting Gig & More
With Demi's lowest lows finally in the rearview, she's hopeful her future won't be defined by her past.
"Genuinely I just want people to remember that I'm a singer. A lot of the things that have been through have out shined my success in the music industry. I just want people to remember that that's what I want to give to the world, so please focus on that and not the other things," the star expressed.
It's quite possible Demi's painful experiences have inspired new creative material, which she confirmed is right around the corner.
She shared, "It's important to remember that I am so cautious this time around of jumping back into things. I've really decided to take my time with things. When the time is right to release new music I will, and nobody is more anxious than me. I am dying to release new music… There is a reason it's taking longer and it's only because I'm trying to perfect that music for you guys."
Given Demi's current outlook, it's safe to say it will be worth the wait.