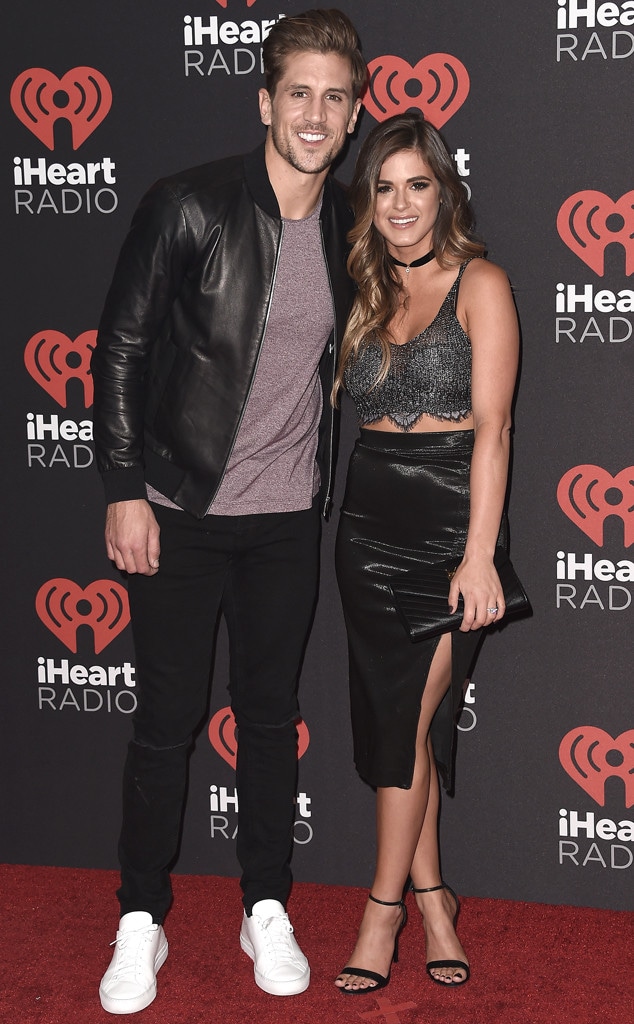 Mediapunch/Shutterstock
It's a love story Bachelor Nation can't stop rooting for.
More than three years after Jordan Rodgers got down on one knee and proposed to JoJo Fletcher on The Bachelorette, the couple is hard at work planning their dream wedding.
And just a couple of months after the NFL player re-proposed to his leading lady, the pair is making progress on their special day.
"I just want the wedding to be, we're obviously still planning it, but I obviously want it to be romantic, but also very fun so figuring out a way to kind of blend the two and make it a good time for everyone that's coming out and going to be supporting us," JoJo shared with E! News exclusively. "So there's a lot to still figure out."
According to the bride-to-be, close friend Becca Tilley will be in the wedding. And while Chris Harrison is welcome to attend, he certainly doesn't need to officiate. "Chris will get an invite but we're not going to make him work again," JoJo shared. Jordan added, "Yeah, we will tell him to grab a drink and relax."
The special day is expected to be outdoors in the California area. And for those hoping for an invite, we have good news: The guest list is still being finalized!
Instagram/Joelle Fletcher
"JoJo's a great planner. I'm the worst planner. I just got a deadline today, actually a few hours ago from JoJo. She goes, 'I need your guest list in two weeks.' And then about five minutes later, it turned into one week," Jordan joked. "So by the end of this phone call, I'm probably gonna have a few days to get my entire guest list together because JoJo has got hers nailed down."
All of the planning comes as the pair serves as hosts on Paramount Network's reality show titled Battle of the Fittest Couples. In the series, 12 fiercely competitive, athletic couples go head to head to test their endurance, agility and strength for the title of "Fittest Couple."
It's a perfect job for a couple who loves working out and making fitness a priority in their busy lives that also include fashion lines, football analysis and more.
"I really love like boot camp style classes. We do a lot of that. Some high intensity interval training. We just do all sorts of classes together. That's something that we really enjoy doing," JoJo shared.
Jordan added, "And when we are together, it's definitely more of a hit workout, high intensity interval training. We don't like to be in the gym for two hours...We'd like to get in, get out and make sure that we get a really good sweat going."
Battle of the Fittest Couples airs Tuesday nights at 11 p.m. on the Paramount Network.