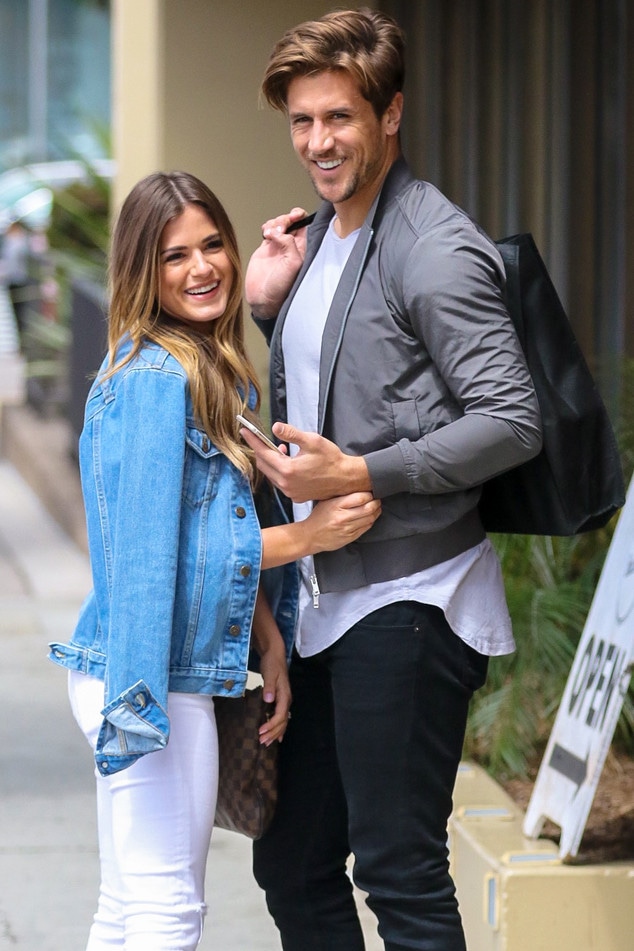 Elite Images/AKM-GSI
It's been one year since the last Bachelorette star, JoJo Fletcher, met the man she chose to spend the rest of her life with.
Months later, she gave her final rose to sports commentator Jordan Rodgers on the season 12 finale and accepted his proposal. They now live together in Dallas. While they have not set a wedding date, the two appear to still be going strong.
"Exactly one year ago today I met the rest of my life" Jordan wrote on Instagram Thursday, alongside a photo of them kissing on the show. "if I could do it all over again I would've kissed her straight out of the limo! (...and used a bit more hairspray) Love this one @joelle_fletcher."
The two have spent quite a bit of time going on romantic trips. They recently went snowboarding in Lake Tahoe, Nevada.
Over the past year, they have also vacationed together in the British Virgin Islands, Playa del Carmen, Mexico, New Orleans, where they celebrated her mother's birthday, and Georgia, where they spent time with Jordan's family.
Like many couples, their Instagram posts showcase a blissful, picture-perfect relationship.
But no relationship is drama-free.
On the season 12 premiere of The Bachelorette, Jordan told JoJo about a past relationship, saying, "I was in love, but I was so focused on football that I didn't make time for anything else."
Brittany Farrar, a trainer and friend of actress Olivia Munn, then posted on Instagram that she is the ex in question, saying, "Riding the bench doesn't get in the way of a relationship, but cheating does."
After the finale, she wrote, "After our breakup, I was surprised to find out what a prolific liar and cheater #JordanRodgers was during our entire 3 1/2 year-relationship. But what has surprised me even more is how he has carelessly bashed and lied about me in public. I guess he thought I wouldn't stand up for myself. #HeWasWrong."
Jordan later told reporters, "There's been a lot of really harsh and very untrue allegations along the way...I'm just happy to start this new life with my fiancée and that's what I'm focusing on."
Jordan was also going through some personal drama while filming The Bachelorette; He told JoJo on the show that he had a "complicated" relationship with his brother Aaron Rodgers, quarterback for the Green Bay Packers and Olivia's boyfriend.
Their father Ed Rodgers told The New York Times that Aaron stopped speaking to his family since late 2014, a "few months" after he began dating the actress. 
Aaron has declined to talk about the rift with the press. After Jordan became a fan-favorite on The Bachelorette, Aaron broke his silence on his brother's newfound fame, telling WISN 12 Sports, "I haven't seen the show, to be honest with you, so it hasn't really affected me a whole lot."