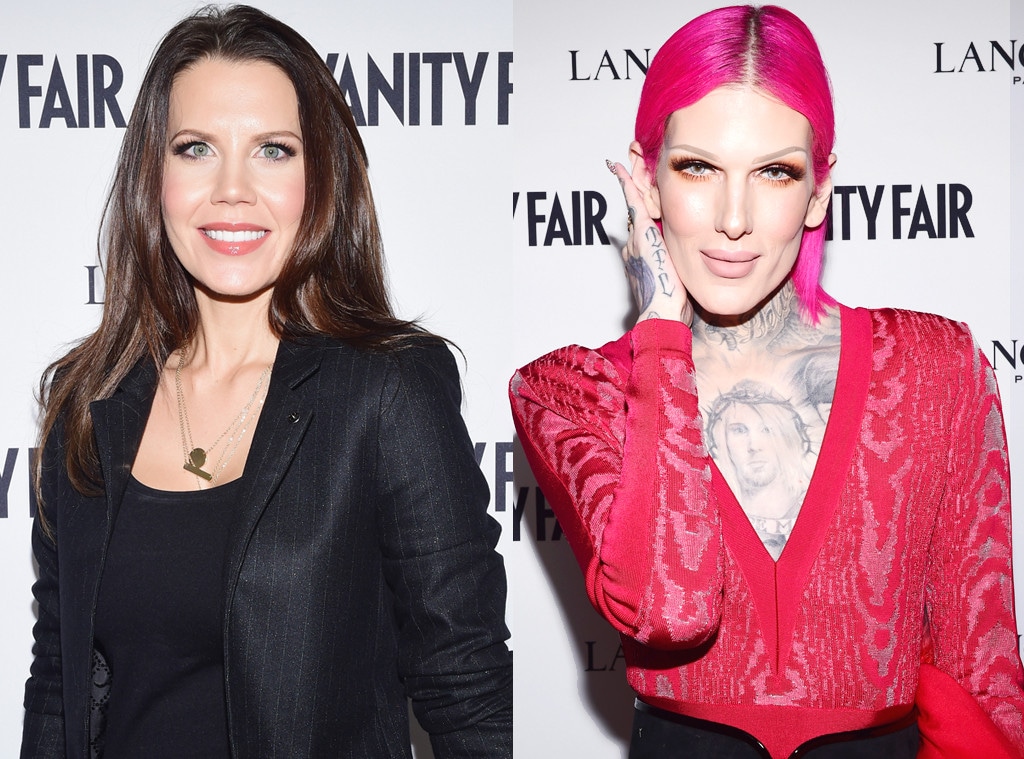 Emma McIntyre/Getty Images for Vanity Fair
What's really going on between Jeffree Star and Tati Westbrook?
Social media is in a frenzy over a possible feud between the YouTube sensations. According to fans online, Jeffree appears to have unfollowed Tati on Instagram, sparking the feud rumors. As for the cause of this possible feud, it seems as though it might be all about business.
As fans of the YouTubers will know, Tati released her very first makeup collection, Tati Beauty, this past Friday, Oct. 25.
"I feel really happy. It's about time," Tati recently told E! News in an exclusive interview about her launch. "It's like seeing the finish line that you've been running to—really for nearly a decade."
While this is a major achievement for Tati, she's not the only YouTube star launching a new collection. Jeffree is also dropping the The Conspiracy Collection, his collab with Shane Dawson, on Nov. 1, just one week after Tati's collection.
Since these collections are launching just one week apart, fans think this could've caused tension between Tati and Jeffree.
"I'm guessing it's because she told him she would be launching this around the time that the Shane pallette comes out, and he didn't like that," one Twitter user theorized.
Another social media user also asked, "I need opinion. What do y'all think of Jeffree not talking about Tati's palette?"
In response, one fan mentioned Tati's feud earlier this year with fellow YouTuber James Charles.
"I think after the James drama they are just staying mutuals," the fan replied. "She's never shared the excitement about the conspiracy palette. I don't really think there's any drama behind it."
During Tati's recent interview with E! News, she mentioned that makeup artist Scott Barnes would be a part of one of her upcoming videos. Tati also shared that Scott was one of the few members of the beauty community to reach out to her following her recent endeavors.
"He's like, 'Babe, I'm so excited for you. We're going to really show the industry that two powerhouses can actually come together instead of stabbing each other in the back. They can support each other and it's going to be the actual message of beauty,'" Tati recalled. "So I'm really excited about that and I'm really excited to show that that can be done, that we both can have success."
E! News has reached out to Tati and Jeffree for comment on the feud speculation.