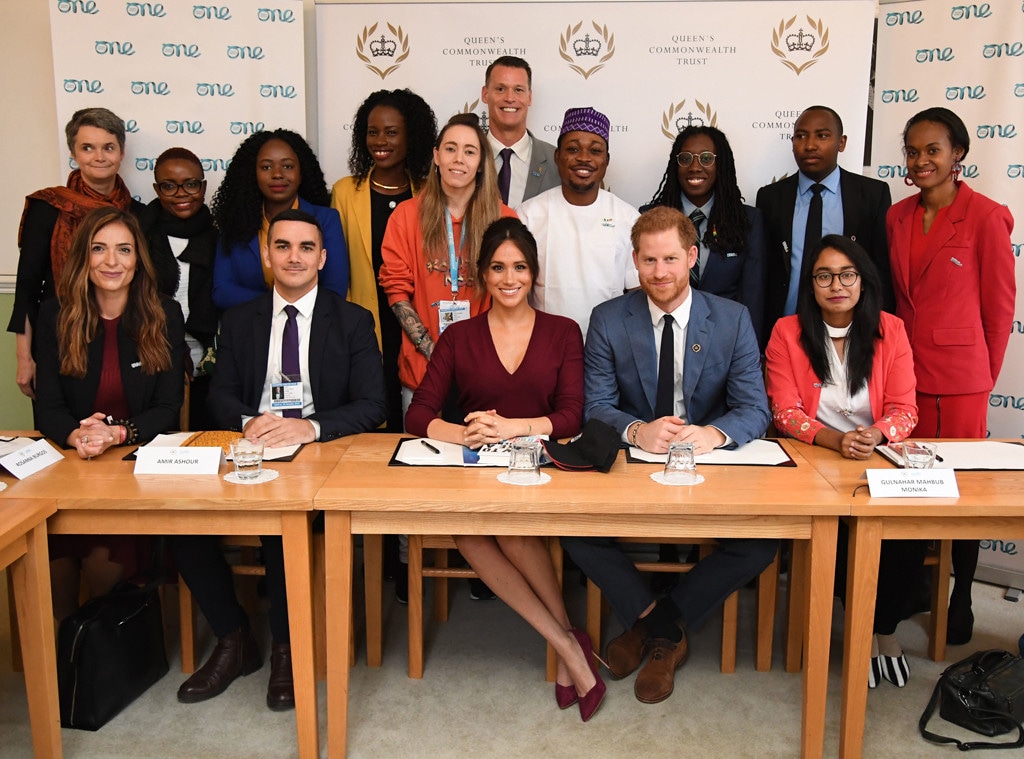 Jeremy Selwyn/Evening Standard/PA Wire
Meghan Markle attended a roundtable discussion on gender equality on Friday, and she brought along a special guest—Prince Harry!
Many expected the Duchess of Sussex's visit to be a solo outing. So, they were pleasantly surprised to see the Duke of Sussex drive up with his wife for the panel.
Once inside, Meghan thanked her fellow participants for letting her husband "crash the party." She also stressed the importance of having both men and women support the initiative. 
"In terms of gender equality, which has been something I have championed for quite a long time, you know, I think that that conversation can't happen without men being part of it," she said. "And this is something that is also very key to the way my husband feels. And he's been working in this space since 2013, which a lot of people don't notice as much. But I think that's what's really important: You can't have a conversation about women's empowerment with just women."
The discussion also involved representatives of The Queen's Commonwealth Trust—for which Meghan and Harry serve as vice president and president, respectively—and One Young World, which Meghan has supported ever since she joined as a counsellor in 2014. Participants included young leaders from around the world, who are heading initiatives that support gender equality and inclusion in places like South Africa, Nigeria, Iraq, Malawi and Bangladesh. The group discussed how these organizations could work together to support one another and drive meaningful change that will empower women.
Jeremy Selwyn/Evening Standard/PA Wire
Meghan wore a ruby red ensemble consisting of a Joseph "deep V-neck" cashmere pullover and a Hugo Boss Selrita leather pencil skirt for the event. She also sported Sarah Flint heels, Emily Mortimer earrings and a Vargas Goteo ring. In addition, she swept her hair into a chic updo for the occasion. The event was held at Windsor Castle. Not only do Meghan and Harry live in Windsor, but they also tied the knot at Windsor Castle in 2018.
Meghan's involvement in the panel should come as no surprise to her fans. She championed gender equality well before her days as a royal and has continued to advocate for it, such as through her speeches and her work, as a duchess. She also proudly calls herself a feminist in her royal bio.