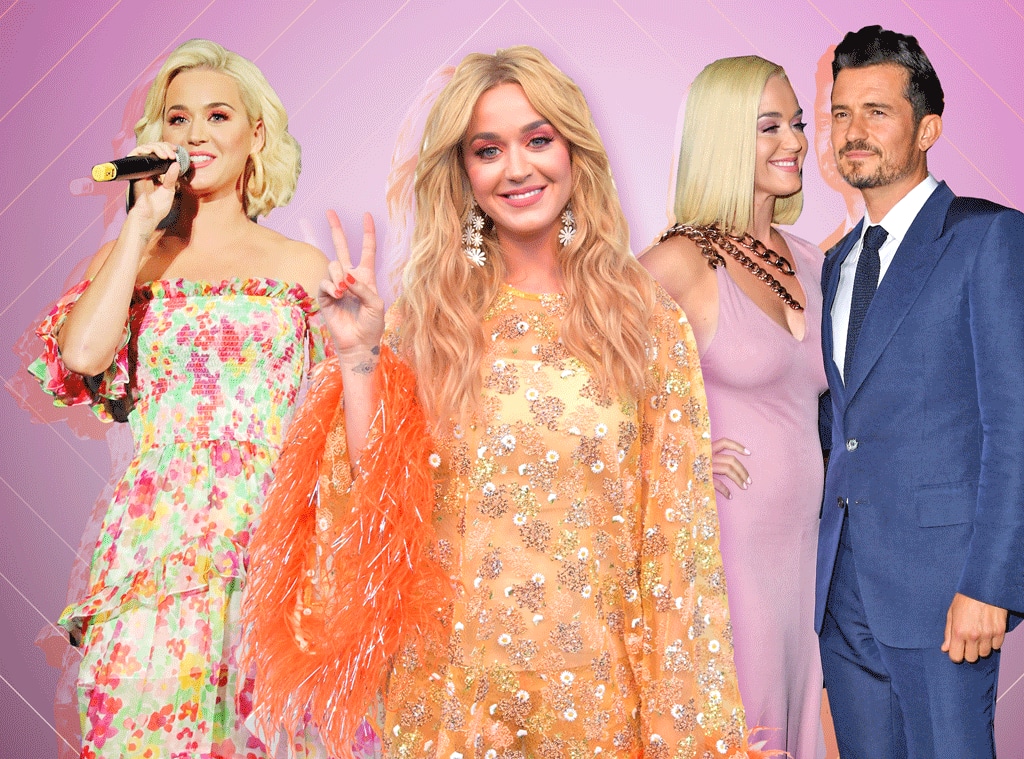 Getty Images/E! Illustration
It's a new dawn, it's a new day, and Katy Perry is feeling good.
Continuing on the course she charted after taking some time off to reorient her ambitions, the singer is once again satiating her music-hungry fans with delicious new confections, pausing only to get engaged to longtime love Orlando Bloom and quash the pop-princess beef of the decade.
All in time, and some to spare, for her 35th birthday Friday.
"I've come to learn, after 10 years of success in the spotlight, that being happy is something you have to work for every single day," Perry told Glamour early last year. "Even if you have money or houses or status or fame—and all of that stuff is great for a moment—if you don't have happiness charging the train, you're gonna derail.
"A lot of my early twenties," she added, "were really intense, really extreme, and somewhat unconscious. It was all career focused, which was great, but once you touch the ceiling so many times, it's like, 'Oh yeah, I did that. I touched the ceiling.' Now I want to touch the stars, which has to do with the heart."
So yes, after the years off and on with John Mayer, the partying, the Twitter feuding, the worrying too much about what people think, trying to be something she isn't and other time-sucks, Perry opted to swap that pattern out for a more streamlined, fulfilling approach to life.
She still can rock a tune about a good time like nobody's business, but at the end of the day it's back to Bloom and his son Flynn.
"I used to not wake up until, like, 11 a.m., and now I'm in bed like a normal person at 10:00 p.m. just, like, falling asleep," Perry said on The Ellen DeGeneres Show last month. "I guess this has definitely matured me. I guess this is adulting. That's why I still dress like a child—to fight against [it]."
She's also once again making music that makes her—and, subsequently, everyone else—smile, as the latest round that includes "Small Talk" and "Harleys in Hawaii" can attest.
"When I met Katy Perry, she was like, 'I hope you don't search your name,'" Dua Lipa shared with Elle this spring about sage advice she'd received from the veteran pop star and American Idol judge.
"[Katy] was like, 'That's what I did at the beginning of my career, and I'd get upset about every tabloid that said something about me. Do not have notifications on. Do not read that s--t, because it will stop you from doing what you love.'"
Perry's still all over social media, but her pages are all about BTS pics from the making of the "Harleys" music video, fashion Moments, showing off her dog Nugget—or, formally, Miss Nugget Perry, of "Small Talk" video fame—and occasionally making public a big moment with Bloom, such as when he put a pink (sapphire or diamond) and white diamond ring on her finger on Valentine's Day.
"Full bloom," she shared a close-up of the flower-shaped bauble the next day, a litany of heart-shaped balloons behind them.
The Carnival Row actor had chartered a helicopter for an after-dinner ride and popped the question in the air—along with a bottle of champagne that, Perry later relayed on Jimmy Kimmel Live, went everywhere. But upon landing, friends and family were waiting to congratulate them, truly a moment to remember.
"He did so well," Perry said.
"I think I like English gentlemen because there's something...the kind of the sarcastic, dark sense of humor, and I like that they sound really eloquent and there's more history in the U.K. than there is in America," Perry shared on U.K. radio's Heart Breakfast show in August.
"They sound like they've got tradition, actually they have more tradition, and I like that. There's tea time. We don't really have very many traditions in America."
The once-divorced star wasn't yet sure, however, of the possibility of them tying the knot in Bloom's native England, but naturally she just hoped their wedding day would be "sooner than later."
But there are many more reasons why Bloom is Katy's cup of tea.
Chris Pizzello/Invision/AP/Shutterstock
He is "such an encouragement spiritually, emotionally and physically," Perry told Ellen DeGeneres.
And that apparently goes both ways, with Bloom writing about his fiancée after they attended the premiere of Amazon's Carnival Row in August, "So grateful to share this bright light @katyperry. Makes all the difference having a partner to enjoy the highs, lows and everything in between."
Bloom and Perry are both into being present and self-aware, and neither is under any impression that you don't have to work at a relationship, so long as two people are both climbing the same mountain at the same pace.
"She loves a big moment," Bloom said on Sunday Today in August, referring to his mid-air proposal. "I'm still trying to get her to wrestle into the small moments.
"The cool thing about what we're doing—we're learning to do the small together. I think we're both fully aware that it's a mountain to climb and that that mountain won't stop, in terms of a relationship, because I think that's what it is. And I love to evolve and fortunately, she does too."
Mainly, the actor also said, "it's important to me that we are aligned—I've been married and divorced and I don't want to do it again. And we're both fully aware of that. She's remarkable and so I'm always so impressed with that and I'm encouraged."
One thing that hasn't exactly evolved for Perry, but which she tries to put to good use: "I'm very OCD and I don't say that lightly," she informed Paper magazine this year, connecting the dots between her clinically diagnosed condition and instability and trauma in her childhood.
"It was just a product of me trying to control my environment," she added. Perry said that she went to therapy regularly, usually alone but she had gone with her parents before, and she took great comfort in being able to help them out thanks to the fruits of her success.
"I feel so grateful to be able to do it," she said, "because that's all you ever want. You want the kids to be able to sing the words that you wrote back to you, and then also to just buy your mom a house. Or have them not fight over money anymore. If you can remove that feeling, it feels like you... maybe somehow you've healed some part of your childhood."
Another thing that's healed more recently, but also after years of fractured friendship: Perry's years-long, ships-in-the-night-that-also-shoot-spears-at-each-other feud with Taylor Swift—the stuff songs were made of.
It didn't just happen over the course of a couple text messages, but it seems only right in a time where Perry and Swift are both bouncing back after long (for them) musical breaks, are both in more stable places romantically, are both using their voices politically and similarly advocating for kindness toward one and all that they turned that turned that message inward.
After the clues proved right, Perry made a physical and also laden-with-symbolism showing in Swift's video for her inclusion-championing anthem "You Need to Calm Down."
"Katy Perry is in the video and she and I definitely like have been on very good terms lately," Swift explained on Heart Breakfast in June, "but I don't think anybody knew it, 'cause we were just kind of reconnecting privately, and just wanted to make sure that everything was really good with us and that it was like a very real before we let anyone know, like, we're not only good but we're friends again.
"So it was really wonderful to get to sort of unveil it to the world in like a cheeky sort of fun way. But it ends up being sort of emotional."
On the U.K.'s  Capital Breakfast, Perry called Swift "really intelligent," someone with "lots of layers to her. I get the singles, a lot of people know us from the singles, but when you dig deep, there's depth."
Perry seemingly got the peace train chugging in May 2018 when she sent Swift a literal olive branch and lovely note for the first night of her Reputation Tour
"And so that was when, you know I think for both of us, it was completely like, there were no weird feelings, everything was on good terms," Swift recalled.
"And then we ran into each other at a party a while ago," Swift continued, "and it was literally like in the video, seeing each other, but without the food costumes. It was like just fully sincere and fully like we realized like we've grown up, we've grown enough to realize the fact that us feeling pitted against each other for so long really did add to whatever tension we were feeling in our friendship and like, it's just a really, it's a really positive thing for both of us in our lives."
Just a couple of grown-up women, their mutual shining lights reflecting positively on each other.
Bloom Instagrammed about a full-on glamping trip he went on last weekend to Joshua Tree with Flynn and some others, with a tricked-out RV and everything ("Adorbies," Perry commented), and social media has Perry possibly in Egypt on a desert safari, but we know they're going to connect somehow for her birthday.
Whether it becomes a "big moment" or one of the smaller but even more important interludes in between the splashy gestures, it's going to be one of many the couple share as they make their way into their shared future.