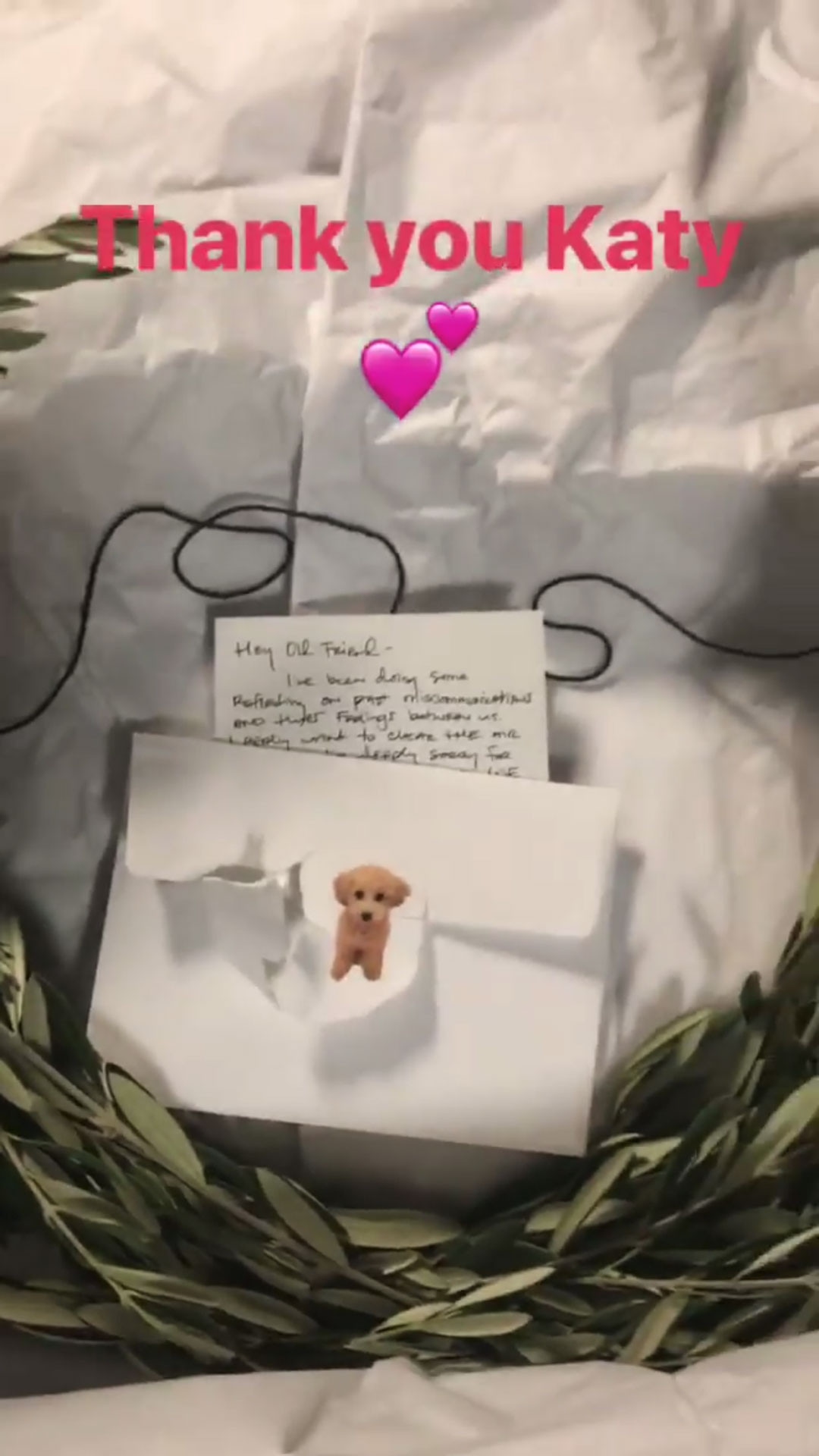 Instagram
No more bad blood?
It looks like Katy Perry has sent Taylor Swift an olive branch, literally, ahead of Swift's opening night on her Reputation Tour. Swift posted a video to her Instagram story on Tuesday which shows the olive branch and a card, addressed to an "old friend."
"So I just got to my dressing room and found this actual olive branch," Swift says in the Instagram video. "This mean so much." Swift captioned the video, "Thank you Katy."
"Hey Old Friend," the note begins. "I've been doing some reflecting on past miscommunications and the feelings between us. I really want to clear the air…"
You can also see from Swift's video that the note says "I'm deeply sorry."
The two have been in an ongoing feud for the past few years, reportedly over backup dancers. Swift's song "Bad Blood" is also rumored to be about her feud with Perry, with "Swish Swish" said to be Perry's response.
One year ago, Perry addressed her "situation" with Swift during Carpool Karaoke on the Late Late Show Primetime Special with James Corden.
"What I want to say is that I'm ready for that BS to be done," Perry said. "Now, there is the law of cause and effect. You do something, there's going to be a reaction, and trust me daddy, there's going to be a reaction. It's all about karma, right? I think personally that women together, not divided, and none of this petty bulls--t, women together will heal the world."
After posting the video to Instagram, Swift liked a post on Tumblr which talked about Perry's gift.
"KATY SENT TAYLOR AN OLIVE BRANCH AND I LOOKED UP THE SYMBOLISM BEHIND IT AND IM CRYING THAT WAS SO SWEET WOW," the Tumblr post reads, along with the definition of an olive branch.
Would you like to see the superstars become friends again? Sound off in the comments!