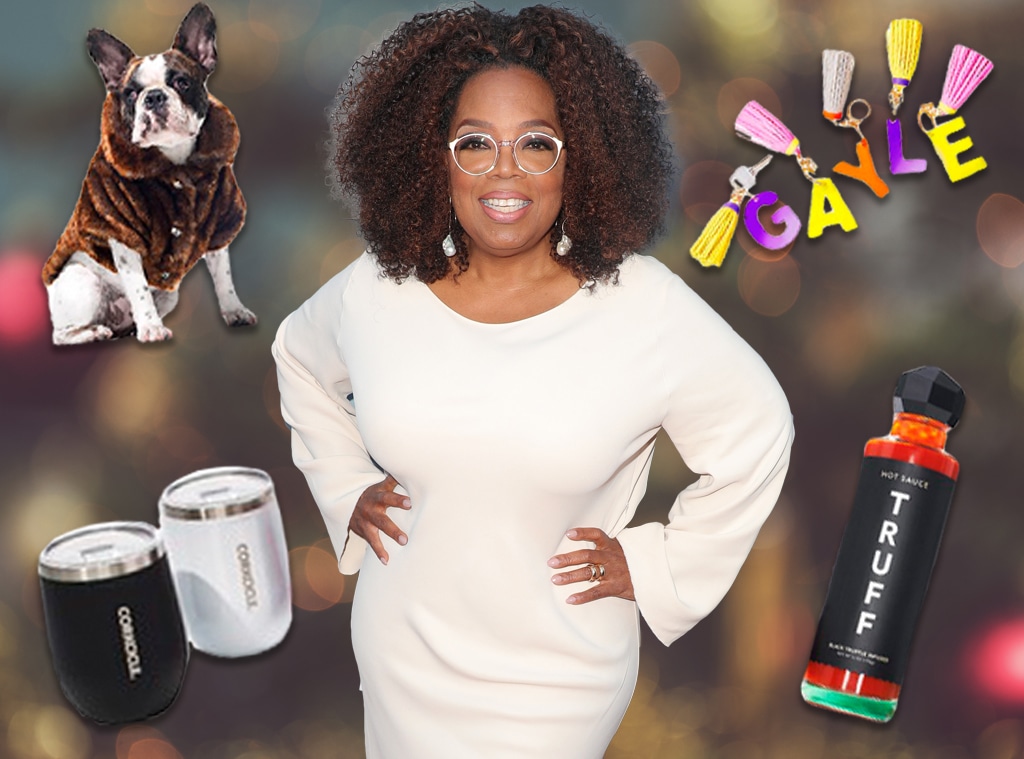 www.oprah.com
We love these products, and we hope you do too. E! has affiliate relationships, so we may get a small share of the revenue from your purchases. Items are sold by the retailer, not E!.
Never underestimate the power of Oprah Winfrey!
It's hard to believe that it's already the season of presents, gift guides and Black Friday deals. But perhaps one of the most exciting traditions for holiday shoppers is finding out what's on Oprah's Favorite Things list.
The annual event, which initially appeared on The Oprah Winfrey Show back in the '90s, has pivoted with the special list appearing in O, The Oprah Magazine and online.
And year after year, it's been proven that if your product makes the list, good things are bound to happen.
"After we made it onto Oprah's Favorite Things, everything went crazy!" Nick Ajluni, co-founder of TRUFF Hot Sauce, shared with E! News after his product made the 2018 list. "As soon as the list was released, the spike in demand was through the roof. The exposure revved us up for the holiday season and was more successful than we could ever imagine. When Oprah releases her holiday list, people definitely listen!"
Frontage experienced similar results after their faux fur pet coat with Swarovski crystals made the list in 2015. According to Tyler Thompson, who helps with Frontgate Brand Marketing and Public Relations, online traffic spiked 150% with many shoppers exploring other products on their site.
Soon after, the product was featured in a satirical skit on The Tonight Show Starring Jimmy Fallon, which featured special guest Nick Offerman. "Through the process, we saw increased sales of the featured item as well as adjacent items from our pet collection," Tyler shared.
While there's no clear path to landing on Oprah's list, many companies we spoke to shared that the talk-show host genuinely loved their product and discovered it through a variety of avenues.
According to Mark Gustafson, COO and Founder of Story Bikes, The Oprah Magazine called unexpectedly and said Oprah wanted their electric step-through bike added in record time.
"She loved the style, how it didn't look like an electric bike and still loved the power it gave to actually make biking more fun and make you more active as a result," he explained. "She also was a huge fan of the philanthropic mission behind Story Bikes. She wanted to personally help support our mission of donating bikes to women and students in developing countries."
Because Story Bikes had limited warning that they made the list, Mark admitted that they didn't have as much inventory as they would have liked when the list came out. Most shoppers, however, "were happy to wait for the successfully delivered back-ordered product."
And for those who say landing on Oprah's Favorite Things list is life changing, it's not an exaggeration. When Emma Johnson earned a spot in 2015 and 2016, the owner and designer of Em John was a student at Boston University. After Oprah featured her keychains, the college undergrad received unbelievable sales.
"It single-handedly enabled me to cover my four-year college education to the tune of $250,000. The power duo of Amazon and Oprah's Favorite Things is a sales generator like no other," she explained to us. "The partnership allowed me to sell at a robust pace and enabled diverse customers to discover my teeny business."
With businesses across the country eagerly waiting to see if their product lands on Oprah's Favorite Things list for 2019, one thing is clear: Shoppers want to see—and buy—what Oprah supports.
"Oprah led the way in mainstream media towards truly connecting with people and using her platform to improve lives," Corkcicle co-founder Stephen Bruner shared with E! News after his stainless steel cups made the list three times. "She has incredible trust with her fans."
See some of our favorite things from Oprah's list below.
Em John Keychains
Why are these items so special? "I offered keychains in A-Z at a price point that allowed Oprah's Favorite Things shoppers to buy one for everyone on their holiday list without breaking the bank," Emma shared with E! News. "An under $20 gift that's personalized—who doesn't love that?"
Story Electric Step Through Bike
This classic cruiser will power you up to where you want to be! The bike is equipped with an electric motor which will make those speed 7 hills a little easier on your legs and take you through flat roads faster than you've ever gone. If you're an avid rider, or simply looking for an excuse to get out of the house, this bike is a must and can now be preordered for January 2020.
Bindle Bottle
We're all too familiar with the struggle of having to carry our keys and wallets when we're not wearing pants with pockets. This stainless steel water bottle takes the extra weight off our hands and encompasses it all in one! The Bindle Bottle's storage can hold any small item—including snacks! Plus it keeps your drinks cold for 24 hours and hot for 12 hours.
truMedic InstaShiatsu Foot Massager
Who doesn't love getting a foot massage—especially after a long day at work! With this gadget at home, you'll give your feet the well-deserved rest they deserve. As Oprah said in the December 2018 issue of the magazine, "When I tried this foot massager, I swear fireworks lit the sky, waves pounded against the shore, and a choir of angels sang. This is some powerful pampering." Count us in!
Kate Weiser Chocolate Carl the Drinking Chocolate Snowman
Start your holiday shopping early with this two-in-one gift! This chocolate snowman will make the perfect holiday decoration until it's time for hot chocolate around the fire. All you have to do is melt the snowman in your choice of milk and serve!
We can't wait to see what's on Oprah's Favorite Things list in 2019.