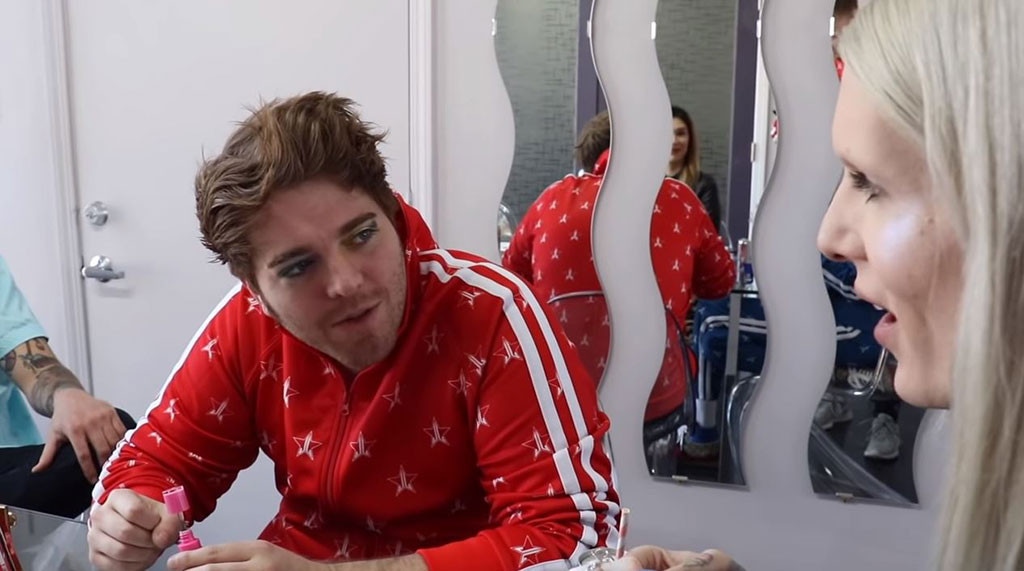 YouTube
Jeffree Star and Shane Dawson are truly shaking up the makeup industry.
Not only are they revealing the formerly private and shocking process of launching a makeup line, but they're also creating some major competition for a ton of influencers, especially James Charles. As it turns out, Jeffree and Shane's launch date for their highly-anticipated Conspiracy palette—mark your calendars for Nov. 1—coincides with the anniversary of the release of James' Morphe palette. 
This little tidbit of information nearly comes in the way of negotiations with the makeup brand as Morphe asks if the launch date can be moved up. Their request immediately rings alarm bells for Jeffree who jumps up to mute the conference call so he can tell Shane what's going on. "I think they're panicking because they have a Jaclyn Hill launch or another big influencer and now they're f--ked."
So Shane smoothly asks the Morphe executive what will happen if another influencer happens to have a launch date around the same time. To which they respond, "We would definitely want to make sure you have a full moment you know, being show cased in the stores, the light boxes, home page take over, social take over and I think that there will likely be an anniversary of the James Charles palette we launched last November... We haven't clarified the exact timing."
Now, months later, it's clear that the makeup brand prioritized the launch of Conspiracy since James' remake of his palette into a mini version was released on Oct. 17 instead of on the actual anniversary.
But as Jeffree explains to Shane later in the video, big names like Jeffree Star Cosmetics and Anastasia Beverly Hills often plan their previews and release dates around one another for the sake of sales. "So us sneak-peeking Blue Blood now takes away business from palettes that just launched. Even friends of mine right?" Jeffree explains, "And this isn't shade to Anastasia, but like I reviewed their palette and I gave it a moment, but at the end of the day they put out theirs first because I said, 'Hey, mine's coming, I don't want to do the same exact week.' The big players will talk."
These behind the scenes discussions won't do much for their Conspiracy palette however, because Jeffree points out that their release will be around the holidays when all businesses are coming out in full force.
On the flip side, Jeffree thinks that these brands will be "shook" by Shane's release. 
For some context, which is mostly biased cause it all comes from Jeffree's team, they project that Shane's collab will make around $35 million retail in the first day alone, a sum that doesn't even include the potential re-orders. And if their deal remains the same from the previous episode, Shane can go home with $10 million; a substantial amount more than what Shane says he's made through the course of his entire YouTube career.
Who else's wig is snatched?