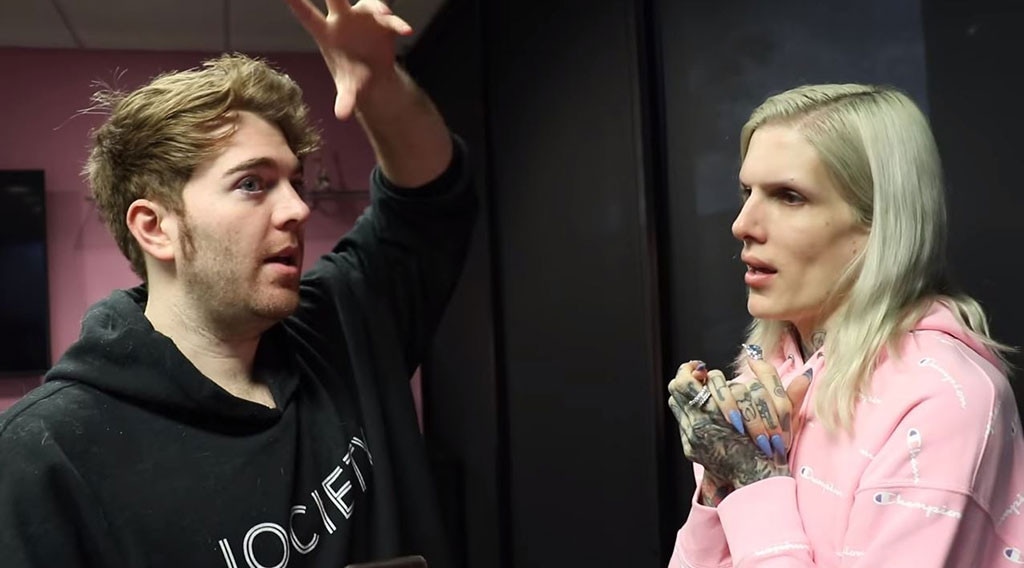 YouTube
In Shane Dawson and Jeffree Star's latest YouTube video there was drama, drama and more drama.
For one, the series begins with Shane in crisis mode as he issues an apology for a past joke in which he said that he committed sexual acts with his cat.
"The whole internet thinks I f--ked my cat," he laments to his friends. 
But Shane's scandal is totally forgotten about when Jeffree sends a voice memo to Shane to tell him that $1 million worth of makeup has been stolen from his facility. He says, "When it rains it pours, right? I woke up today and $1 million of product was stolen from my warehouse last night. We believe that it was an inside job and I'm in full panic mode."
The plot thickens, however, when Jeffree says he believes that he and Shane are being "targeted" by potential enemies. "Some people just do not want to see us win."
Later on, Shane meets with Jeffree at the offices, where Jeffree details a robbery that sounds like it's straight out of Ocean's Eleven. According to Jeffree and one of his team members, the robbers cut a "person-sized hole" in the roof with a saw where they could access the security room. From there they disarmed the alarm system and stole the camera footage, before then taking what ended up being $2.5 million in products. 
At the time, Jeffree believed only $1 million was stolen, but in a later video he revealed that in addition to eye shadow palettes Platinum Ice Pro Palette, Northern Lights Supreme Frost Pro Palette and various shades of the Velour Lip Liner, they also took two shades of concealers from a collection that had not yet been released. 
"It made me terrified. We're having 24 armed guards; I'm having people sleep inside the building with rifles," Jeffree tells Shane. "We're done playing." Moreover, Jeffree says the attack felt personal since they took five packs of Red Bull from their offices but left other potentially more expensive items untouched since there was not enough space in their getaway truck. 
Despite Jeffree Star Cosmetics reportedly working with the FBI there doesn't seem to be any leads on who committed the crime.
But the timing of the robbery and Shane's scandal has the two celebs wondering if there is a bigger conspiracy going on. "For all of us this s--t to happen within the same time frame it almost feels like someone's out to get both of us. And I know that's probably impossible; if they're getting us both at the same time then we actually should be f--king worried. But it's so scary because it's the unknown," Jeffree says. 
He adds later in the video, "I hope it's a coincidence."
And if it is a total coincidence then they want to know who started this "smear campaign" against Shane. Of course, Shane has five people in mind and Jeffree has just as many suspects, but it's all a big mystery. 
But in between these dark stories there's a lot of brightness. The nearly hour-long video gives a peek at the highly-anticipated Conspiracy palette and shows how Shane proposed to his boyfriend.
And the sweetest part of all is that they dedicate the episode to Jeffree's late dogs, Diamond and Daddy. May they rest in peace.