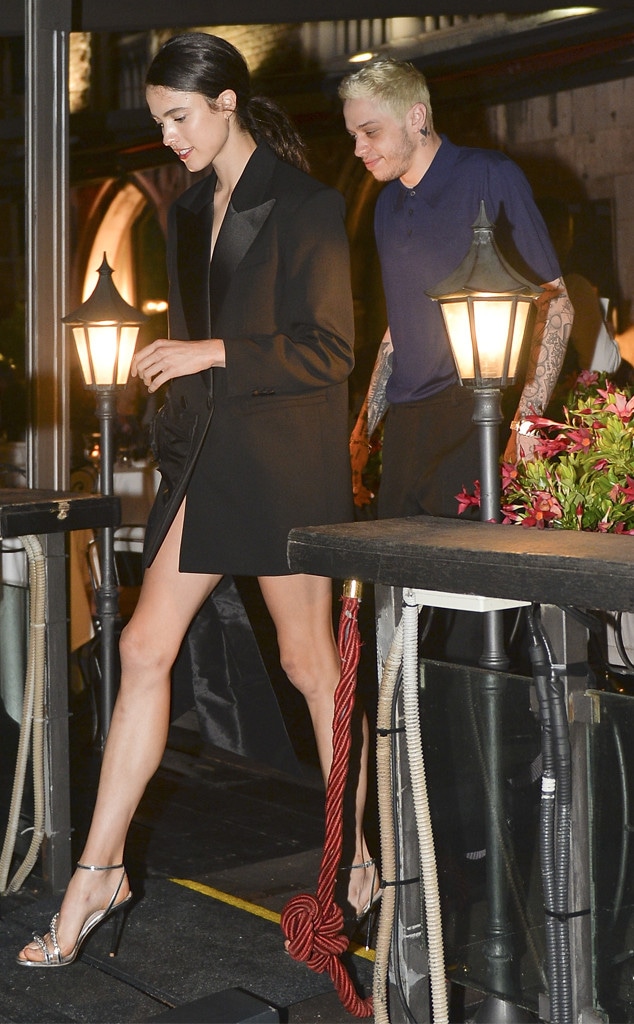 AMA / MEGA
Pete Davidson is having some fun while in Italy.
After recently sparking romance rumors with actress Margaret Qualley, the Saturday Night Live comedian was spotted hanging out with the 24-year-old star on Sunday night. The two kept things low-key, as they dressed in casual but ultra-chic ensembles. 
If anything, this is the most dressed up we've seen the 25-year-old actor in a while, as he opted for a navy polo shirt that he tucked into his black pants.
As for the Once Upon a Time in Hollywood actress, she slipped into a dazzling blazer-dress that showed off her model-like legs. From her sleek ponytail to her silver-studded sandal heels, she certainly nailed that effortlessly elegant look.
This is the third time they've been seen together while they've been in Italy.
In fact, the news of the pair's fun night out comes a few days after the SNL star was spotted at the 2019 Venice Film Festival.
Davidson supported the premiere of Qualley's new film Seberg on Friday night and was seated right behind her during the screening.
After the movie, the comedian was all smiles as his rumored leading lady stood up to receive a round of applause from the audience.
Additionally, the two were also seen arriving at Venice's Marco Polo Airport on Thursday. An eyewitness told E! News that the stars looked like a couple and were seen laughing and chatting together. 
However, the eyewitness pointed out that they didn't show any "excessive PDA." The duo grabbed their bags and stopped to speak to a few fans before heading off in the same car, according to the observer.
At this time, the two have yet to confirm or deny their rumored relationship. But from the looks of their hangouts, it seems there is definitely chemistry between the two.
Many will recall that around this time last year, Davidson was engaged to Ariana Grande. But just a few months later, they decided to call off their engagement and went their separate ways. More recently, however, the 25-year-old actor was romantically linked to Kate Beckinsale. The two were just keeping things "casual," according to a source.