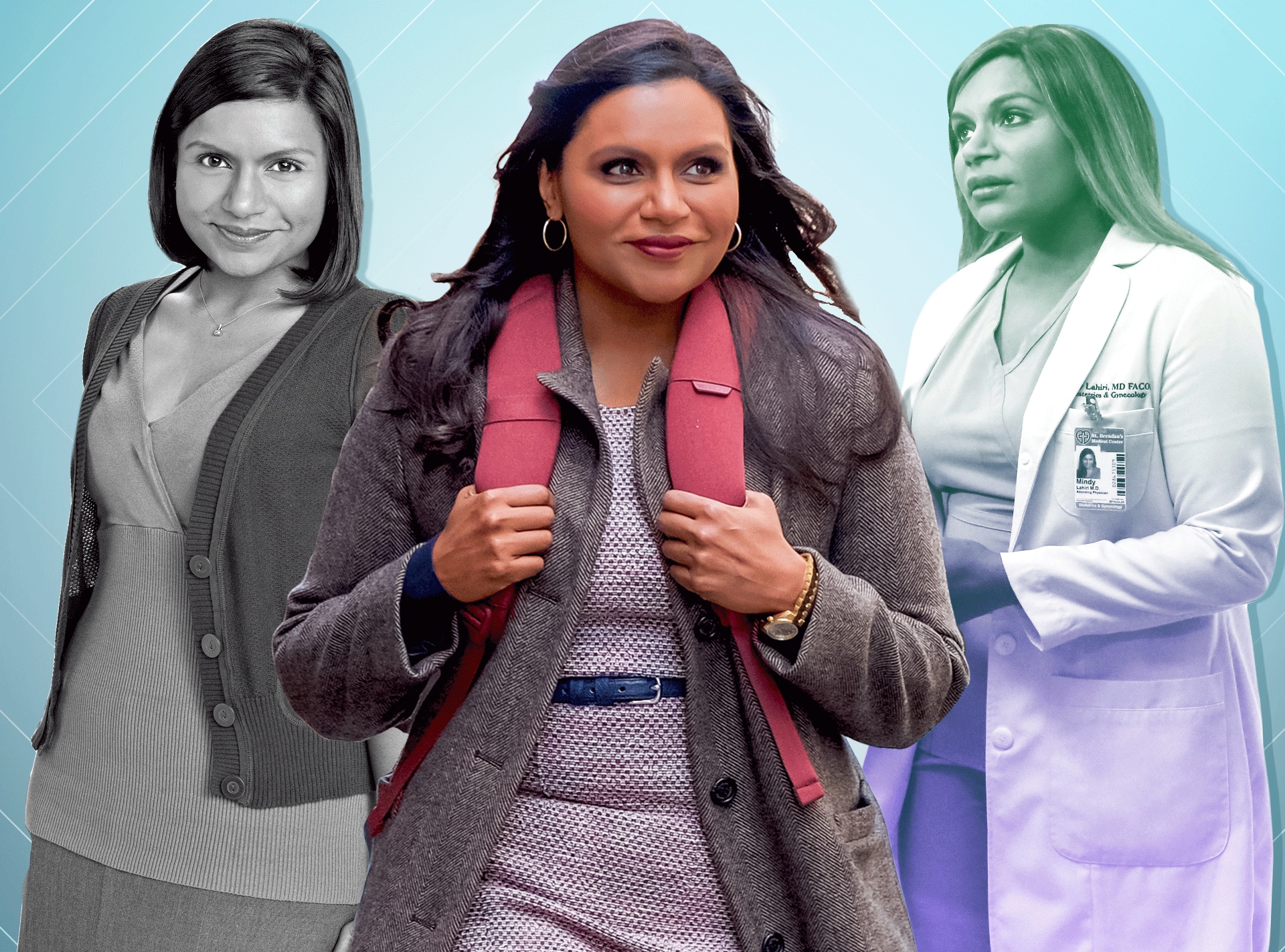 NBC/Universal/E! Illustration
Right before the credits roll on Late Night, Mindy Kaling's refreshing and hilarious movie about a woman who is a fish-out-of-water writing for a late night television show, the camera pans over a diverse writer's room bustling with women and people of color. It's a sharp contrast from the film's beginning, where white, cis male staff writers had been the only perspective of the fictional show.
The final shot is a feel-good moment that comes after watching Kaling's character, Molly Patel, prove over and over to her boss (played by Emma Thompson) and bro-y co-workers that expanding their show's voice to be inclusive actually made it stronger.
While the movie may be a fictional comedy, Kaling's real-life career path hasn't been so different. Prior to becoming the award-winning star we know her for, the actress had to pave her own path on her way to the top, just like her Late Night character.
And now, she's making sure that path is open for others, too.
First, let's go back to the beginning.
Kaling's knack for comedy can be traced back to when she was a kid. In an interview with Vanity Fair, the comedian vividly recalled the first time she made someone laugh, that someone being her father. She recalled giving him a short story she wrote and that, "When my dad read it, I remember him laughing this huge belly laugh the way he did at Monty Python. It was very gratifying."
From that point on, it seemed like comedy was her destiny. Like many before her, she was a huge fan of Saturday Night Live and The Kids in the Hall and dipped her toes into regular humor writing with a column for her high school's monthly newspaper.
The undiscovered talent then went off to Dartmouth, where, according to the school's alumni magazine, she fully immersed herself in the arts, taking up improv, creating a beloved comic strip called "Badly Drawn Girl" and getting a playwriting degree, the latter of which she was especially recognized for after winning the school's prestigious Eleanor Frost Playwriting contest.
Watch:
Mindy Kaling & "Never Have I Ever" Win Big at 2020 E! PCAs
While in college, she also met fellow actress Brenda Withers through an acapella group (delightfully called the Rockapellas) where the two became fast friends and moved out to New York together, unaware that they were about to hit it big with an off-Broadway play called Matt & Ben. The quirky play centered around the two playing Matt Damon and Ben Affleck in a world where the script for Good Will Hunting literally fell out of thin air and into their laps.
The off-beat play quickly gained the two fans and acclaim, winning the award for Best Overall Production in 2002 at the New York International Fringe Festival. It also caught the eye of industry, with the now-defunct WB Network developing the play into a pilot.
However, it was at this point that the Kaling's meteoric rise to fame hit its first major speed bump.
While the network was interested in their creative vision, Kaling was heartbroken to find that the network wasn't interested in having her star on the show.
In an experience that she described to The Guardian as "humiliating," the performer stated she and Withers, "were not considered attractive or funny enough to play ourselves" after being forced to audition for characters based on their own lives. 
The pilot (which can still be found partially online) was filmed but ultimately didn't go to series, releasing Kaling and Withers to pursue other creative ventures. While it was a painful experience, it taught Kaling one thing: She was going to have to have a stake in her own projects to perform while Hollywood learned to catch up.
There was a major silver lining that still came out of Matt & Ben, though. Producer Greg Daniels had seen the play and, impressed with her unique voice, invited Kaling to a meeting. It was there that he offered her a role on the writing staff for an upcoming sitcom called The Office that, as we know now, would change her life forever.
Kaling went on to play Kelly Kapoor, the lovable if delusional customer service representative in the office, over the show's nine seasons. Kaling was one of the few initial hires to be a part of the series through its full run, in which she also served as a producer. The Office's wild success (garnering 42 Emmy nominations and a slew of other accolades) undoubtedly was the launchpad for Kaling's rocket into superstardom.
However, though she has repeatedly praised a majority of her experience on the show, some elements of her time on staff were reminiscent of the same problematic industry that had cropped up during Brenda & Mindy.
For starters, Kaling was the sole female and person of color on the writing staff during the first season. Kaling stated to New York Times Magazine that she "squeaked in through a diversity program," a fact that often made the talented performer feel like there was some asterisk next to her achievements.
While promoting her movie Late Night, she explained during an appearance on The View that, "when you're the only person that's there represented, it's terrifying because if one of those [white] guys has a bad day in the writer's room you don't think, 'Oh, well all white men must not be funny and good at their job.' But when you are the only woman and minority you think, 'Am I representing everyone here?'"
Secondly, even after proving herself to be extremely talented, Kaling revealed to Elle that she had to prove herself all over again when The Office was nominated for an Emmy for Outstanding Comedy Series.
The TV Academy claimed there were too many producers submitted as a part of the series and the star recalled how, "they made me, not any of the other producers, fill out a whole form and write an essay about all my contributions as a writer and a producer. I had to get letters from all the other male, white producers saying that I had contributed, when my actual record stood for itself."
The producer went on to be included on the list. The battle with the organization wasn't over, though, as after Kaling's Elle interview was published, the Academy refuted her claims to Elle with a statement to the L.A. Times reading, "No one person was singled out. There was an increasing concern years ago regarding the number of performers and writers seeking producer credits."
Not one to shy from a debate, Kaling doubled down on social media, tweeting, "Respectfully, the Academy's statement doesn't make any sense. I *was* singled out. There were other Office writer-performer-producers who were NOT cut from the list. Just me. The most junior person, and woman of color. Easiest to dismiss. Just sayin'."
The incident was proof that, even as she was hitting milestones decades before many of her peers, Kaling was continually having to fight to be recognized. So, after The Office's run, it was relieving to see that Kaling was no longer having to answer to someone else when she was named the showrunner for her own series, The Mindy Project.
The Mindy Project, where Kaling played a rom-com obsessed doctor, ran for six seasons between FOX and Hulu. The opportunity was huge, and initially Kaling saw her show as another fun sitcom that she happened to get to lead and star in. However, in her interview with Elle she realized that being one of few women and people or color to have her own show meant she was carrying a torch, whether she wanted to be or not.
When some criticized the show for not having a diverse cast, Kaling admitted, "It used to frustrate me a lot that I felt way more scrutinized by women and women of color than white showrunners were on shows with all-white casts. I just wanted to be a writer. I didn't necessarily look at it as being like, 'Well, you also have to be a spokesperson.' That's not what I signed up for."
Kaling was so used to resistance on her own rise that she didn't realize that in the wake of that success, she had become a beacon of hope for others like her. She recalled to Elle that seeing fans have a, "real physical reaction…to seeing me, and how special it is to them that I'm making it, it becomes more important to me."
Watch:
Mindy Kaling & J.J. Totah Talk Groundbreaking "Champions"
So, while Kaling had to pave her own path, she made sure the road was open for underrepresented voices in front of and behind the camera in her future work.
Her subsequent show, Champions, which she served as an executive producer on, featured a gay lead, for example. In an exclusive interview with E! News, Kaling and the show's star Josie Totah, who has described how the show "is not about [the character's] struggles with being gay."
"It's something that is foregone conclusion. Like, we're sick of watching the brutalization and those stories needed to be told but we're kind of past it…[the character] has a whole other set of issues that are entertaining and great so the show's a lot more about classism and sexism and agism and all this other stuff," Kaling explained.
Added Totah, "Which is why it's even more groundbreaking. Because the shows we have seen with gay characters it's about them being gay or having to deal with it."
While Champions was cancelled before the first season ended, Kaling brought that same mentality of inclusion into her additional projects, like Four Weddings and a Funeral and Late Night.
On her appearance at The View, the star talked about how when it came to new projects, "a lot of it is putting my money where my mouth is. On Late Night, we had gender parity which just means there's at least 50 percent women in the crew and in the cast which is actually really rare in film and was really easy to implement."
She also went on to describe how Four Weddings and a Funeral, "stars a British Pakistani man and African-American woman falling in love and that was a story that I hadn't seen…and it's like okay, I just got to make the shows I keep complaining about not being able to see."
It's through the creation of those types of shows and hiring people typically shut out of the industry that the producer is able to open the door for others to follower her success.
It's the theme she explores in her People's Choice Awards-nominated film Late Night, too. While her character is initially brought on as a diversity hire, over time her work ethic and unique point-of-view convinces the show's host that it's time to shake things up, leading to the hiring of many new types of faces.
In a full circle moment, when Kaling talked about the film on Lilly Singh's late night show A Little Late with Lilly Singh (the only network late night show currently hosted by a woman), she reflected on how seeing no one like her in late night, "was like loving something that didn't love me back."
However, thanks to Kaling's paving her own path for herself and then others, her face is one that a kid just like she was can point to as proof that their love of comedy and entertainment is valid, and just maybe their dreams will come true, too.
This story was originally published on Saturday, November 2, 2019 at 6 a.m. PT.