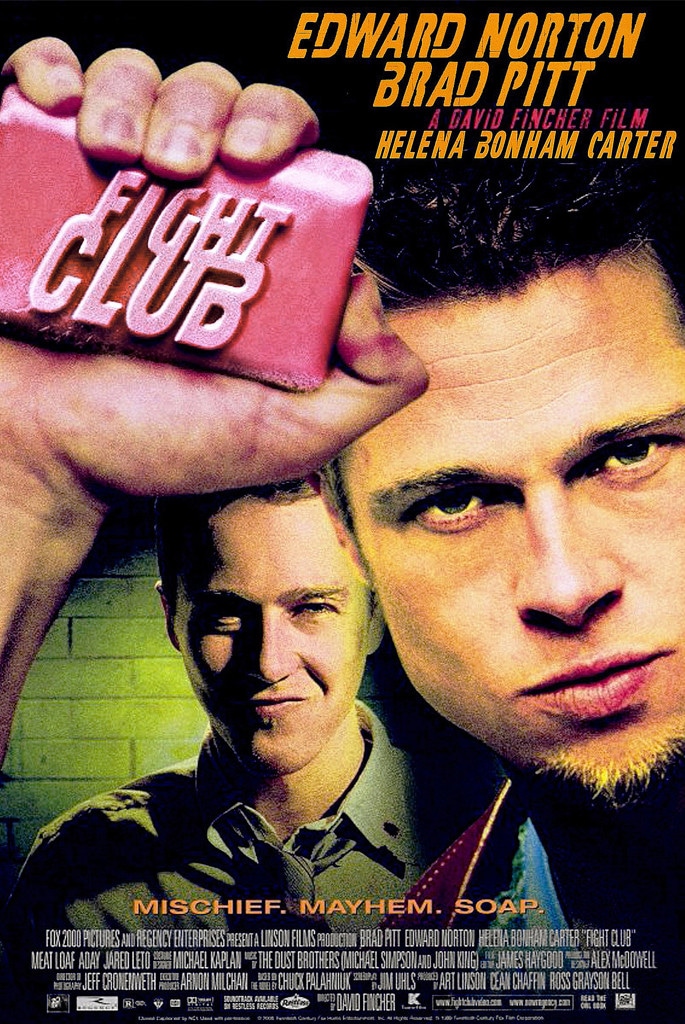 20th Century Fox/Kobal/Shutterstock
It's time to talk about Fight Club.
Not that people have ever really stopped talking about the polarizing, endlessly quotable film since it came out on Oct. 15, 1999.
With its critique of consumer capitalism and its corresponding anarchic solutions; the unapologetic hypermasculinity, however satirized it may be; and that "holy s--t!" ending, David Fincher's film—adapted from Chuck Palahniuk's 1996 novel of the same name—was ripe for the controversy-picking.
Everyone from reviewers to culture critics to academic scholars have had their way with it, calling it everything from a masterpiece to "socially irresponsible" to "an inadmissible assault on personal decency—and on society itself."
That last one made it onto the DVD box.
Coming along before social media turned us all into amateur bare-knuckle word boxers, Fight Club posited that beating the crap out of each other was perhaps the only unadulterated way for men to sweat out the stresses shoved upon them by so-called polite society. The only way to connect, to feel anything—anything at all—amid the mind-numbing demands of their increasingly superficial modern world full of stuff that was steadily taking ownership of them.
Watch:
"10 Things You Don't Know": Brad Pitt & More Celeb Facts
The movie inspired more than a few imitators and catchphrases as dudes took to the basement to act out their own aggression. But it got even more people thinking.
Perhaps not always about the right things (You're not really supposed to idolize Tyler Durden, though it's understandable why some guys might) and perhaps not right away, because the film was a commercial flop.
But eventually the epiphanies poured forth, about detachment, moral decay and materialism, about the id that lurks within, about how one movie can be so simultaneously appreciated and thoroughly disliked.
Or maybe it just makes you think about Brad Pitt's abs. Here are 20 intense things to know about Fight Club: 
The movie came out on DVD in June 2000 and went on to sell 6 million copies over the course of the decade.
Though very much of its time, Fight Club still holds up as a brutal but not unsympathetic look at the havoc all this stuff continues to wreak on society, as well as an aggressive fantasia about what saying f--k-all to consequences really looks like.
Moviegoers aren't always ready to look in that cultural mirror when it's held up to them. But Fincher also wanted to make people uncomfortable, so in that, he couldn't have scripted a better outcome.
(Originally published Oct. 15, 2019, at 3 a.m. PT)