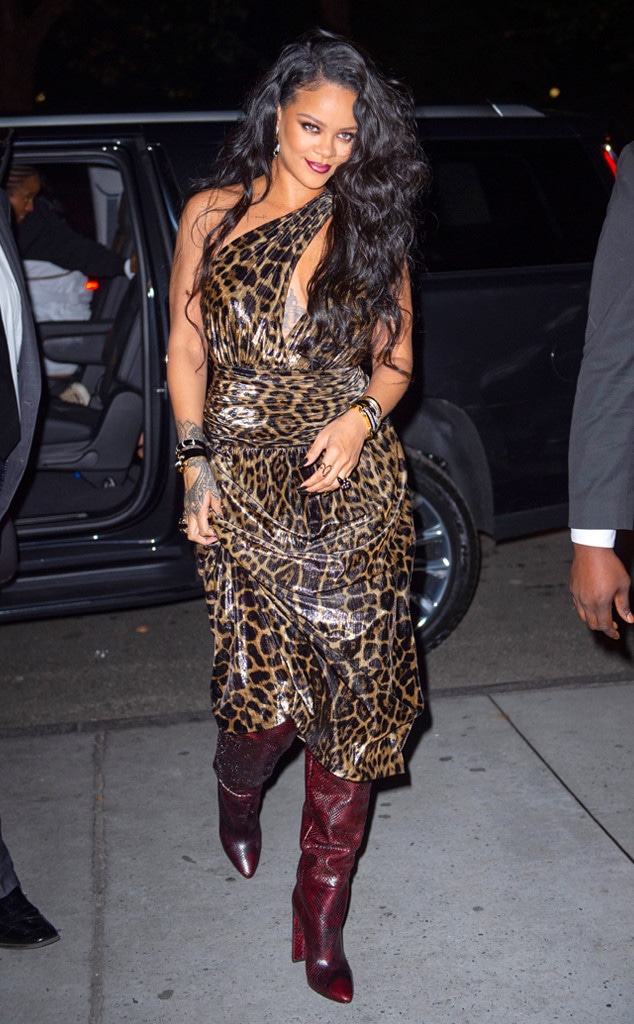 ECP/GC Images
This is an ensemble for the books!
Rihanna brought fierce and fabulous fashion to the highly-anticipated launch of her first visual autobiography, Rihanna, at the Guggenheim Museum in New York City on Friday night. While the book isn't set to release until later this month, Oct. 24, the 31-year-old star celebrated her major achievement early.
Wearing a sizzling leopard dress from Saint Laurent by Anthony Vaccarello for the special occasion, the "Love on the Brain" singer certainly donned an outfit to remember. From the design's plunging neckline to her black thigh high boots and statement jewelry pieces, she showed up and showed out.
What's more? Her equally daring makeup look completed her jaw-dropping dress. Of course, the Fenty Beauty founder used makeup from her eponymous line, including her majestic purple lipstick and shimmery highlighter. "Major glam tonight for @badgalriri," Priscilla Ono, who is the Fenty Beauty global makeup artist, shared on Instagram, of the 31-year-old beauty mogul's look.
So far, October has been an unforgettable month for Bad Gal Riri, who is also Vogue's latest cover star.
Watch:
Is Rihanna Trippin' Over Her Own Baggy Pants?! - What the Fashion (S2, Ep25)
And as many fans have prayed for and dreamed of, the "Work" singer said she plans to come out with new music soon. 
"Me the designer, me the woman who creates makeup and lingerie—it all started with music. It was my first pen pal–ship to the world," she told the publication. "To cut that off is to cut my communication off. All of these other things flourish on top of that foundation."
She added that her new piece of work will be something that hits close to home.
"I like to look at it as a reggae-inspired or reggae-infused album," she said. "It's not gonna be typical of what you know as reggae. But you're going to feel the elements in all of the tracks … Reggae always feels right to me. It's in my blood. It doesn't matter how far or long removed I am from that culture, or my environment that I grew up in; it never leaves."
She continued, "Even though I've explored other genres of music, it was time to go back to something that I haven't really homed in on completely for a body of work."
It's clear Rihanna is busier than ever.... and we're not complaining!