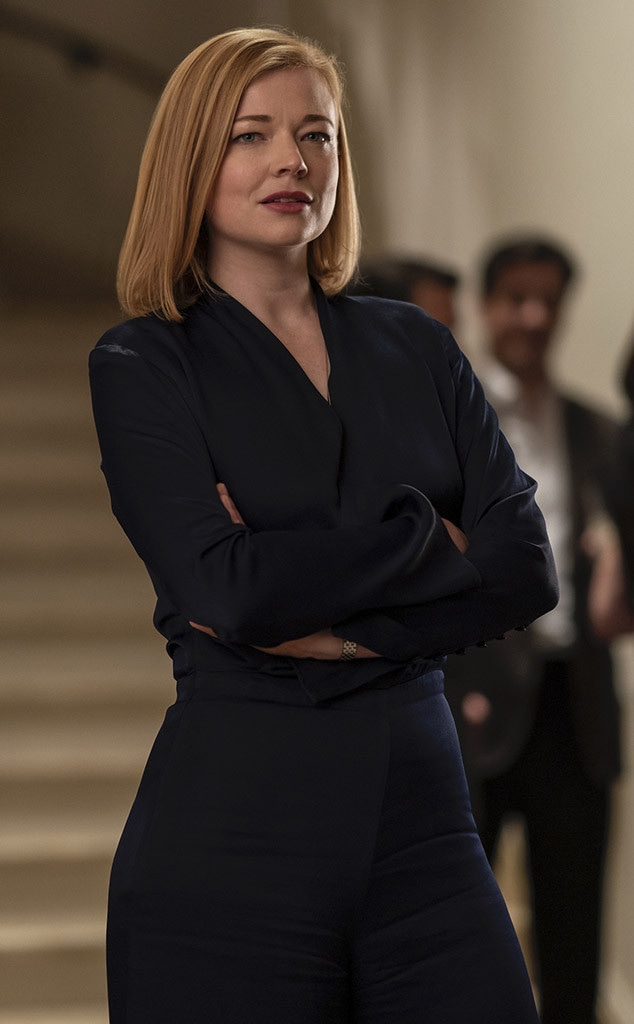 Graeme Hunter/HBO
It's hard work to make a member of the Roy family someone to root for.
As enjoyable as it may be to watch these viper-like media monters at the center of HBO's Succession who may or may not be based on Rupert Murdoch and his clan turn on just about everyone, including one another, in their quest for what feels like nothing short of utter world domination, it's hard to really say any of them are likeable. They're awful, greedy, amoral people who will stop at nothing to remain high atop their perch among the .01 percent.
And yet, for two seasons now, that's exactly what Sarah Snook has miraculously managed to do.
As the youngest of Logan Roy's (Brian Cox) four children, and his only daughter, Siobhan (or Shiv, for short), the Australian-born Snook has become something of a fan favorite in a series teeming with them. We've watched as she began the series outside the hallowed halls of Waystar Royco, the embattled but behemoth family business, a political fixer who'd hitched her wagon to a Bernie Sanders-esque politician intent on bringing down corrupt conglomerates like Waystar, only to get more firmly entrenched in Logan's orbit this season as he dangles the promise (or threat, depending on how you look at it) of the show's title in front of her.
And even though we've watched the real Shiv reveal herself once the thought of taking the Waystar reins from an unraveling Logan presented itself, proving that it's no coincidence her nickname is also the word for a sharp weapon you don't know to fear until it's too late--her handling of Kira, the victim of sexual harassment and abuse in the company's cruises division scheduled to testify against Waystar before Congress, in the season's penultimate episode drove home the idea that, despite her progressive posturing, Shiv is just as morally bankrupt and dangerous as the rest of her family--we've still somehow found ourselves rooting for her.
After all, she hasn't killed anyone (or tried to, shudder, rap) like Kendall (Jeremy Strong), launched a clearly dangerous presidential campaign like Connor (Alan Ruck), or proven to be a dead-eyed sociopath like Roman (Kieran Culkin). Sure, she treats husband Tom (Matthew Macfayden) like disposable garbage, but there's something about the sniveling, social-climbing yes man that makes the treatment feel deserved, however cruel it might be.
What we're saying is, in the snake pit world of Succession, Shiv just might be as close to a hero as we're ever going to get. (Sure, sure, there's Cousin Greg, played to perfection by Nicholas Braun, but, come on, is anyone expecting him to grow a spine and do anything?)
"She is a bit of a boss-lady," Snook told Town & Country Magazine in August about why she thought Shiv had become such a fan-favorite. "Although, I feel like that's maybe undercutting it. You shouldn't have to add 'lady' to the word 'boss,' you know? She's just a bit of a boss."
Snook's path to Shiv wasn't exactly a clear one. Growing up in Adelaide, the daughter of a divorced swimming pool salesman and elder care provider, she refused to attend the school her two sisters went to because it was girls only and, instead, received a partial scholarship to a school with a good performing-arts program. There, a teacher encouraged she apply for Australia's version of Julliard, the National Institute of Dramatic Art. She didn't get in right away, only getting accepted when another student dropped out. "I tracked him down and broke his leg," she joked to Vulture in July.
After graduating in 2008, she began working on both the stage and Australian film and television, despite the fact that she didn't really grow up thinking any of this would happen for her. "It didn't really seem accessible or feasible to go into the TV-film stuff," she told Vulture. "You know, in little old Adelaide...to pretend to be other people for a living."
But it happened anyway. And she quickly began to receive notice for her work, winning two Australian Academy of Cinema and Television Arts Awards (the country's most prestigious acting awards, on par with the Oscars) before landing her audition for Succession. Nevertheless, she still wasn't convinced she had what it took to wow creator Jesse Armstrong and HBO. After all, Stateside, she was best known for her work in the 2015 film Steve Jobs and a 2016 episode of Black Mirror. (And calling her "known" for those gigs is being rather generous, we'll admit.)
"I felt like, 'Ah, there's no way I'm gonna get this, so I'm not stressed,'" she told GQ last year. "I really just was like, 'Eh, this is out of my league. I'll just come and do it and get out of here. Free trip to L.A. for a weekend and see my friends. This'll be great.'"
After landing the role she was certain she wouldn't, she had begin developing a character whose upbringing couldn't have been further away from her own. And that required learning a bit from the show's wealth consultant. "This is a generalization, but I think just your manners, your pleases and thank yous—there's sort of an entitlement," she told Town & Country of what she took away from those discussions. "You respect people who work for you, but you think, 'Well, they've got a job. I don't need to be friends with them.' There's a distance between those who have power and money and those who don't. And there's not an inclination to bridge that gap."
She also had to lean on some new acting muscle, being new to executive producer and comedy genius Adam McKay's world, where he insisted on an improv-heavy process. "I had to get over my self-doubt. I'm doing new lines or improvised dialogue in an American accent, so it's getting rid of the fear," she told GQ. "Once we did that, it seemed to flow smoother. [I'd improvised in] an Australian accent, but not in an American accent being a billionaire's daughter."
Early on, Snook was convinced that Shiv wanted to take over the family business, despite her initial distance from it. Armstrong, however, did his best to throw her off that course. 
"Originally, I [thought that might happen] when I got the role back in 2016, when we were shooting the pilot, but in conversations with Jesse, he quite explicitly said that Shiv doesn't want to be in the business, doesn't want to take over, that's not something she's looking for," she told The Hollywood Reporter in August. "I was like, 'Oh, that's completely not what I thought, but OK, you're the writer, you know what's up, so I guess I'll not be invested in that idea.' And so then when I came back for season two and that idea came crashing down, I was like 'Wow. That's pretty cool.'"
Amy Sussman/Getty Images for BAFTA LA
Of course, as the season has progressed, Shiv's self-sabotaged time after time, to the point that Logan refused to publicly name her his successor when it became a sticking point in his attempted (and ultimately successful) hostile takeover of competing news organization PGM. However, her cunning manipulation of Kira in last week's episode, which ultimately helped keep the sharks circling Waystar at bay for the time being, just may have re-elevated her in daddy's eye. Though, Logan's suggestion that it's time for a "blood sacrifice" means that none of his children are safe heading into the October 13 season finale.
Whatever happens, there's little doubt that Shiv will land on her feet. Of all her siblings, she seems most inclined to quickly recalibrate in the face of any setback. Snook agrees.
"The thing that I find most fascinating about Shiv—and maybe this is the thing that's attractive about her to audiences—is how wealth affords her no glass ceiling in a way... She can be fired from her job or she can go out on risky ventures. She can just sort of sidestep to the next project or sidestep to the next thing," she told Town & Country. "Within the nucleus of the family, there's a lot of vulnerability and feelings of lack of self-worth, because she's seeking the approval of their father. But I think in the broader community, she's able to be quite confident. If you're being treated as powerful, you sort of feel powerful I think."
Succession's season two finale airs Sunday, Oct. 13 at 9 p.m. on HBO.