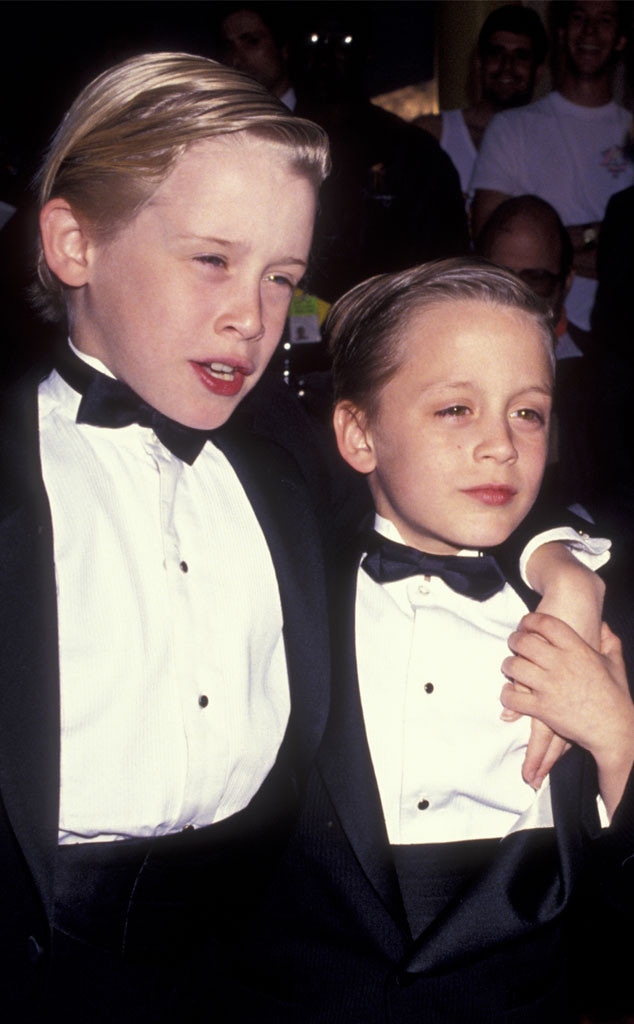 Ron Galella, Ltd./Ron Galella Collection via Getty Images
The Culkin kids didn't want to be famous.
But before any of the seven children among the brood whose last name would come to be synonymous with that of the child actor could decide what they did want, they found themselves thrust into the spotlight as a Hollywood dynasty in the making whether they liked it or not.
Born to father Kit Culkin, brother to actress Bonnie Bedelia and once an aspiring actor himself, and mother Patricia Brentrup, Shane, Dakota, Macaulay, Kieran, Quinn, Christian, and Rory were born into a family of modest means. For the first nine years of middle child Kieran's life, the entire family resided in a railroad apartment in a tenement building on East 94th Street and Second Avenue in New York City, "barely suitable for a couple," the Golden Globe-nominated star of HBO's hit Succession told Vanity Fair in December 2018. "It was just a hallway, and there were no separating doors, except for the bathroom, which didn't have a lock. They raised seven kids in that apartment—for years! They just kept bringing babies home to this little space." 
"I guess we couldn't afford doors or something," Macaulay, who celebrated his 39th birthday on Monday, Aug. 26, joked to New York Magazine in 2001.
With mom working as a telephone operator and dad working at the Catholic church, seemingly dreaming of ways to get his kids famous, home life was a bit unorthodox. "Some of us would go to school," Kieran told VF. "Some would not. We used to watch wrestling. I remember watching Macho Man versus Brutus 'the Barber' Beefcake, and then me, Shane, and Mac would imitate those matches."
For Macaulay, some of his earliest memories were helping Kit at work. "I'd help him set up Mass and stuff like that," he recalled to New York. "It gave me a very tainted view of religion because I saw the man-behind-the-curtain sort of thing. You see your father taking the body of Christ and the blood of Christ down from the tabernacle or whatever, and everybody's believing it's, you know, a big holy thing, and you're like, 'It's just a bottle of wine and some crackers from a box in the back!' "
Francis Apesteguy/Getty Images
Eventually, though, the large family caught the eye of friends in the theater. "My parents' friends were running a little theater, the Light Opera of Manhattan, and whenever a production needed a kid, they were like, 'What age and what gender? We've got seven of them right over here,'" Kieran told VF, adding that, more often than not, the Culkin children were used as nothing more than onstage props.
And by the time Mac landed his first acting gig at the age of 6, things for the family were rather dire. "They were so poor I had to use my own money to make sure that he got to and from rehearsal," Billy Hopkins, the casting director who gave the future child star his first job, told New York. "Macaulay would crawl under the bleachers at the theater to look for change that had fallen out of people's pockets. They were like the Beverly Hillbillies."
Macaulay quickly began racking up film credits, appearing in films like Rocket Gibraltar and Uncle Buck, and by the time he starred as Kevin McCallister in Home Alone, which premiered in 1990, he was a bona fide star. The film, which also featured Kieran as Kevin's bed-wetting cousin Fuller, became the highest-grossing live action comedy of all time until The Hangover Part II in 2011, earned its young star a Golden Globe nomination for Best Actor in a Musical or Comedy, and made Kit a very powerful man in Hollywood.
By 1993, two years after Mac became the youngest actor to ever earn a $1 million payday for My Girl, Premiere magazine rated the Culkin patriarch as the 48th most powerful person in the industry, behind the likes of Michael Douglas and Eddie Murphy. Quickly, however, he began making enemies. Working alongside Patricia as Mac's managers—they both quit their jobs to oversee their kid's future—Kit soon began making demands left and right. He barred Mac from promoting My Girl, he demanded his The Nutcracker co-star Jessica Lynn Cohen not share his son's top billing, he wouldn't approve a single candidate for director on Richie Rich, and he forced Mac and his sister Quinn be cast in The Good Son, despite the director wanting neither. 
Ron Galella, Ltd./Ron Galella Collection via Getty Images
While those in the industry debated whether Kit was just looking out for his son or exacting some sort of revenge for his own career never taking off, Mac was simply growing weary of a lifestyle that had him film 15 movies in seven years. "I just remember the exact point when I was growing a little more tired—during The Good Son. I had already done one or two things that year, and I just said to Kit, 'Listen, I'm really getting tired and I'm not at school as much as I'd like to be; I really need some time off,'" he recalled to New York. "He said, 'Yeah, sure,' and the next thing I knew I was on the next set doing the next thing, and it just kind of clicked in my brain: Okay. There's basically nothing I can do to make this stop."
As Mac explained, Kit seemed to always need to teach his son a lesson. "I was making God-knows-how-much money, and Kit was making me sleep on the couch, just because he could," he said. "Just to let you know who's in charge and just to let you know if he doesn't want you to sleep in a bed, you're not going to sleep in a bed."
While Mac told Marc Maron during an interview on his WTF podcast in 2018 that life with Kit was "sour from early on, even before the fame stuff," alleging that his father was abusive "physically and mentally," he believed that much of their animosity stemmed from resentment over his son's success. "He was jealous," he told the comedian. "Everything that he tried to do in his life, like, I excelled at before I was 10-years old."
Though Mac's intense work schedule meant that Kit was often away from the family home with him, keeping his siblings from having to endure his wrath, they weren't sparred entirely. "He's not a good dude, but he wasn't really a big part of my life after the age of 15," Kieran told . "Sometime in the 90s, he went away and disappeared for two, three weeks, and the babysitter remarked to my mom, 'You know what's funny is their father's been gone for three weeks, and not one of them has said, Hey, where's Dad?' Nobody cared, actually. My mom was the parent, so when he wasn't there it was nicer and better."
Daniel Watson/Walt Disney Television via Getty Images
By the time Richie Rich tanked in 1994, Mac had had enough of the fame that made it so he couldn't walk down the street without being accosted and a life that precluded him from any adolescent normalcy. And when his parents decided to split (despite never actually being married, legally), he saw his way out. "I was able to walk away from the business," he told Maron. "I was able to say, 'I hope you made all your money, because there's no more coming from me.'"
He wasn't aware of just how much money had been amassed until the custody battle over the seven Culkin children began in earnest. "My father would hide newspapers from me so I wouldn't read the stuff about him or find out how much I was making. I can understand why they did that; they didn't want me running off to my friends saying, 'I just made $8 million!'" he told New York. But when, at 16, he learned he was worth around $50 million, he decided it was time to wrest control of how own finances by emancipating himself from both Kit and Patricia.
"Basically, I had millions and millions of dollars in the bank and my mother couldn't pay the rent because she was spending all of her money on lawyers," he said. "We were about to get evicted from our apartment. The only way I could get access to that money was to take my father's name off it, but I didn't want to make it messy, so I figured I'd take both their names off."
Kit never showed up for the last day of trial. Communication with all of his children ceased. And suddenly, there was a sense of freedom.
Mac went to high school, married Rachel Miner at 18, separated from her at 20, dated Mila Kunis for eight years, toured with his band The Pizza Underground, acted when he felt like it, defended his controversial friendship with Michael Jackson in a way Kit wouldn't allow when allegations against the musician were first made in the early '90s, moved to Paris, launched a comedy website and podcast called Bunny Ears, began dating Brenda Song; basically, he did whatever he wanted. 
"I felt like some kid worked really, really hard and I inherited all his money. I had kind of no real sense," he told Ellen DeGeneres during a rare talk show appearance—his first ever on her show—in April 2018. "It allows me to treat everything like a hobby. I do nothing for my dinner, nowadays. So I can just do all kind of projects that I want to do whether its writing or painting or a new website or whatever it is."
As for his relationship with Kit, or lackthereof, he told Maron, "I haven't spoken to him in about a quarter of a century. It's the way it has to be."
(For his part, an ailing Kit told the Daily Mail in 2016, "I don't consider him a son anymore.")
For the rest of the family, Mac's retirement meant they could step out from under the shadow of their ultra-famous brother and figure out who they were on their own. "I've even been called 'MacCulkin,' like I'm a collection of Culkins," Quinn told VF. "As much as we may look alike, we're all very different. Mac has his way that he carries himself, and Kieran, and Rory. You see it even in the way they stand. It's very telling of who they are individually."
As the family's longtime manager Emily Gerson Saines told the publication, there's also the complication that Kieran or Rory, the two foremost actively working actors in the family, are touted as "Macaulay Culkin's brother." "There's this public perception of them that they're one person—or Macaulay's brothers," she explained.
Life after Kit wasn't easy, however. There was the 1998 tragedy when a fire originating in Patricia's apartment days before Christmas robbed them of everything and killed four people, resulting in a lawsuit against her for $80 million. Mac's siblings moved in with him and then-wife Miner. "I had a place that was way too big for me and my wife anyway," he told New York. "It was a nice Christmas other than the fact that all their presents got burned...and their house. It made me feel good that we brought it all together and made it work. It was awful, of course -- people died -- it was awful."
10 years later, tragedy would strike the family even more intensely when their sister Dakota, only 29 at the time, was struck by a car outside Brennan's, an Irish bar in Marina del Rey, California and rushed to the hospital with massive head trauma, only to succumb to her injuries the next day.
George Pimentel/WireImage
For Kiernan, being Mac's brother meant that he had a front-row seat to the trappings of fame, telling VF he sees it as "not a nice thing." "I think well-adjusted, smart people that experience it first- or secondhand would not pursue it," he added. "I'll totally take personal happiness over success, absolutely. If I'm miserable, then what's the f--king point?"
And that meant that, after his breakthrough work in 2002's Igby Goes Down, he, too, would walk away from a career that he'd had thrust upon him at a tender age. "I realized I'd been doing it for 14 years and I never once made the decision 'Hey, I want to be an actor,'" he told The Guardian earlier this month. "So I flipped out and – you can check my IMDb – I didn't work for years. I didn't know what I wanted to do with my life."
So while Rory, who's appeared in Scream 4, as well as TV shows like Waco, Castle Rock and City on a Hill, continued to make headway in his own career—"Neither Macaulay nor Kieran chose to act. It was, to a large degree, chosen for them," Gerson Saines told VF. "For Rory, on the other hand, it was always his choice"—Kieran worked sporadically until returning in a big way with Succession last summer, marrying British model Jazz Charton in 2013. They have a baby on the way.
As he told The Guardian, it wasn't until landing the role of Roman Roy, the spoiled, entitled heir to the media conglomerate at the center of the hit HBO tragicomedy, that he began to feel comfortable with acting once more. "We were shooting last season when I came home one day and I said: 'I think this is what I want to do.' It took until I was 35 and I had been doing it for about 29 years for me to go, 'Hey, I think I want to be an actor,'" he told The Guardian, adding that, also, "baby needs food."
While the tough circumstances of their upbringing could've torn them apart, there's only proof to the contrary for the Culkins. "You know what's really been lovely to see is the brothers," Gerson Saines told VF. "I think no one can understand the lives they've led but them. They have common experiences that are impossible to explain to people. I think none of them think or behave like actors."
And believe it or not, wrestling remains an important part of their lives. "We all just recently went to Rory's wedding," their longtime managers recalled, "and it was so incredible, because Kieran was there with his wife, and Macaulay was there with his girlfriend, and the women all get along really well. It just melts my heart to see them all together like that." In fact, Rory's wedding to cinematographer Sarah Scrivener was officiated by the WWE's announced Paul Heyman, "and the reason his wedding was in New Orleans was that's where WrestleMania was at that moment. Everybody's doing what they want to be doing, and they're doing really great work. And they're all happy in their personal lives. That's as good as it gets in this world."
Succession airs Sundays at 9 p.m. on HBO.