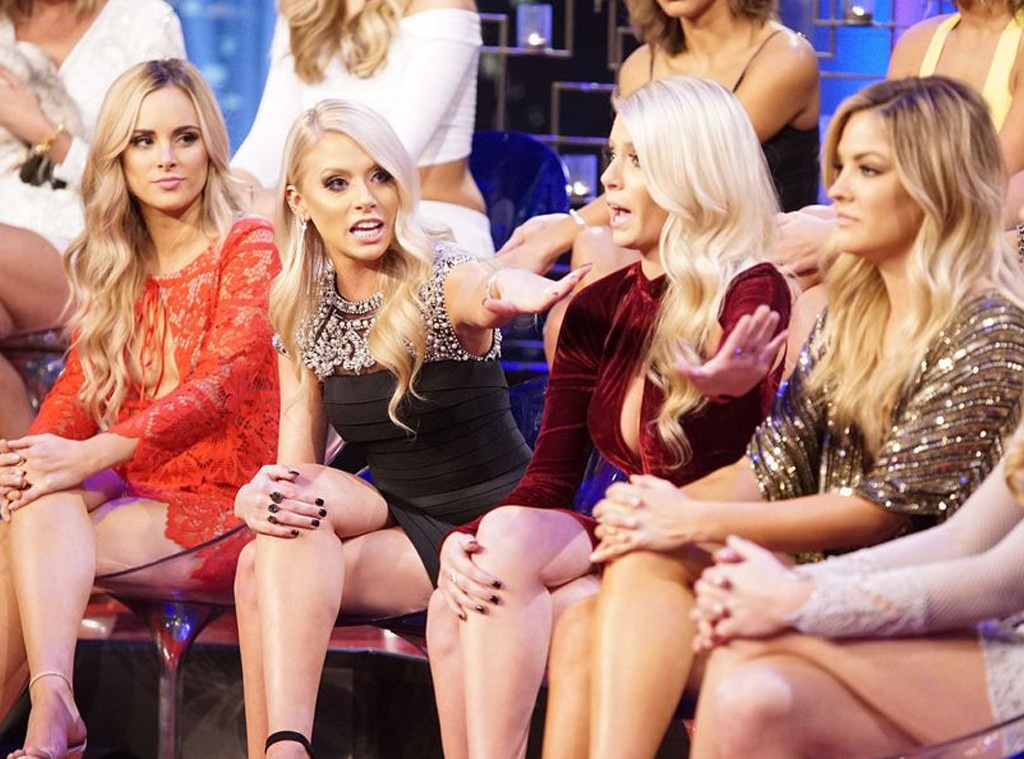 ABC
People knew more or less what they were getting themselves into when they signed up for VH1's Couples Therapy. The premise was built right into the title.
Whether or not the televised sessions helped in the long run (Teen Mom's Catelynn Lowell and Tyler Baltierra are still together; Doug Hutchison and Courtney Stodden, not so much), the team of counselors headed up by psychotherapist Dr. Jenn Mann, was the real deal. The debate still rages, sparked again recently by the premiere of Showtime's Couples Therapy (also unscripted but with non-famous people and otherwise unrelated), over whether help-seekers benefit at all from the reality-TV therapy format, but the shows are ostensibly about counseling.
But what about the reality shows where tending to one's mental health seems like the last thing on anyone's mind? Since audiences watching Big Brother, The Bachelor and Survivor can feel themselves losing it after an hour, think of how the people shut up in a house with no outside news, competing for the affections of a rose-wielding suitor, and scrounging food while actively plotting against each other are feeling after weeks on end.
Which is why these shows keep a therapist at the ready.
Lists have been made of reality-TV star tragedies, and they can be easily subdivided by show, network and genre. But no matter how Hunger Games-ish the vibe on these shows can sometimes get, producers have historically been aware that these are human beings they're tossing in the fishbowl, and efforts are made to keep everyone on as even a keel as possible, bottomless wine aside.
Eric McCandless via Getty Images
On The Bachelor and The Bachelorette, for instance, a therapist is on call for all the resident love-seekers' needs, and contestants are sent to meet with the therapist after they're eliminated (so that tearful ride away from the house isn't quite as despairing as it almost always looks).
"It can be a somewhat emotionally taxing, people don't realize how fast emotions get involved," Dr. Catherine Selden, the in-house psychologist from 2002 until 2017, told ABC News in 2010. "We want to make sure that people are going to be OK with coping with the stress involved, and make sure that they are going to be offered the help that they need if it's the case."
Selden was also involved in reviewing potential contestants' lengthy psychological evaluations (roughly 800 questions) during the casting process. 
"I felt like she got me," Sharleen Joynt, who competed for Juan Pablo Galavis' affections on season 18, said about Selden in Amy Kaufman's 2018 book Bachelor Nation: Inside the World of America's Favorite Guilty Pleasure. "She told me I was the most self-analytical or introspective female contestant they'd ever had on the show...After I exited, they took me to a hotel suite and the doctor was there waiting for me with a room-service menu at, like, three a.m. She's on call 24-7. I had never spoken to a shrink before, but I loved her."
Rozlyn Papa, from Bachelor season 14, told Kaufman that Selden asked if she had any history of mental illness, and Papa told the psychologist that she had, in fact, battled depression and it was an ongoing struggle.
In hindsight, Papa seemed to feel that she should have been red-flagged as perhaps not really cut out for the show, as opposed to ideal fodder for onscreen drama.
Big Brother also employs a 24/7 therapist for the housemates, who are cut off from the outside world for 90 days with only each other for company, for better or worse. And, like with The Bachelor, evicted housemates meet with the therapist—who also helps screen the lot for psychological issues before they're cast—before rejoining society.
"Individuals have certain personality traits that can be can be exacerbated during periods of pressure and stress—like the Big Brother house, Dr. Sarah Angel, the on-call therapist for Big Brother Australia, told Switched On in 2012. "So if you saw them outside it might only be something you'd see ever now and then. Things like a tendency to experience anxiety or depression. But I'm also looking at coping skills, so people can have those symptoms but if they've got good coping mechanisms they could manage better in those circumstances."
Steven Stein, a clinical psychologist who developed a series of assessment that have been used in the screening process for shows including Big Brother, Survivor and Scare Tactics, told Variety recently, "We usually tailor the tests to the show in terms of what they're looking for. Some shows like Big Brother rely a lot on social and interpersonal skills. Other shows sometimes require stamina and managing stress, and so we focus on those areas."
"The first and most important thing we always do," Stein added, "is a mental-health screening because we want to make sure that it's safe. That the person is not going to be self-injurious or aggressive. That there are no real addiction problems. No sort of borderline personalities."
On some shows, therapy has become a part of the plot—a development producers say they don't take lightly, especially because the right to confidentiality and doctor-patient privilege is signed away at the get-go.
Some years back, Bethenny Frankel started allowing The Real Housewives of New York City cameras into her sessions with her longtime therapist Xavier Amador. Co-executive producer Lenid Rolov told The Atlantic in 2016 that, on his shows (other production credits include The Hills and Growing Up Gotti) they'd always try to work with the stars' real-life therapists. If they weren't in counseling already, they'd look for a good match.
"Anytime we do have a therapist that we work with, there's a series of guidelines from the networks, they have to approve the therapist, and there are background checks," Rolov said.
And then there are the shows where the whole premise relies on the fact that the participants have issues, be it Intervention (again, the point is right in the name) or its fellow A&E series Hoarders.
According to a 2011 Playboy profile by Reality Blurred founder Andy Dehnart that examined the reality of shows that purport to help people, as well as the so-called regular ones that just gather folks in a finite space in order to out-play each other, Screaming Flea, which makes Hoarders, had started arranging for post-show therapy for the oft-traumatized participants. Psychologists are already there to help, on camera and off, during the inevitably painful process of de-hoarding.
"I would not be doing this if we were not helping," Matt Paxton, one of Hoarders' Extreme Cleaning Specialists," told Dehnart. "If we didn't offer that aftercare, this would absolutely be cruel, because then you're not giving them the chance to get better."
According to Dehnart's story, Survivor contracts advised that the contestants would potentially be subject to "severe mental stress"—and that won't necessarily end when filming does, and could in fact reach new lows when the finished product starts airing. (The long-running CBS show premiered in 2000 and employed mental health professionals from day one, setting the template for ensuing competition shows.)
On The Real World, which was entering into largely uncharted territory when it premiered in 1992, cast members had to "be prepared that anything in their life could end up on the show," executive producer Jonathan Murray told Dehnart. "We developed this application that was 28 pages long, which asked every intimate detail, and we said, 'If you're uncomfortable talking about any of this, you probably shouldn't do this show...You don't know what's going to happen."
Then there are the unpredictable highs and lows of post-show fame, be it temporary or enduring (though no matter how temporary, you're pretty much forever on the radar, especially if you mess up) and the deflation that can occur when the show is over, cameras aren't following you around and...it's just you. Hence the countless number of reality stars who've managed to stretch one appearance on a reality show into many, such as the odyssey Heidi and Spencer Pratt went on after The Hills.
Nowadays, what with the cooking shows, and weight loss specials and all-star seasons...there's always somewhere to land.
The fame is "something they're not prepared for," Dr. Angel of Big Brother Australia said. "Not only do they not know what's been going on while they've been in the house, but they have to then deal with the quick aftermath of that."
If that fame more resembles notoriety than fan-favorite status, Angel continued, "That is part of helping debrief them after the eviction. So I will update them whilst on the way to the eviction show, if that's happening. They've got to work through some of that, they've got to get some support systems, they've got to figure out what's happened. The ideal would be that they would learn from that and reflect on it."
With Hoarders, the therapy organizer gets in touch just days after the cameras leave because "it can be traumatic for them when the shows air," executive producer George Butts told Andy Dehnart—but, he said, more than half of the people featured on the show hadn't taken them up on it. "Unfortunately, we can't force them to take mental health therapy."
But if they do, Butts added, "there's no hard and set and fast rules on it. If they're continuing to see a therapist, that's something that we strongly encourage, obviously. If they reach their six months, we'll certainly extend their time period if they still have funding available in their aftercare fund."
Clinical psychologist Brie Rosenfield, a consultant on multiple reality shows over the past three years, told Variety that on series she has worked on, the norm has been for the production to pay for up to three counseling sessions once the show is done filming (in addition to having a therapist available throughout filming).
"Unfortunately we are paying for the mistakes of our past," she said, "and in order to be legally and financially responsible, you really have no choice but to support these contestants so that you don't have a tragedy."