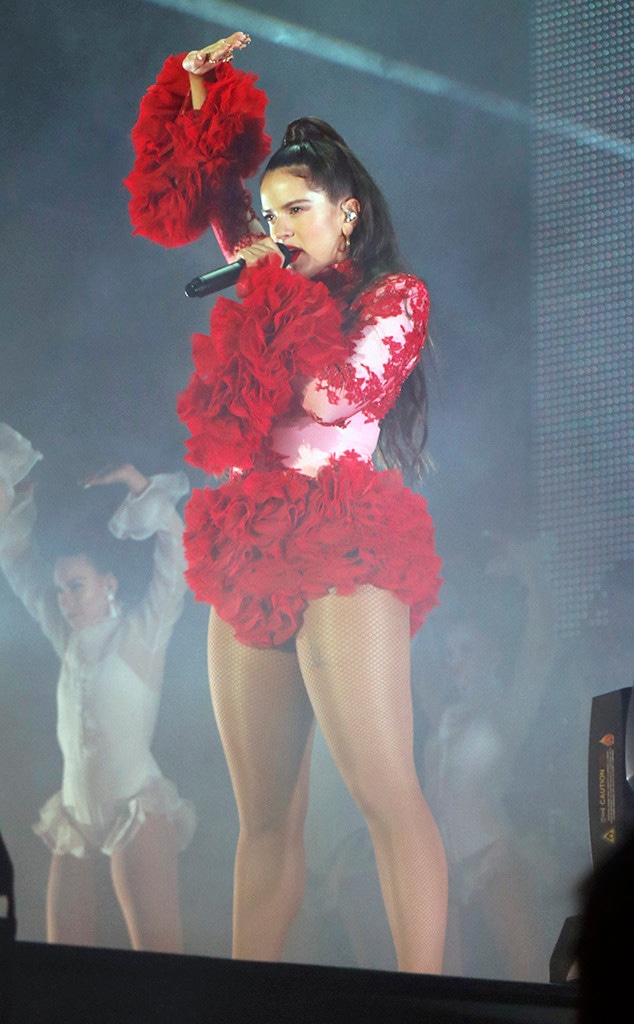 Europa Press/Europa Press via Getty Images
Rosalía continues to march to the beat of her own drum!
The 26-year-old singer is opening up about her music, what it was like performing at the 2019 MTV VMAs and more. As W Magazine's latest cover star, the Latin Grammy winner candidly shared what it was like to make her first televised appearance on a major American awards show.
"I was so happy that I could sing in Spanish," she expressed about her MTV VMAs performance, where she sang her hit tunes "Aute Cuture," "A Ningun Hombre" and "Yo x Ti, Tu x Mi" with Ozuna. "As a musician, language is almost like another instrument. Every word has a sound."
She added, "And if this is the first time I'm on television in America, I wanted the world to hear me."
The Spanish singer explained that along with dancing and singing, she has to do "hair-ography." She said, "There is no lip-syncing at all, and there is all that hair moving around."
Naturally, her performance was definitely one to remember, as she dazzled on the stage with a crystal-adorned corset and leather latex stockings that were designed by Riccardo Tisci. He was also responsible for her red carpet lewk that night.
"Riccardo texted me immediately after the show," the 26-year-old singer said. "He was really involved in every detail." In fact, the Burberry Creative Chief Officer recalls meeting the Spanish star for the first time.
Watch:
Should European Artists Like Rosalia Be Called Latinx?
"I knew from the moment I met her that she has a very rare, unique, and radiating star power," he told the publication. "She has the maturity and craft of someone well beyond her years, and the purity and sensibility of youth. Rosalía is daring in all that she does, from her dancing and movement to her music and costumes. And I love her for that."
However, when she won the award for Best Latin (with J Balvin for their song "Con Altura"), Rosalía was met with criticism. Many argued that she shouldn't have been in the MTV VMAs category in the first place, since she's European and not of Latinx descent/heritage. While the "Malamente" singer didn't address the backlash after the awards ceremony, she touched on the topic earlier this year.
"If Latin music is music made in Spanish, then my music is part of Latin music," she told Fader back in May. "But I do know that if I say I'm a Latina artist, that's not correct, is it? I'm part of a generation that's making music in Spanish. So, I don't know — in that sense, I'd prefer for others to decide if I'm included in that, no?"
Despite everything, it looks like Rosalía is focused on her music more than ever. "I don't sleep," she said during her W Magazine interview. "For the last year and a half, I don't sleep. I'm always thinking, working, imagining." 
You can read her full interview with the publication online. The issue hits stands on Oct. 8.