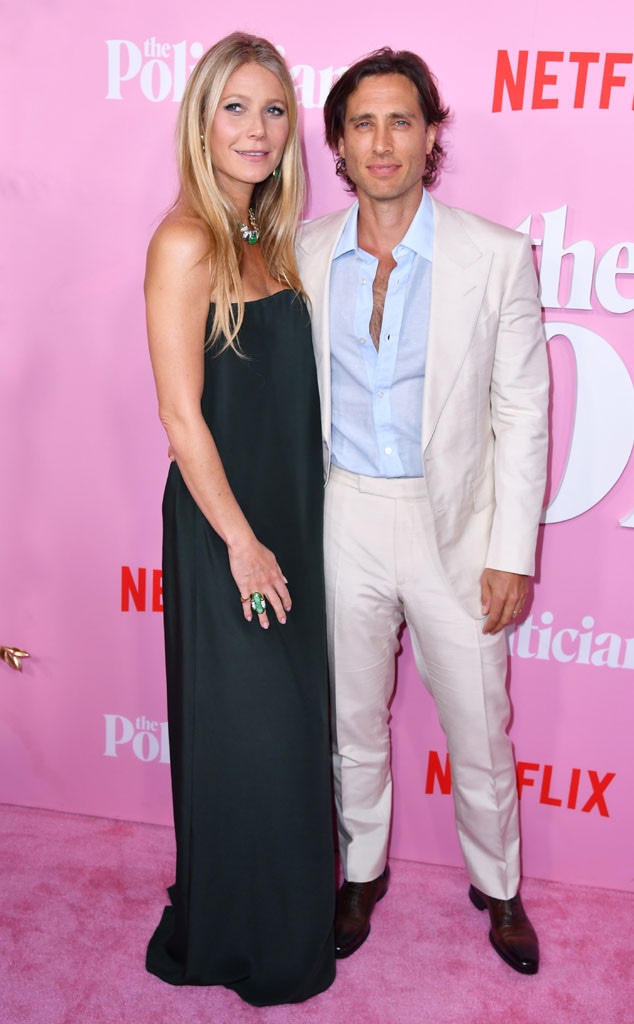 Stephen Lovekin/Variety/Shutterstock
Gwyneth Paltrow and Brad Falchuk chose not to move in together before they got married on Sept. 29, 2018.
And they decided not to move in together after they got married, either.
Now celebrating their first wedding anniversary, the power couple do, finally, cohabitate full-time, but they eschewed the traditional timeline that, nowadays anyway, would have had them sharing a place long before they said their I-dos.
Which isn't to say that Falchuk didn't feel right at home at Paltrow's various residences, or vice versa. They simply weren't in a rush. And for the couple who took their time going public in the first place, that made sense.
Both recently single and parents of two, there were a lot of respective details to sort out before they could combine forces romantically, let alone legally.
Paltrow had met Falchuk when she first appeared on Glee in 2010, when they were both married. So it wasn't until 2014, when she returned to the show—calm on the outside and reeling inside from her conscious uncoupling from Chris Martin in 2013—that she connected with the prolific writer-producer, who's co-created half a dozen hit shows with Ryan Murphy.
They first sparked dating rumors that summer when they were spotted at dinner "enjoying each other's company," as determined by an eyewitness.
Patrick Lewis/Starpix for Netflix/Shutterstock
It would be months before they went for it in a big Hollywood way, allowing themselves to be photographed arriving at Robert Downey Jr.'s 50th birthday party together in April 2015.
After that they stopped taking pains to keep people guessing, going to the L.A. premiere of her mom Blythe Danner's movie I'll See You in My Dreams and then vacationing in Italy, a spot they've returned to over the years.
They became Instagram official in September 2015 after more than a year of dating, when Falchuk posted a couple's selfie from the night of the Scream Queens premiere. And then they were just...together. 
Falchuk got onboard with the Paltrow-Martin co-parenting plan, which included holidays and the occasional brunch with his girlfriend's ex-husband, and Paltrow got to know Falchuk's two kids from his marriage to Suzanne Bukinik.
They both love family, friends, food, travel, self-improvement and dropping F-bombs.
"I'm actually a pretty good friend, and a good sister and daughter and mother, but I'm at my potentially most vulnerable and f--ked up in the romantic slice of the pie," Paltrow observed about herself on the Girl Boss Radio podcast in 2017. "So it's taken me a lot of work to get to the place where I have a good romantic relationship."
And for her birthday that year, Falchuk captioned a photo of her mid-slice, "This is the most beautiful woman of all time and today is her birthday. We are all so lucky that she came into the world (but no one is luckier than me). Happy Birthday, Love.
"PS - this is pretty much the most #Gwyneth pic I could find - it has pizza, red wine, her phone and that f--king perfect smile."
Chris Pizzello/Invision/AP
Falchuk proposed toward the end of the year, and then the couple went all out in confirming their engagement in January 2018, via the cover of Paltrow's Goop magazine, the "Sex and Love Issue."
"We feel incredibly lucky to have come together at this juncture in our lives, when our collective successes and failures can serve as building blocks for a healthy and happy relationship," they said in a joint statement.
"One where I was constantly chasing and trying to win someone over, and one where I was put off by the person's capacity for the relationship—and those relationships were very short-lived," Paltrow also said in the issue. Now, "for the first time, I feel like I'm in an adult relationship that is sometimes very uncomfortable—because he sort of demands a certain level of intimacy and communication that I haven't been held to before."
So, they had declared themselves ready to take the next step, and they refused to sweat the small stuff. Or a lot of the big stuff.
When Howard Stern found out when Paltrow appeared on his show that May that she and Falchuk hadn't really discussed their finances yet, he was aghast, insisting she had to get on that.
"I think we're just going to try and do it in our own way," she replied softly.
And while you might have guessed that Paltrow was involved in every single detail that went into setting the scene for their wedding, she had entrusted a planner to take care of the heavy lifting. 
She "really just wants to show up and is very relaxed about the whole thing," a source explained to E! News. And it was picture-perfect all the same.
A day after their rehearsal dinner thrown by Jerry and Jessica Seinfeld, Falchuk and Paltrow tied the knot at her home in the Hamptons in front of the likes of RDJ and his wife Susan Downey, Cameron Diaz and Benji Madden, and Steven Spielberg. And the Seinfelds, of course.
The bride, who wore Valentino for the ceremony and a Stella McCartney jumpsuit for the party, and groom had their first date at one of Mario Carbone's restaurants, so he catered the wedding dinner. For dessert, as Paltrow later revealed to Goop, "A compromise: Forty-five personalized carrot cakes (bride's choice) and forty-five chocolate and vanilla cakes (groom's choice)."
In Goop's words: "Perfect weather, a superlative dinner, a dance party for the ages, and a dress that defies adjectives. Hours later, when the last guest went home and the last champagne flute was cleared away, the day ended as it began—with beauty, love, and two very happy people."
Two people who dove into the beginning of the rest of their lives by honeymooning over Christmas vacation in the Maldives, which is where you want to go if you crave utmost discretion and privacy. But because it was the holidays, they brought their kids. And a bunch of friends. And Chris Martin.
"It was a very modern honeymoon," Paltrow acknowledged on Live With Kelly and Ryan in February, full of "great conversation and lots of kids."
Questions remain about the Brad-Chris dynamic, but she simply told London's Sunday Times in June, "Chris is family, and Brad and he, they're like, totally friends."
Paltrow also casually mentioned that she and Falchuk only spent four nights a week living together, while he spent the other three with his children at his nearby house in Brentwood.
"Oh, all my married friends say that the way we live sounds ideal and we shouldn't change a thing," she laughed.
The honeymoon phase did appear to be ongoing, with Falchuk captioning his Valentine's Day post, "Holy f--k am I in love with you. Happy Valentine's Day @gwynethpaltrow." Meanwhile, Paltrow wrote on his birthday in March, "It's your birthday, but it's really feels like you are the gift. Not just to me, and to @izzyfalchuk and Brody, but to all of us who are fortunate enough to know and love you. You are my rock, my true north, my favorite person to eat with, to travel with. You are a true friend. You want only what is for the highest good. You always help me see what I can't. I am so happy you were born @bradfalchuk I love you so much
But by the time she talked to the Times it appeared that a move was in the works. Falchuk had put his house on the market for $10 million and, in July, according to Variety, singer-songwriter Jesse Jo Stark bought it for $10.6 million.
Then Paltrow, penning an essay for InStyle that was first published online in early August but was for the September issue, shared that she and Falchuk were finally moving in together later that month.
"Married life has been really good," the Oscar winner wrote. "We took a year to let everybody take it in and let the dust settle. And now we're moving in together this month. I adore my husband. He's brilliant and deeply kind. I feel like he's a real equal too. And he pushes me in the best ways. I really like being married. It's fun."
Falchuk clarified the timeline in an interview with the Wall Street Journal, saying "I'm moving in September. We've just done it slowly. Divorce is terrible, even when it's the right thing to do. And it's really hard on kids. Come September, we're all gonna Brady Bunch it up, and it'll be great."
It does seem to be going quite well.
On Friday, Falchuk wrote a glowing tribute to his wife on the occasion of her 47th birthday, noting, among other things, "She's a relentless mother and step mother, the BEST wife, all of her friends know she's their champion and no one wears clothes as well as she does. She's endlessly fascinating, succeeds at everything she does and drinks whiskey and eats fried food yet still manages to look like that. Happy birthday, Love. I know I'm not the only person to say, thank God you were born. I love you."
The pair also just worked together for the first time since becoming a couple, another thing that sounds ideal but isn't for everybody: Paltrow is in The Politician, a dark comedy series starring Ben Platt as a high school overachiever determined to become president one day that marks the first Murphy-Falchuk-Ian Brennan creation for Netflix. She plays Platt's adoptive mom.
While Paltrow has made it clear that she hasn't been as interested in acting in recent years as in running Goop—aside from continuing on as Pepper Potts, her role in the Marvel Universe for over a decade—she had previously said that she would be happy to work with Falchuk again because, duh, he's a brilliant writer. But, when the opportunity arose, she wasn't sure—especially when she felt like some of the lines may have been poking fun at her own wellness empire.
"He said, 'You're my muse for this character,' and I was like, 'Oh, that's very nice,'" Paltrow told The Hollywood Reporter this past summer. Not to mention, she was busy.
But Falchuk and Murphy insisted, offering to suit the production schedule to her needs. So she said yes—but brought her business with her anyway.
"She was very protective, maternal and just very sweet light energy toward me, which I think really translates in the relationship of Peyton and his mother, all while running Goop from the other room between takes!" Platt divulged to NME.
"She always had a little private space regardless of the location where she had like two or three people with her, and while they were changing camera setup she would go make, you know, Earth-shaking decisions and then just come back and be my mom."
Murphy just enjoyed watching Paltrow and Falchuk look so happy, telling THR, "They're very lovey-dovey, physical and they've found some incredibly rarefied space. They both went through a lot, and I was with them for a lot of years where it wasn't so great." 
FOX Image Collection via Getty Images
"It's so fun to be working with someone who you're in love with," Paltrow said. "I was like, 'Agh! He's so hot, he's so talented, this is so fun.'"
And the fun didn't just stop when the director yelled "cut!" There has been press to do and premieres. And, notably, she and Falchuk attended their first Emmys together last weekend.
She presented (and she's still got it, her mere walk across the stage going viral) and Billy Porter won best actor in a drama series for Murphy and Falchuk's FX series Pose.
Later watching footage of herself slinking across the stage in her vintage Valentino couture, Paltrow explained on Today that there was no slit in the back of the long dress and she didn't want to accidentally make one. "I think I looked pretty normal, too," the actress said, smiling. "I don't totally get it."
So it doesn't sound as if she lost any sleep over it. She knows what matters, no matter how noisy the Internet can get. 
"Gwyneth has a very tough skin," Falchuk told the Wall Street Journal. "She's like, 'You've got to relax.' At the end of the day, we're getting into bed together…and nothing from the outside world or anybody's opinion means anything."
That's getting into bed together seven nights a week, thank you very much.