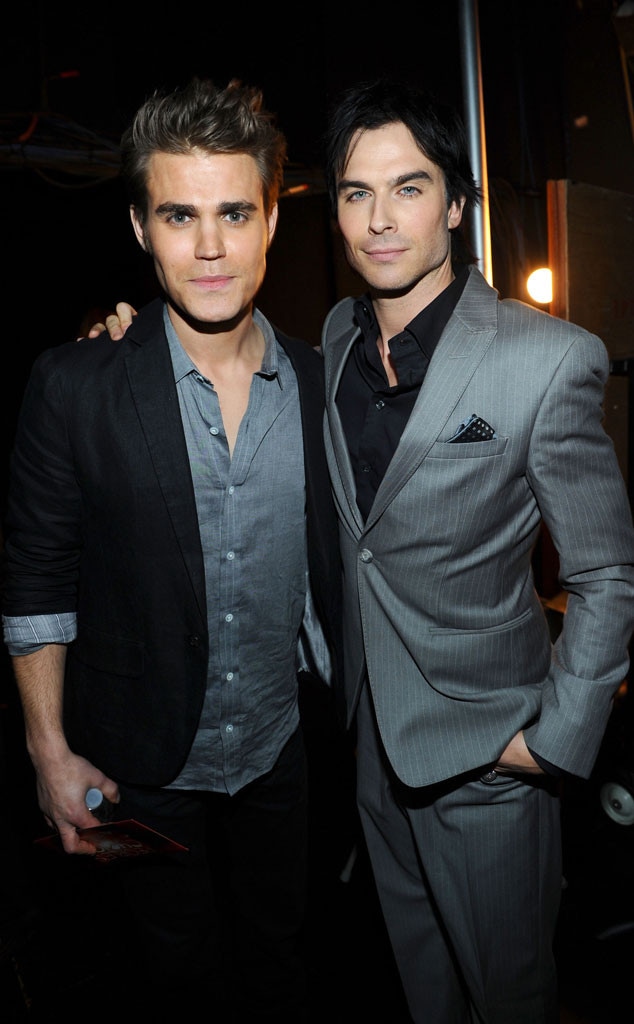 Michael Buckner/Getty Images for PCA
Paul Wesley and Ian Somerhalder are giving fans something to sink their teeth into.
Well, technically, it's something to sip on, because these two are creating their own bourbon. According to Ian, he and Paul are in the beginning stages of launching the liquor company. He announced on Instagram, "Can you imagine if the Salvatore brothers had their OWN bourbon? Well, it's coming! @paulwesley and I have been working our asses off with our incredible team to make this happen."
He adds that the bourbon was created through "passion, hard work and an uncompromising quest/thirst for quality." Although, typically bourbon is made from grain, yeast, water and corn. 
Once the final product is ready to be sold, Ian and Paul plan on hosting launch parties across the globe. "You've given us so many wonderful years as these characters and we want to bring you something to enjoy that brings back some great memories and some good times to come," he shares. Parties, bourbon, two Vampire Diaries stars—where do we sign up?
Ian signed the letter, "Love, Damon and Stefan," so that surely means the vampires will play a role in the brand or at least that's what fans are hoping for. 
Watch:
Nina Dobrev Gushes Over Reunion With Ex Costar Paul Wesley
Paul has yet to make the grand announcement on his personal IG, but he responded to the news with a brain-exploding emoji. 
While some celebrities choose to create their own tequila or vodka brands, it appears that Paul and Ian are sticking to what they know best. During the course of their time on the CW series, they, along with Nina Dobrev, drank their fair share of whiskey, especially since the show was located in the south. 
Nowadays, the actors catch up over cocktails and reminisce about the times when they used to not like each other. Paul previously shared, "I think sometimes when people work together non-stop, do press non-stop for years and years on end, you don't appreciate the person that's in front of you."