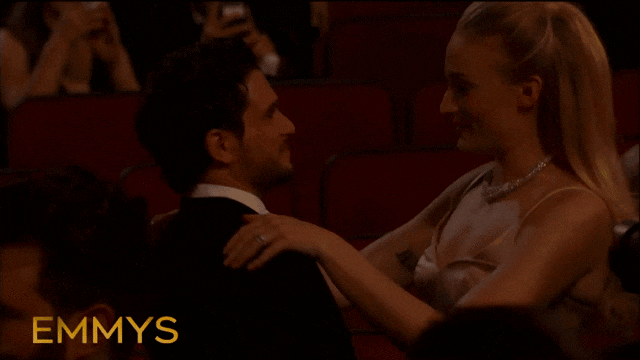 Fox/The Television Academy
Once a Stark always a Stark. 
Sophie Turner and Kit Harington are both Emmy nominees tonight for Game of Thrones, and during a commercial break, Fox caught the two sharing an incredibly sweet hug. 
Harington is nominated for lead actor in a drama while Turner is nominated for supporting actress, in a category completely dominated by Game of Thrones stars.
Gwendoline Christie, Lena Headey, and Maisie Williams are also nominated, while Emilia Clarke has a nom for lead actress and Nikolaj Coster-Waldau, Peter Dinklage, and Alfie Allen are all nominated for supporting actor. Carice Van Houten also scored a guest actress nomination. 
It was just generally a great big Game of Thrones party tonight, and in fact all of the nominated stars appeared on stage together to say thank you to the fans...and to present awards to limited series and movies. 
"I think all of us agree how amazing the entire last season was for us," Turner said on stage. "We had no idea how it would end, who would betray who, and who would end up with the prize." 
"As much as we wish the show could have gone on forever, our time had come, and tonight is a chance to once again thank all of those who watched," Maisie Williams added. 
If we're being honest, the hug between Kit and Sophie was a whole lot sweeter than Lena Headey's awkward, "And now...limited series and movies," but we'll never say we don't miss seeing these people together. 
FREDERIC J. BROWN/AFP/Getty Images
And can we also talk about how Gwendoline Christie got the loudest cheers of all when she started her part of the limited series and movies presentation? Long live Ser Brienne of Tarth, the best of all the knights. 
After their on stage reunion, Alfie Allen posted the mother of all dragons selfies on his Instagram stories, featuring even Queen Cersei sticking her tongue out. 
Check out all of the cast's Emmy looks below! 
Watch E! News tonight at 7 p.m. for a recap of the biggest moments from the 2019 Emmy Awards!