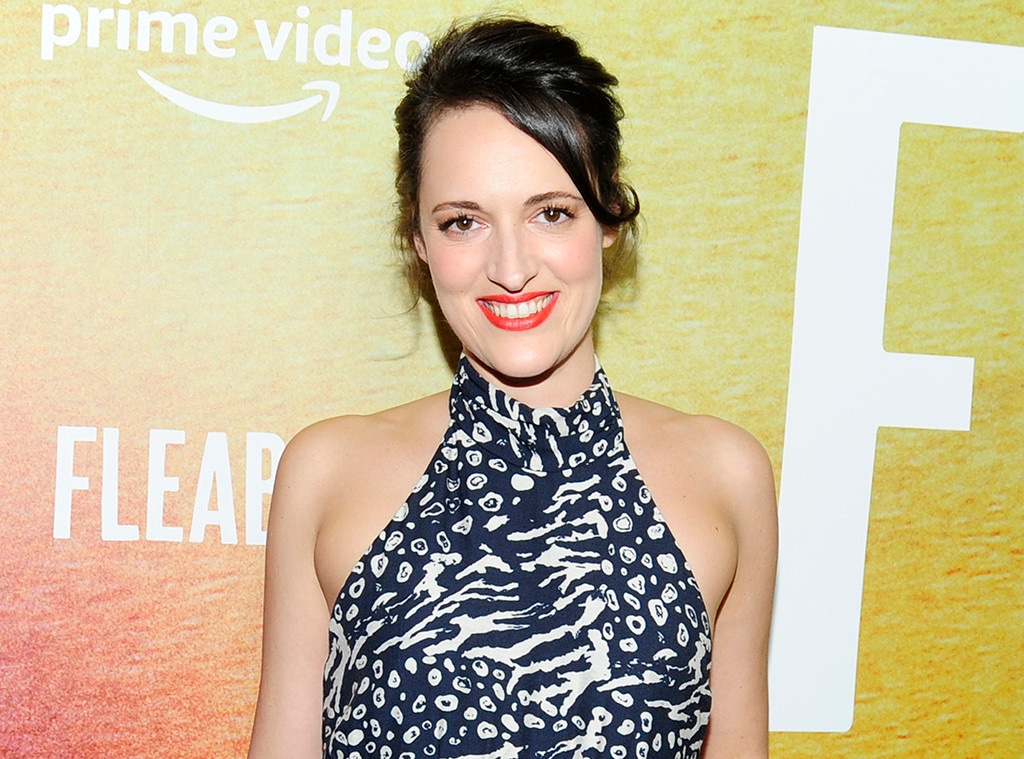 Paul Bruinooge/Patrick McMullan via Getty Images
To some, it may seem like Phoebe Waller-Bridge just showed up out of nowhere, and was suddenly everywhere, and those people might not be all that far off. 
The 34 year-old genius is currently responsible for a whole bunch of beloved things: Fleabag, which she created and starred in based on a play she created and starred in, Killing Eve, which she created based on a book, the voice of droid L3-37 in Solo: A Star Wars Story, the TV comedy Crashing, which she created and starred in, and the 25th Bond movie, which she is (re-)writing. 
She's also nominated for lead actress in a comedy, writing for a comedy, outstanding comedy, and outstanding drama at the 2019 Emmys. So it's not like she's a big deal or anything. 
It feels unlikely in 2019 that one of the most talked about shows on TV came from an hour-long one-woman play, but that's exactly what happened. The show debuted at the Edinburgh Fringe Festival in 2013, and one review called it a "gleefully filthy monologue" on the effects of porn on modern women. It won a Fringe First award that year. 
To turn the play into a TV show, Waller-Bridge had to figure out how to keep the spirit of the show while expanding it from one woman on a stool playing all the characters to a full-fledged world. 
"It was really about how to maintain this sense that she is the potentially unreliable narrator, but she's the one who's complicit and she's the reason you're there and in the story," she told Vulture, explaining that the structure of a play was essentially based on a feeling of guilt the audience would likely be having. 
It was that feeling I wanted the audience to have, of laughing and laughing and laughing, and then going, 'Oh, no, actually we shouldn't really be laughing at this character, why am I laughing? Am I allowed to be laughing at her? At the end she's just like, Please, keep laughing, because I'm fine.' She's really, really not. That was the structure for the play." 
While the play and subsequent show are not autobiographical, Waller-Bridge says she didn't want to give the character a name, so she just gave her her own real-life nickname among her family members: Fleabag. 
The show premiered in the U.S. on Amazon Prime Video in 2016, and both seasons currently sit at 100% on Rotten Tomatoes, but that season was still a little bit niche. Fans of dark comedy found it, and fans of niche, prestige television found it, but you didn't hear everyone and their mother talking about it. 
You did hear trickles of new fans recommending it over the next couple of years, but when season two debuted in April 2019 on Amazon Prime, it was suddenly the hottest show on TV. Yes, Game of Thrones, but have you watched Fleabag? Have you seen the jumpsuit? Have you seen the Hot Priest? 
The buzz continued into the summer and ramped up once again when Emmy nominations were announced. Obviously Fleabag got nominated. How could it not? 
According to everything Waller-Bridge has said since the second season came out, the second season is also the final season. And while that's devastating to all of us hoping for a season three, it might also be an incredibly smart move. She's left us permanently wanting more, which is far, far better than anyone ever saying it went on too long. 
Lucky for all of us, even if we're not getting more Fleabag, Waller-Bridge isn't going anywhere. The stage version of the show recently reopened in London to packed houses, and some critics described watching audience members mouth the lines and laugh preemptively before jokes were even said, like Waller-Bridge is a rockstar performing hit songs instead of a lengthy monologue. 
Completely aside from Fleabag, Waller-Bridge also took on the task of adapting the Villanelle novel series for TV, jumping from a black comedy about a sex-obsessed cynic to a spy drama about two women equally obsessed with one another. Killing Eve premiered in April 2018, while we were all still waiting for Fleabag season two, and quickly became a hit. 
The show, which marked Sandra Oh's big return to TV alongside the thrilling debut of Jodie Comer, took Waller-Bridge from the role of comedian who made herself a TV show to a bonafide prestige showrunner, but she was hired for the job before Fleabag was even a show. Producer Sally Woodward Gentle recommended her to Luke Jennings, who wrote the Villanelle series, and so he attended a matinee of Fleabag. 
"He texted me to say, 'Can we have some falafel and talk about psychopaths?,' and that's how it started," Waller-Bridge told Variety. 
Kind of like with Fleabag, Waller-Bridge was determined to have assassin Villanelle be somebody who was both awful and likable, playful and shocking. 
"I wanted her to be lovable in her conviction and dismissal of consequence," she said in the same interview. "I think there's something funny about people who laugh in the face of convention or surprise us morally. You'll enjoy her playfulness, but then the things that she does are genuinely shocking."
She's also responsible for making that show unexpectedly hilarious. 
"My instinct is the more serious the scene, the more I need to undercut it," she said. "The element of surprise is the most important thing and what keeps me interested in writing. I can feel it if I've written that predictable or boring line, and I will carry that around with me all day."
In that Variety piece, BBC America president called Waller-Bridge "the bull's-eye" for the network, and Sandra Oh was a Fleabag fan and a lover of Waller-Bridge's scripts, which took male characters from the book and made them female for the show. 
"There was a meeting at one point where someone actually said, 'We can't have too many women,' meaning it will look unbelievable," Waller-Bridge said. "I was like, 'What the f— are you talking about?' Not if it's written well and shot well."
After season one, Waller-Bridge remained an executive producer, but allowed new female showrunners to take over in subsequent seasons, only offering script advice when asked. 
Waller-Bridge's specific talents were reportedly specifically requested by Daniel Craig when it came to the new James Bond movie. According to THR, his wife Rachel Weisz is a Fleabag fan, and this led Craig to ask for Waller-Bridge's help in "polishing" the script for No Time to Die, which had already been worked on by Neal Purvis, Robert Wade, John Hodge, and Scott Z. Burns. 
She credits the movie with mostly belonging to director Cary Joji Fukunaga, but her involvement will likely mean a whole new world for the often flat female characters in the world of James Bond. Reports that after Bond's retirement, the mantle of 007 will be going to a female spy (played by Lashana Lynch) feels like exactly the kind of thing Waller-Bridge might be responsible for. 
She's only the second woman in history to have a writing credit on a Bond movie, and she told Deadline that she's excited to help the Bond movies "evolve," even if it's not Bond himself who's evolving. 
"There's been a lot of talk about whether or not [the Bond franchise] is relevant now because of who he is and the way he treats women," she said. "I think that's bollocks. I think he's absolutely relevant now. It has just got to grow. It has just got to evolve, and the important thing is that the film treats the women properly. He doesn't have to. He needs to be true to this character." 
She said it was also important to her to make those female characters feel "like real people," particularly for the actresses playing them. 
"I just want 
to make sure that when they get those pages through, that Lashana [Lynch], Léa [Seydoux] and Ana [de Armas] open them and go, 'I can't wait to do that.' As an actress, I very rarely had that feeling early in my career. That brings me much pleasure, knowing that I'm giving that to an actress." 
It feels safe to say that Waller-Bridge is never going to have that feeling in her career again, even as she heads into project she's not writing, like HBO's Run. She's also currently writing a movie, and now that the London revival of Fleabag the play is over, it sounds like it might be time for a bit of a break, partly to let us all get over our need for more Fleabag. 
"People get over sh-t," she told THR, quoting her mother's advice. "If something doesn't go well, you'll get over it, everyone will get over it. And if something goes brilliantly, we'll all get over that, too."
Something tells us we'll never stop wanting more Fleabag, but we will take literally whatever Phoebe Waller-Bridge has to offer us. Anything. Anything at all. 
Watch E! News tonight at 7 p.m. for a recap of the biggest moments from the 2019 Emmy Awards!