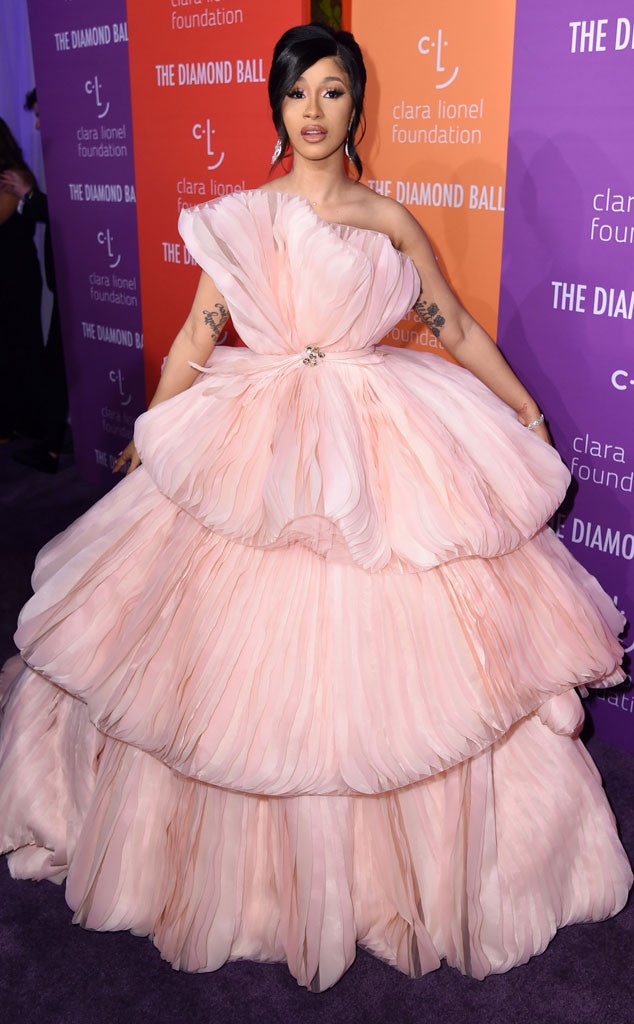 Stephen Lovekin/Shutterstock
Contrary to Tekashi 6ix9ine's claim, Cardi B is the member of only one group: the Bardi gang.
In his latest appearance on the witness stand, the infamous rapper made a number of statements that drew the attention of the public. From admitting he used the Nine Trey gang to gain street cred, to revealing the meanings behind slang, Tekashi has been spilling the beans. But on Thursday, he made one confession that had fans in a state of bewilderment. He told the courthouse that he knew Cardi B was a member of the Bloods gang, but that he "didn't pay attention" to her, according to New York Daily News.
And Cardi seemingly responded to the rumors by sharing the latest and greatest meme from Keke Palmer on Instagram. In the short clip, Keke says, "I hate to say it. I hope I don't sound ridiculous but I don't know who this man is... Sorry to this man."
Meanwhile, a rep for the star told TMZ, "This is not true."
Watch:
Cardi B Tells How Stripping Experience Helped Her in "Hustlers"
However, in a since-deleted tweet, the star clarified that she is a Brim Blood, not a Nine Trey. "I never been 9 trey or associated with them," she asserted.
And in the past she has said that she was a member of the sub-group of the Bloods, but she sort of left the group when she started stripping. She explained, "When I was a stripper, I didn't give a fuck about gangs, because I was so focused on making money."
At the time, Cardi said that she still "reps" the group because it is "something that I been doing for a long time." But that doesn't mean the star encourages joining a gang. "I don't talk about it much. Because I wouldn't want a young person, a young girl, to think it's okay to join it," Cardi B said. 
E! News has reached out to Cardi's rep for comment.