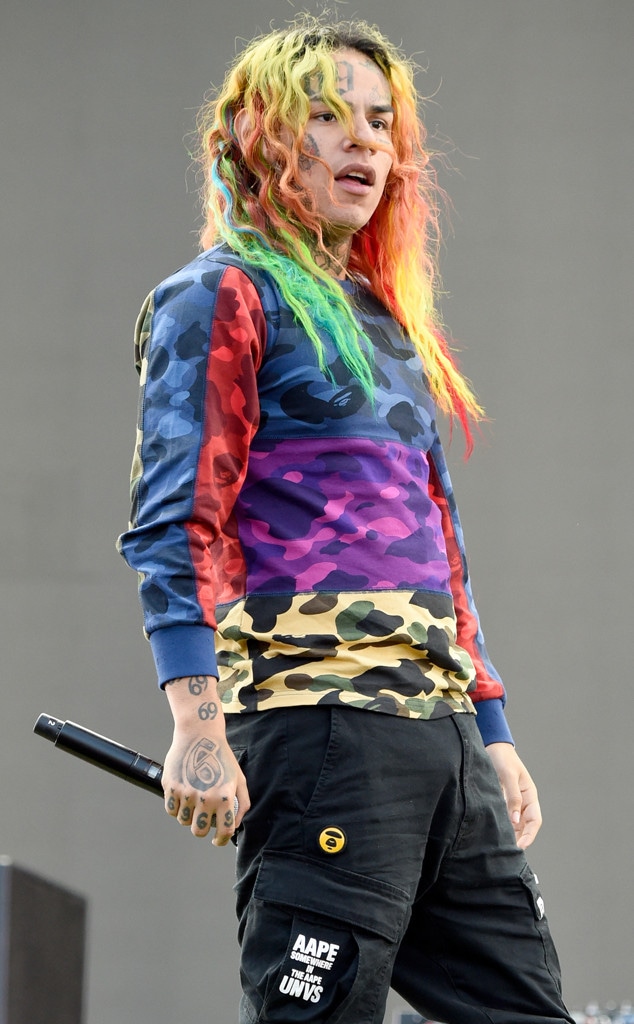 Kevin Mazur/Getty Images for Roc Nation
Remember the old saying, "snitches get stitches"? Well, nowadays they just get shorter prison sentences.
Rapper Tekashi 6ix9ine is working with federal prosecutors as part of a "cooperation agreement," which asks him to testify against members of the Nine Trey Gangsta Bloods. If his efforts prove successful, prosecutors will work to get him a more lenient sentence. In February, the artist plead guilty to nine charges and faces 47 years in prison.
And that's how the 23-year-old found himself on the witness stand on Tuesday morning. Dressed in a prison uniform, the star, whose real name is Daniel Hernandez, detailed the inner workings of the gang and revealed how he profited from being a member of the group. 
Moreover, he essentially translated the gang lingo into terms that prosecutors and every day people would understand. For example, according to the New York Daily News, he explained, "Blicky is another word for a gun. 'Billy' is Nine Trey. 'Hoover' is its own set [of the gang]."
But the part of his testimony that people are most fascinated by is how the star used his fellow gangsters to gain credibility in the rap community.
He told prosecutors that they helped with "my videos, music, their protection." 
Watch:
Tekashi 6ix9ine Could Be Facing Life in Prison
Some of the Nine Trey game members were featured in the music video for "Gummo," which he said was a selling point for his music. "The gang image. Promote it. That's what people like. It was a formula, a blueprint, I found that worked," Tekashi said.
Months after the music video was made, he said he became an official member of the group. His manager, Kifano "Shotti" Jordan, was also a member of the Bloods and explained that as a member out on the streets, he was responsible for taking care of any members that might be behind bars. That means that some of his profits paid for some of the gangs alleged crimes, like "shootings, robberies, assaults, drugs," according to the Daily News.
If his testimony is helpful then Anthony "Harv" Ellison and Aljermiah "Nuke" Mack will be found guilty. Ellison currently stands accused of kidnapping and robbing Tekashi, while Mack is charged with drug dealing. 
Meanwhile, Tekashi awaits sentencing on the charges of racketeering and firearms charges.