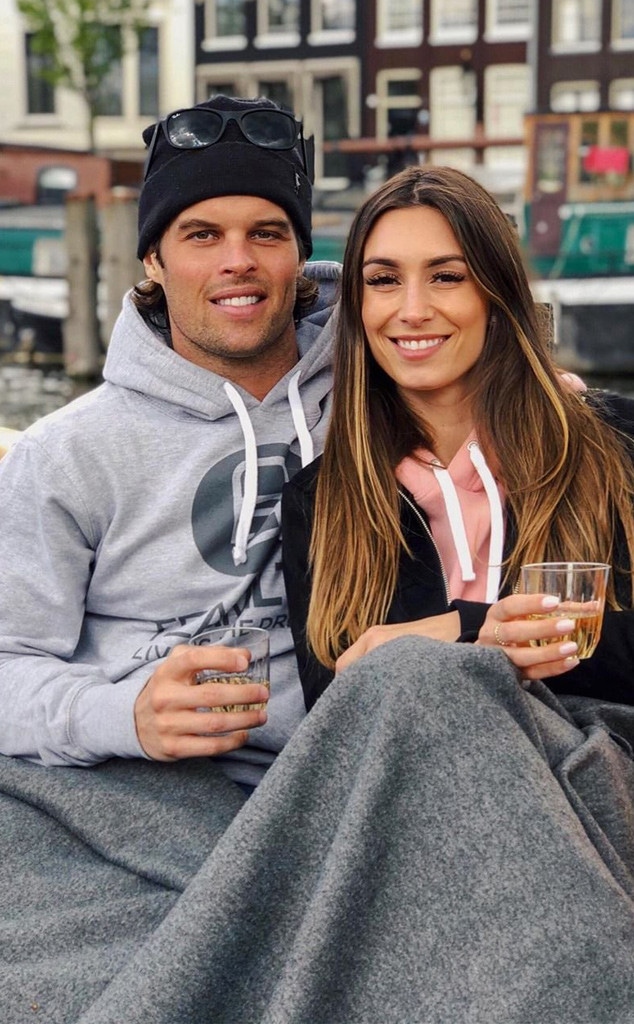 Instagram
Astrid Loch and Kevin Wendt are Bachelor Nation's latest couple to get engaged.
According to the former Bachelor in Paradise contestants' romantic Instagram announcement, Kevin popped the question on August 28th in their home city of Toronto. He captioned photos of the proposal, "You'll never walk alone again. From here on out, we run together. Astrid you are my family, babe. Forever."
Likewise, Astrid shared how she felt during the life-changing moment. "I could have sworn the world stood still in this moment. A moment I'll never forget. Just you + me. @kevin.c.wendt you've taught me to love, learn and grow and I can't believe you've chosen me to spend this crazy life with," she reminisced. "Wonder if I'll ever stop smiling? Probably not. In this together, forever." 
Kevin also documented how he prepared for the proposal on his Instagram Story. He revealed that they biked together to Toronto Island where they planned to have a picnic, but in reality photographers waited in the bushes for Kevin to ask the big question.
And Astrid was truly none the wiser. She told People, "I was so clueless. And you never get a surprise really by me, ever. I feel like I pay attention to everything, and I had absolutely no clue."
Their engagement comes six months after Astrid packed up all her belongings and moved to the Canadian metropolis to be with her firefighter beau. At the time, they had barely been dating for six months and split once already, but Astrid knew that she and Kevin were meant to be. "I think I've never really had a relationship where I can trust someone 100%," Astrid previously explained to E! News. "Throughout all of this, throughout working through our breakup, everything, I trust him 100% and I never have to worry in that regard."
Watch:
Chris Harrison Plays "Bachelor" Quote Trivia
And how could she be worried when Kevin has practically shouted his love from the rooftops? The former BiP contestant, who is known for being candid about his emotions, told us, "I'm 35, and I don't think I've ever had a girl where I feel this excited to come home to. I feel like she makes our house a home and I feel like I already see her 20 years from now and me being more in love with her then than I am now."
He added, "I already really love her family and I can see how she's going to be with our kids and with taking care of our family and I just see her as a really good mom and wife so it just gets me excited for the future."
Astrid first rose to fame as a contestant on Nick Viall's season of The Bachelor, before ultimately finding love with Kevin on season 5 of Bachelor in Paradise.