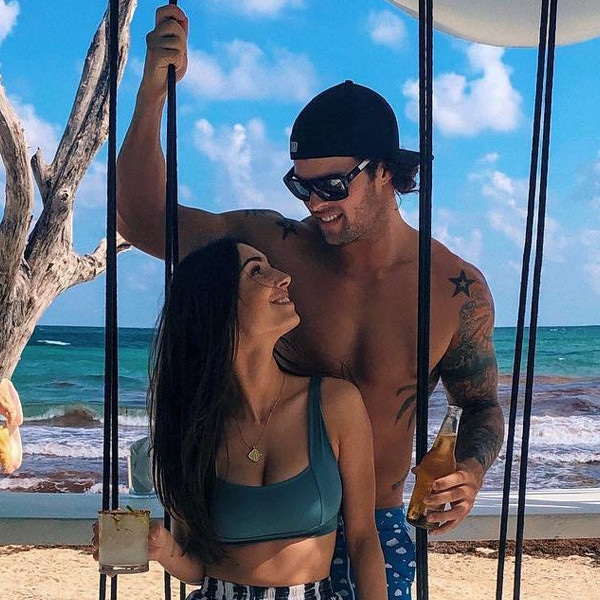 Instagram
When Kevin Wendt and Astrid Loch found themselves together on the final days of Bachelor in Paradise, there was a major decision to make.
Is it time to get engaged or is it time to break up?
Instead of an elaborate beachside proposal complete with a Neil Lane ring, Kevin decided to leave Paradise single. But soon after viewers watched the difficult decision on the small screen, they found out the pair was back together.
In fact, the couple appears stronger than ever as a brand-new season of Bachelor in Paradise kicks off nearly one year later.
"It was the craziest scenario that you can meet someone in, and then the breakup was the best thing that ever happened to us because it just let us kind of end the TV show chapter there in Mexico and come out of it and just work on it on our own and kind of figure out what we wanted to do," Astrid explained to E! News exclusively.
Instead of flocking to Los Angeles after filming concluded, the duo decided to get to know each other away from the cameras and spotlight.
Before the end of 2018, Astrid decided to move up to Canada where she got a new condo with Kevin. And instead of rushing to red carpet events or Hollywood premieres, the pair decided to simply enjoy "normal" couple things.
"I feel like the biggest thing about us and that we get feedback about is that we're pretty normal compared to a lot of people that go on the show…I feel like we're on our own little island from the Bachelor world over here, which is actually kind of nice," Kevin explained to us. "We get left alone a lot, but we also spend most of our time inside to be honest."
He added, "We just enjoy each other's company. We cook every day. We watch TV, we work out every day and we eat ice cream sandwiches. Stuff like that."
Because the couple met through the Bachelor franchise, both Kevin and Astrid know what fans are curious about. For those buzzing about an engagement, the couple admits they've talked about it.
"He has until I turn 30 to propose because I want to make it in my 20s," Astrid, 29, shared with us.
As for that unforgettable Instagram from the Little White Chapel in Las Vegas, the couple warns fans that getting eloped isn't a huge possibility. After all, they don't want to upset the parents.
"I'm pretty sure the elope thing, I think between my mother and Astrid's mother, we'd both be dead before we got married," Kevin joked before describing his ideal wedding. "We'd probably get married in the United States. Probably somewhere in Florida, closer to her family and then all of my friends and family could make a three or four-day trip to Florida."
To this day, both Kevin and Astrid are the first to pause and reflect on finding love on a reality show. After all, it's not everyday you go on national TV to find a lifelong partner.
"It's a pretty cool story to say that we met on camera, you know, minute seven of episode one. I can show you," Kevin admitted to us. "I didn't know who Astrid was. She didn't know who I was at all until we met in Mexico. That was actually another cool part of not being the popular kids. Nobody knew who we were so it was kind of cool that we met very genuinely and we just started chatting and here we are."
And while Cupid won't strike for everyone in Paradise this season, there's no denying the fact that ABC's hit summer show has potential for a fairy-tale ending—even if it's not on camera.
"I think I've never really had a relationship where I can trust someone 100%," Astrid explained to us. "Throughout all of this, throughout working through our breakup, everything, I trust him 100% and I never have to worry in that regard."
Kevin added, "I'm 35, and I don't think I've ever had a girl where I feel this excited to come home to. I feel like she makes our house a home and I feel like I already see her 20 years from now and me being more in love with her then than I am now…I already really love her family and I can see how she's going to be with our kids and with taking care of our family and I just see her as a really good mom and wife so it just gets me excited for the future."
In other words, everything is coming up roses.
Bachelor in Paradise premieres tonight at 8 p.m. on ABC.